If you have made it to this page, I am assuming you have already read our previous blog article of general tips for camping in winter. This article serves as supplemental information. It focuses specifically on winter camping tips for women.
Why women? Well, we tend to get a bit colder. And we have more bathroom issues to address. So let's jump right in.
Woman-specific tip #1 – Invest in the right fit of women's gear and clothing for winter camping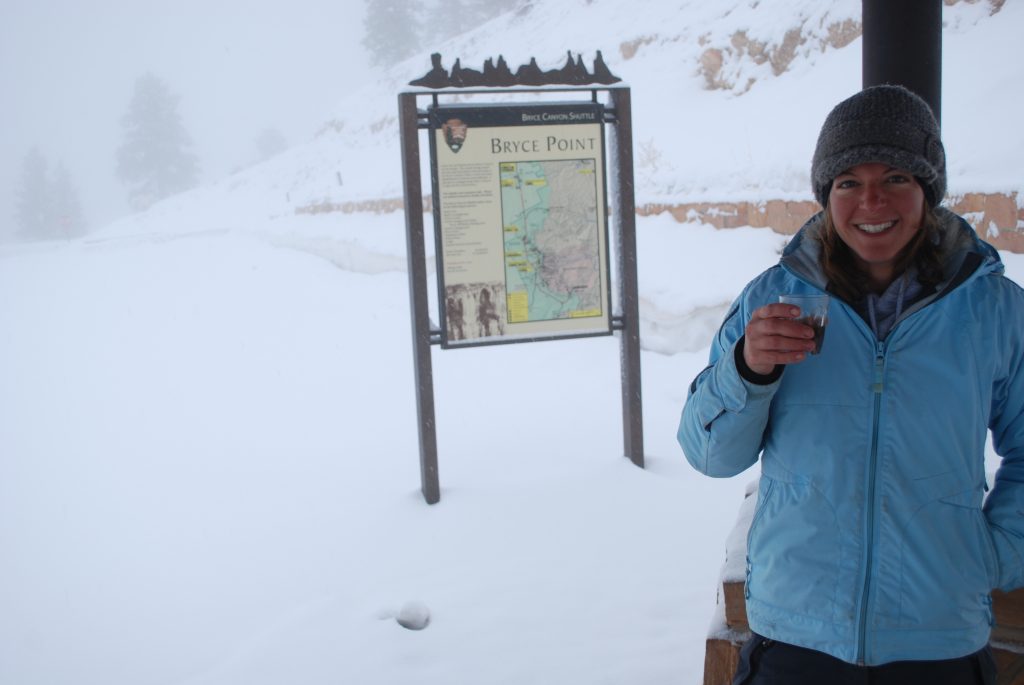 Proper fit might be the most important winter camping tip for women. Having the right fit means comfort as well as functionality.
Woman-specific sleeping bags
At first glance it may look like sleeping bags for men and women are exactly the same. But there are a few main differences between the two styles that will greatly ameliorate a woman's winter camping experience. The most important difference is insulation. Women-specific sleeping bags have extra insulation around the core and at the feet.
The second difference is the sleeping bag fit. Women-specific sleeping bags are tapered for narrower shoulders and wider hips. They also come in short, regular, and long sizes. It is extremely important to choose the right size for your body type. This should eliminate any extra space in the sleeping bag in order to decrease the potential for cold air pockets.
How to choose the right size sleeping bag
As with clothes, you should try on a sleeping bag before taking it out for your cold-weather overnight adventure. To test the fit of a sleeping bag, crawl inside and lay flat on your back. Place your head in the center of the hood, cinch it snug, close the zippers, and point your toes. If your toes push against the end of the bag, it is too short. If your toes are more than an inch away from the end of the bag, it may be too long.
Likewise for your shoulders and hips. Look for them to just lightly touch the sides of the sleeping bag. If they push against the sides of the bag, then you should try a wider fit. It's better to have a sleeping bag that's too big than too small. While camping, you can always stuff extra space in the bag with your spare clothes.
Note: Sleeping pads also come in short sizes. This is offered to reduce weight and space issues for backpackers. There is no warmth benefit for this, so you can go with whatever size you want as long as it is insulated.
Woman-specific clothing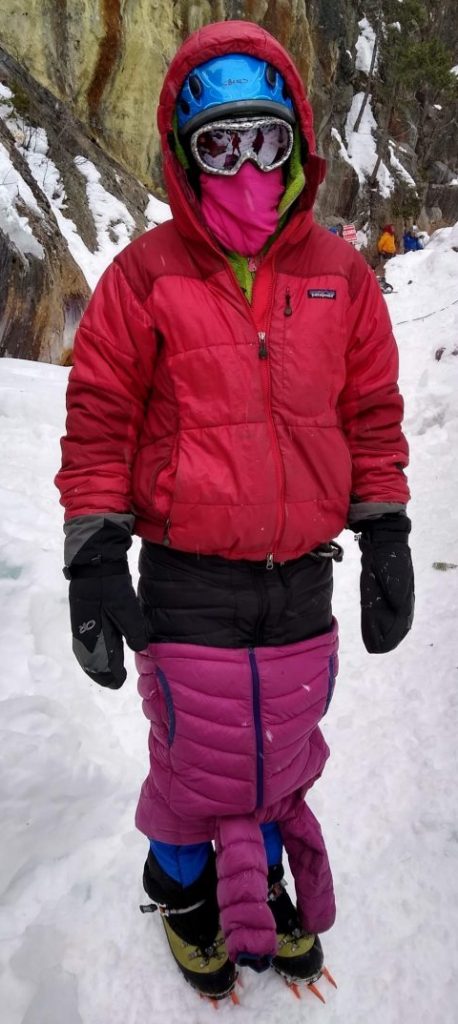 Aside from looking fashionable, women-specific clothing is tapered at the waist and thighs to minimize the potential for cold air pockets.
Clothes that are too big may be uncomfortable. Worse, they may trap in cold air next to your core. This is a situation you want to avoid.
Clothes that are too small will constrict blood going to your extremities, causing you to stay cold, no matter how many layers you have on.
Therefore, before setting out on your winter adventure, perfect your layering system at home.
I do the jumping jacks layering test:
With only base layers on (long underwear), do five jumping jacks. If you feel constricted, try a bigger size. Repeat the test until you can do five jumping jacks freely, but without having dangling clothes.
Once you have the right fit for long underwear, add a mid-layer, and repeat the test. Continue again with the outer layer, and then a shell. I usually end up with a size or two bigger for my outer layer and shell.
Women-specific tip #2 – Have a plan to deal with bathroom issues when camping in winter
You've got tons of layers on. This makes going to the bathroom a real drag! There's no good way to deal with this, so the next best thing is to find a system that works for you.
Embrace the farmer janes and/or ninja suits
With a zipper going all the way from front to back, there's no need to take off your base layer.
NOTE: Honestly, I don't know if these are still being made. My farmer janes are almost 20 years old (pictured). I tried looking for new ones, but cannot find anything resembling this. If you find it, please let me know!
This is my favorite piece of clothing. I do not leave for any winter vacation without it. If I knew where to find it, I would tell you that this is the best winter camping invention for women. I did, however, find the Airblaster Ninja Suit in my search for the farmer janes. Haven't tried it yet, but now I'm going to! Have you tried it? Let me know what you think in the comments. Thanks!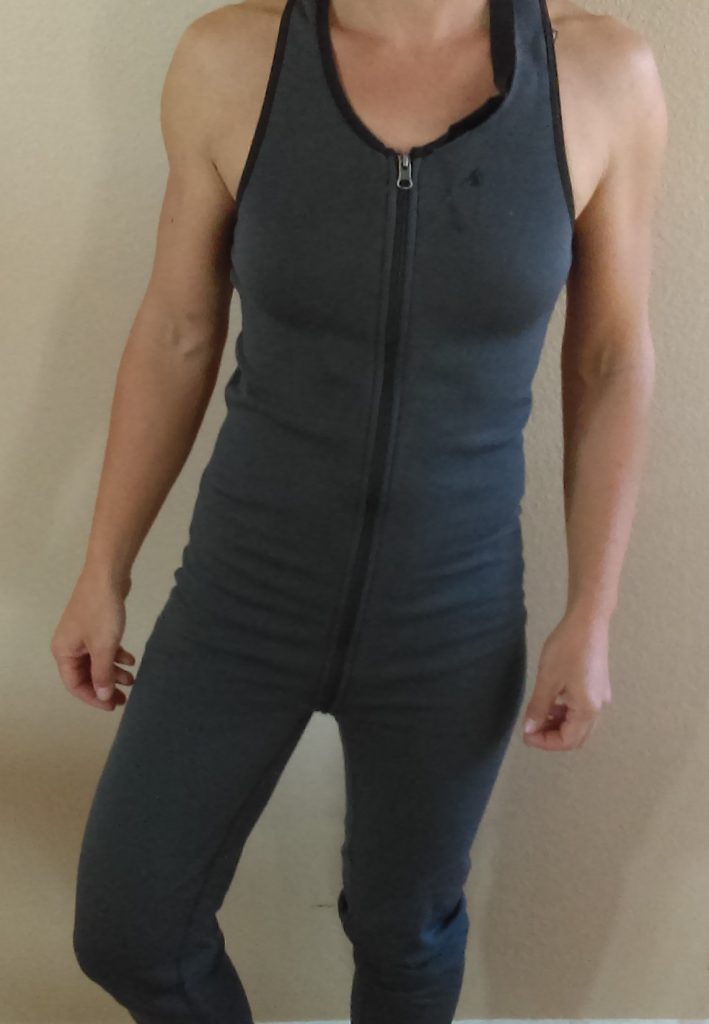 During the day, wear the farmer janes/ninja suit as long underwear. At night, designate a second pair for sleeping. When you need to go, roll down your outer layer pants, upzip the farmer janes/ninja suit, move your underwear to the side, and do your thing.
Try a funnel
You should seriously practice this in the shower numerous times before trying it in the wild with clothes on. Definitely don't try it for the first time in the middle of the night, outside, in freezing temperatures. Only do this when you're beyond confident in your new-earned skills.
We all have different preferences. Honestly, I don't use any funnels for winter camping. I like the GoGirl for rock climbing or hiking on popular trails. But I don't feel like it speeds anything up for me during the night. If I need to pee in the middle of the night, I take care of business in the fastest way that will get me back into my sleeping bag. For me, that's the good-ole squatting method.
Keep the roll of toilet paper handy
Personally, I air dry whenever possible. But sometimes, you must wipe. Always have a few squares of toilet paper, a trash bag, and hand sanitizer within reach (along with tampons, if it's that time of the month). You do not want to go digging for this in the middle of a freezing night. I even go the extra step of cutting the squares ahead of time. Leave your toilet kit by the door to grab as you're crawling out of the tent.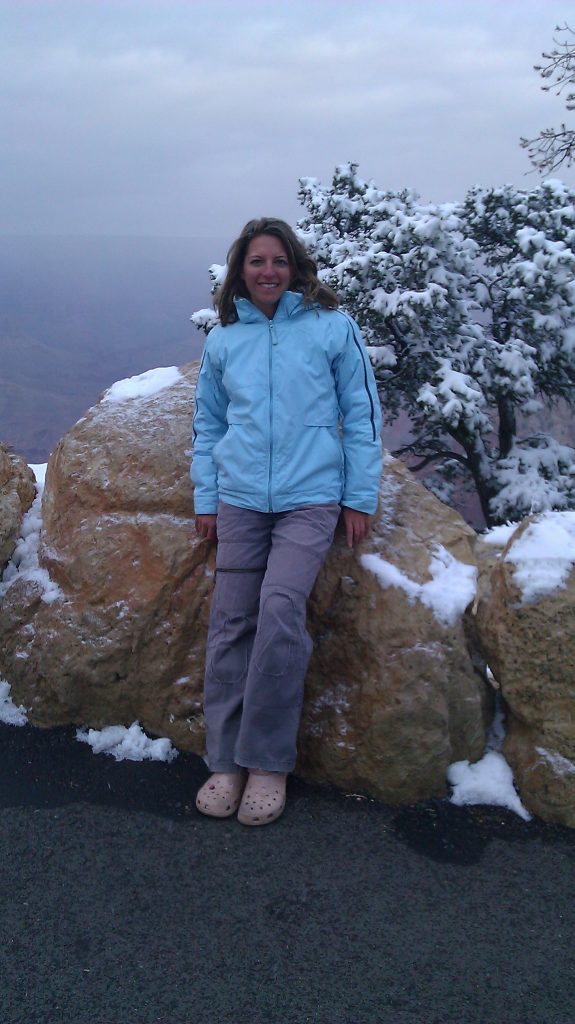 Conclusion
Winter camping is a unique experience that few people get to try. It doesn't have to feel like a chore. Plan ahead and prepare, test out different systems, and figure out your way to enjoy the great and cold outdoors.
Any other winter camping tips I'm missing that are specific to women? Let me know in the comments.
As always, remember that you can plan your winter camping trip with DetourOn. If going to the American Southwest, you can rent camping gear from Basecamp Outdoor Gear.