Panama is an amazingly diverse country. Connecting North and South America, this narrow stretch of land offers tropical beaches, dormant volcanoes, rain forests, and a lot of culture. We can go on and on about things to do in Panama! Just the capital, Panama City, is enough to cover a full blog post. Here is DetourOn's two-day plan for visiting Panama City.
Important things to know before visiting Panama:
Currency: Though the official currency of Panama is the Balboa, it is the $US that is actually used. If coming from the USA, there's no need to exchange your currency. 1 Balboa = 1 $US. When getting change, you may receive Balboa coins instead of $US coins, though this is rare. The Balboa only comes in coins up to 1 B. Bigger bills are $US bills, which means that ATMs only give out $US bills.
ATMs charge high withdrawal fees, so bring enough cash with you to pay at restaurants and attractions. Most hotels accept major credit cards.
Prices: Compared to the USA, Panama is cheap. It is, however, more expensive than countries in South America and most of Central America). At restaurants and attractions, if you need change, only pay with $10 bills or smaller. At hotels, if staying several nights, bigger bills can be used, or just use a credit card.
Uber is active in Panama City. Use it. Taxis will overcharge you.
Tap water is safe to drink in Panama City and most other locations in the country. Exceptions are Bocas del Toro and San Blas Islands. In those places, buy bottled water.
Driving in Panama City is a nightmare! Instead of renting a car, use shuttles to get from one city or attraction to another. In most destinations, such as Boquete, it is possible to walk to attractions.
Carnaval: Panama is known for Carnaval, which is a 4-day celebration prior to Ash Wednesday. If you like these kinds of parties, that's the time to go to Panama. Otherwise, stay away during this time. The entire country celebrates, so it is impossible to avoid it.
Weather: Panama is rarely affected by major storms. Panama's climate is roughly the same year-round: hot, humid, and sunny, with a bit of rain each day. The "dry" season, December to April, has less rain, but is by no means dry! The wet season, May to November, means a couple of hours of rain per day, then the sun returns. The peak tourism season in Panama is during the dry season, but honestly the wet season is not much different.
Borders: There are no roads to the border with Colombia. The only way to go directly from Panama to Colombia or vice versa is by air or sea.
Language: Though the official language is Spanish, you'll be able to get by in English in most places. Even if they don't speak English, chances are that the locals will find a way to understand you. They are very friendly and talkative.
Electricity is the same as the rest of North America, 110V.
Things to do in Panama City: The DetourOn 2-day itinerary
Day 1 – Casco Viejo
Spending a full day, and possibly night, in Casco Viejo is a must! This historic district, designated a World Heritage Site, is the location of many not-to-miss attractions such as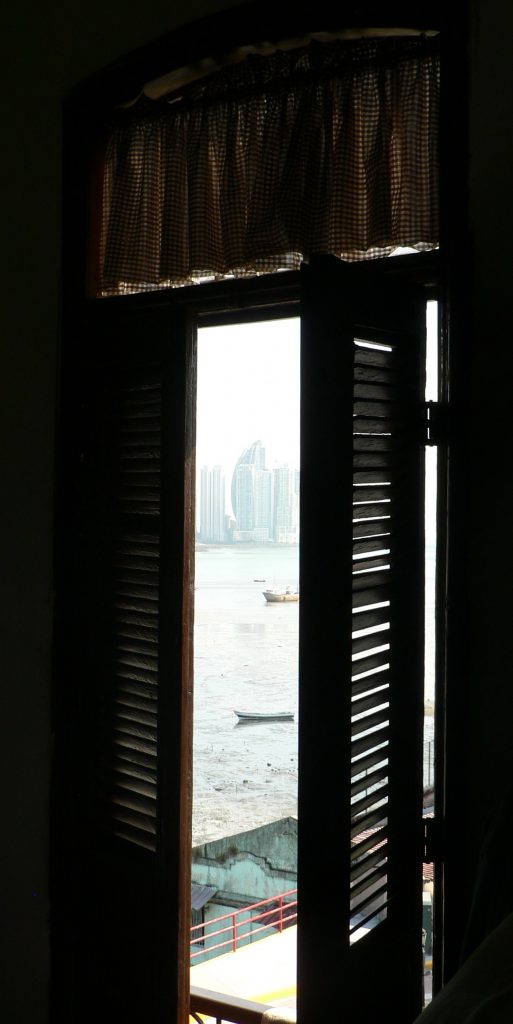 Interestingly enough, despite all its attractions, the Casco Viejo neighborhood is pretty quiet during the day. It only comes alive at night. Most hotels in Casco Viejo have rooftop access through which you could appreciate the surrounding views, especially when the quarter lights up at night. There are a range of accommodation options in this quarter, from backpacker hostels to high-end hotels. Before booking, read the description of each accommodation carefully. Many offer shared bathrooms and may get quite noisy at night.
Cerro Ancon
In the afternoon, if you've had enough of Casco Viejo, head out Cerro Ancon. It's only a short walk to the popular viewpoint over the city. Though the walk is uphill, the trail is paved and easy to follow. It should take no more than 30 minutes to reach the top of the hill. From the peak, you can see the Old Quarter, the New City, and even as far away as the Miraflores Locks of the Panama Canal. Bring binoculars.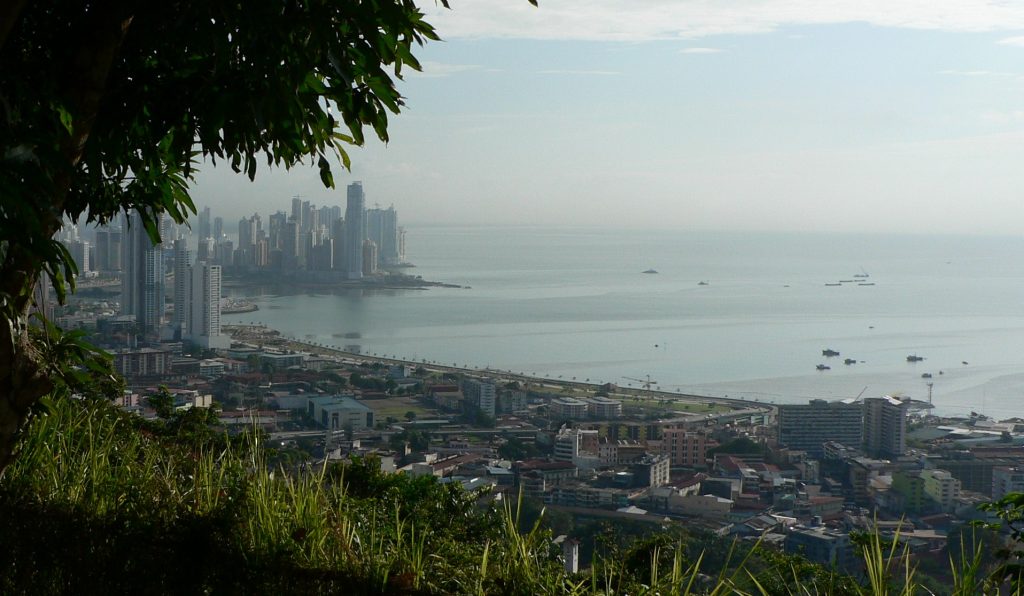 Personal side story: The highlight of my visit wasn't in the old town or the hill, but rather in-between them. As I was walking down from Cerro Ancon, I decided to take a different road back to explore a less touristy area of Panama City. This turn unexpectedly dropped me at a busy highway that I needed to cross to get back to my hotel. There was no crosswalk in sight.
I stood on the road side for quite some time contemplating my predicament when a water boy suddenly appeared pulling a white cart. Before I could understand anything, the boy took me by the hand, his cart of water by the other hand, and together we ran across the dangerous road. Then he disappeared as mysteriously as he appeared. I never got a chance to buy a bottle of water from him. If you're reading this, mysterious stranger, thank you!
Day 2 – Panama Canal
On your second day in Panama City, you must visit the Panama Canal, the obvious must-see attraction in Panama. But the best time to visit is after 2pm. In the morning, therefore, visit Panama Viejo Historical Monument, a UNESCO World Heritage Site.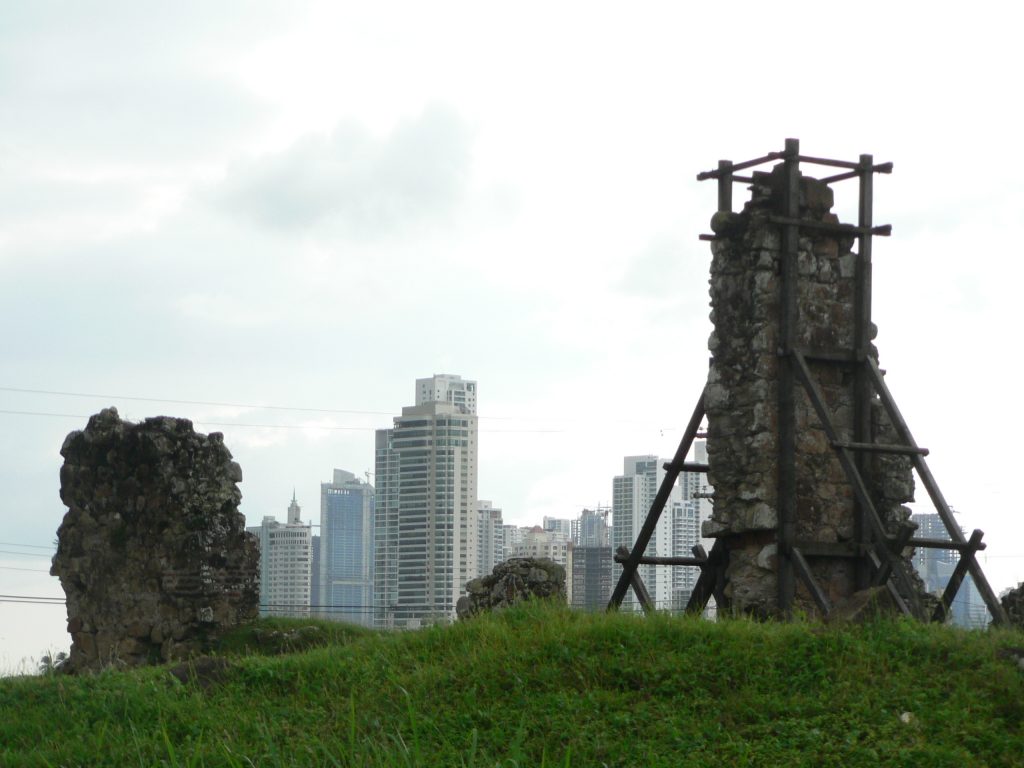 This is the location of the first city founded by the Spanish on the Pacific coast of the American continent, as well as the ruins of pre-Hispanic inhabitants. A visit here will take no more than 2 hours, including the museum, a walk around the site, and going to the top of the lookout. This site is open Tuesday to Sunday 8:30am-4:30pm. Admission is $15 per person, which is a bit pricey for anyone but history enthusiasts.
Tips for visiting the Panama Canal
In the afternoon, take an Uber to the Miraflores Visitor Center of the Panama Canal. The visitor center is an interesting museum with informative films about the Canal. Most importantly, it has viewing platforms from which to watch ships pass through the canal locks. The entrance fee is a bit more expensive than other places in Panama. However, it is worth the price of admission to watch huge cargo ships pass through the Miraflores Locks.
Important note: The entrance fee remains the same even when no boats pass through the locks. Make sure to plan accordingly.
Entrance fee: $20 per person (Panamanians pay a reduced rate)
Hours of visitor center operation: open daily 8am-6pm (last admission 5:15pm)
Best time to visit: During transit times, typically before 10am or after 2pm
Transit times: Posted on the visitor center website. These are the times when ships are scheduled to pass through the locks. These times change daily, so check the website to make sure your visit coincides with a transit.
Why is there such a large gap in the lock operations schedule? The locks and some parts of the canal can only handle one-way traffic. It turns out, however, that boats need to cross the Canal in both directions. In order to make this happen the canal is typically open to Pacific to Atlantic traffic in the mornings. Then it changes to Atlantic to Pacific direction in the afternoons. There are three sets of locks over the entire 50-mile length of the canal. The Miraflores locks, on the Pacific side, is the entrance to the Canal (or exit, depending which way you're coming). It therefore takes a few hours for Pacific-bound boats to reach the Miraflores locks. During that time, there's a gap in operations as boats make their way across the canal.
Tours: Another way to see the Panama Canal is to experience it first-hand from a boat. Reserve your spot on a transit tour.
More stories from my travels around Panama
For some unknown reason, I decided to scuba dive on this particular trip to Panama. I heard Bocas del Toro was the place to go, a Panamanian archipelago in the southern Caribbean. Following my visit in Panama City, I took a night bus to Almirante. From there, I hitched a ride on a pickup truck to the marina and jumped on a water taxi to Bocas Town. It took me to the main Bocas del Toro island, Colon. I then transferred to a smaller water taxi that transported me to Isla Carenero.
I hadn't made any diving arrangements, so I hoped to simply find a group of divers that I could join. But of course it started drizzling a bit, so chances of seeing anyone in the water were slim. After searching at Isla Carenero and Isla Colon, I almost gave up hope. Then we passed in front of Isla Bastimentos. Success! There is always a group of die-hards going out, no matter the weather. Despite the low visibility in the southern Caribbean Sea, I felt so lucky to have joined a dive group that day that I will forever remember the sea anemones and crabs of Panama as the most beautiful I have ever seen.
If you, too, want to scuba dive in Panama, but cannot make it to Bocas del Toro, you can book a diving tour from Panama City.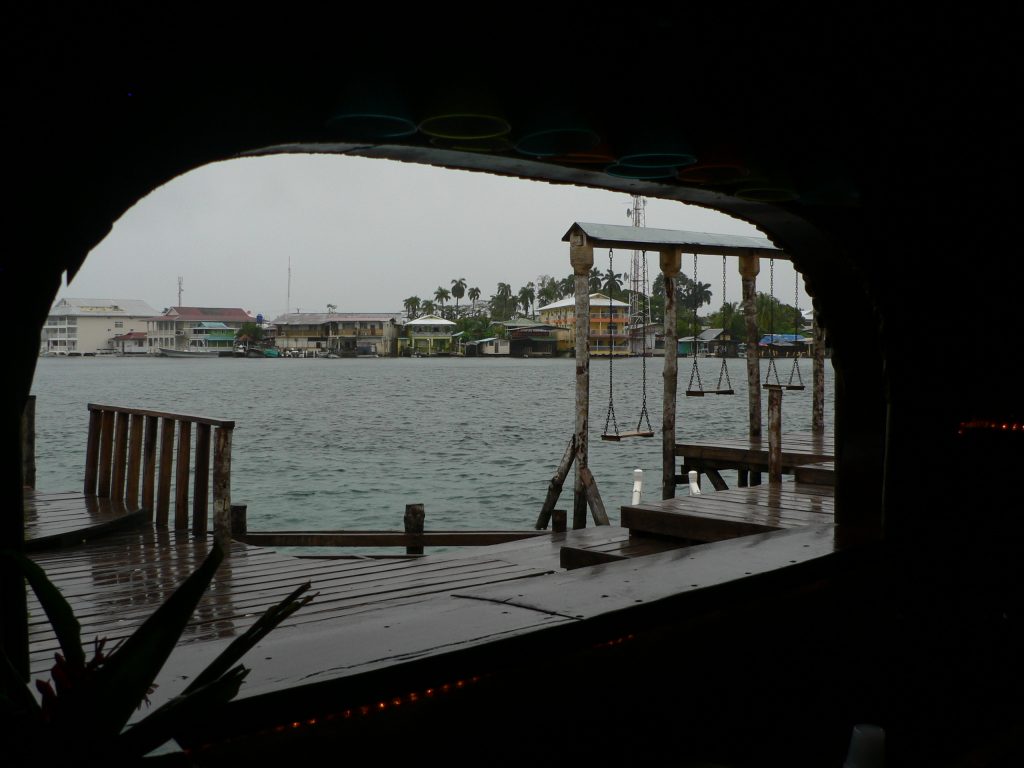 Isla Bastimentos
That night I found a bed in a hostel right over the water in Isla Bastimentos. It was a wooden building on stilts, typical of the construction in the Bocas del Toro area. It had cracks between the floor planks big enough to lose small valuables to the great sea below. I was so tired that it hardly bothered me. Following a string of good luck and sunny skies, the rain inevitably started falling, lulling me gently to sleep.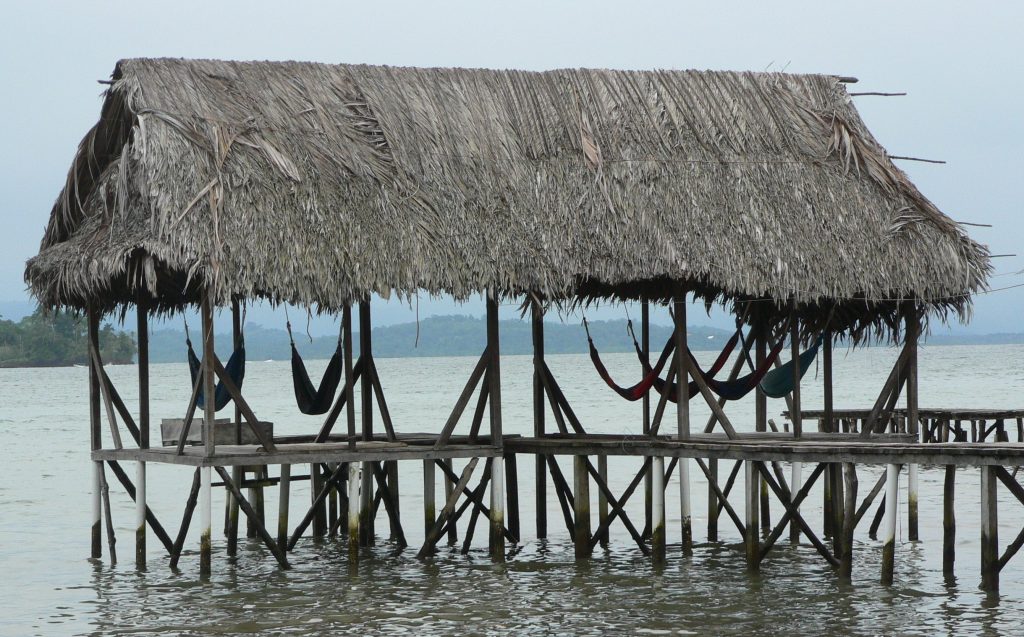 In the morning, I explored more of the hostel and the tiny island. I found that all buildings here have two exits/entrances. One exit leads to the water. If there's no boat in the water when you step outside, you fall directly in the sea. No joke. The other leads to the interior of the island.
A narrow concrete pavement, too small for cars or even bicycles, connects all the buildings on the island. About five of the houses serve as restaurants, but only one is open for business at a time. It is always a surprise which one it is. There is also one grocery store which, considering its tiny size, has quite a variety of products. If you happen to stay here, however, don't miss trash collection day. It turns out that there is a lot of skill involved in maneuvering a small and stinky motor boat between people's backyards!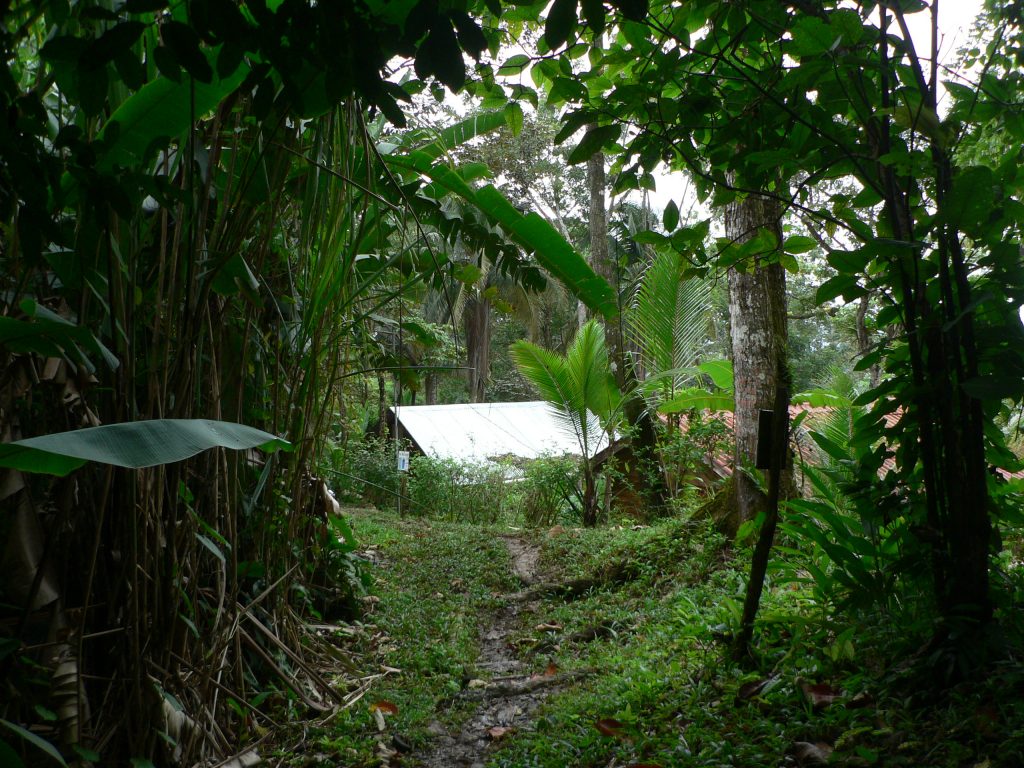 Wizard Beach
Where the pavement stopped, a muddy trail continued. It climbed up one side of the island before descending back down steeply on the other side. After about an hour of slipping and sliding downhill I found myself at a magical white sand beach. Surely this exists only in the movies! Of course the sky was gray and drizzling, so I knew I wasn't dreaming. The sea was raging because of the wind and rain. The palm trees were swaying from side to side. The rain forest further inland was somber and dark. It seemed like I was the only person that has seen that beach in days! To think that many visitors to this island never learn such a beach exists!
P.S. This beach, and the trail to it, is on GoogleMaps. It's called Wizard Beach.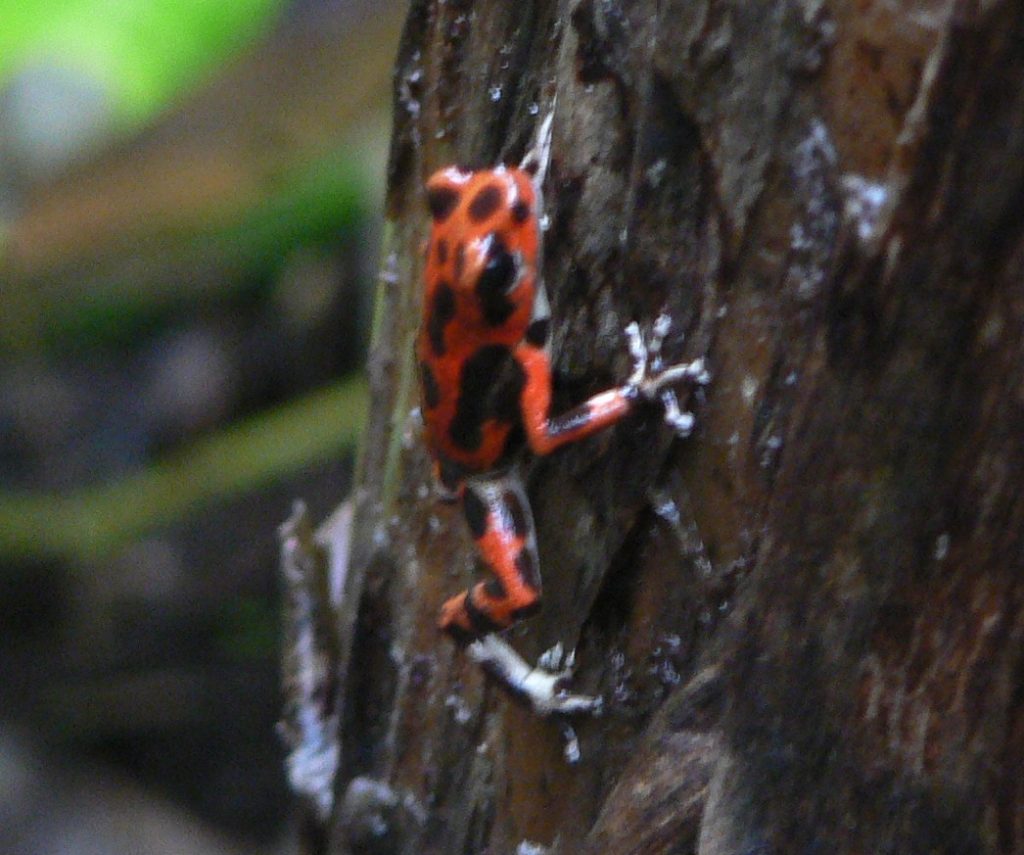 As I turned back for the return journey, I noticed a small and shiny red speck on one of the green leaves of the forest. Approaching it cautiously, I noticed that on that leaf and also on the tree trunk next to it and on the rock next to that and on the mud around all of that were little red dart frogs that I thought existed only in myths until now. Apparently, just like the beach, they do exist!
Chasing the sun to Boquete
The following day I decided to look for the sun elsewhere. I took a water taxi from Isla Bastimentos to the main island of the archipelago of Bocas del Toro. From there another water taxi took me back to the mainland city of Almirante. I then jumped on an express 4-hour bus to the big city of David. And finally got on a slow local bus to the small town of Boquete. Behind me, the sun was shining on the islands I had just left as raindrops started to fall on the windshield of the bus to Boquete.
Boquete, a small town in the mountains of Panama, is most known for the dormant volcano that hovers above it, Volcan Baru. It is the highest peak in Panama. I spent three rainy days in Boquete without getting a glimpse of the volcano. I did, however, get to rock climb and explore natural hot springs in the area. Thus ended of my time in Panama.
Check out Skyscanner's best flight deals to Panama City, up to 55% off average prices!