In addition to the DIY interactive planner and roadbook, DetourOn also offers the following services and ongoing promotions:
Car camping gear rentals in Las Vegas and other destinations in the United States (see details below)
10% off* JUCY campervan rentals in the United States, Canada, Australia, and New Zealand. Jucy vans are converted minivans that include a bed, a kitchen, and many other hidden perks!
10% off* AVIS car rentals worldwide
Free travel consultations and/or suggestions for improvement to your travel plan
Booking services for your flights, accommodations, rental cars, show tickets, and other attractions
*In order to receive the discount, DetourOn must make the booking for you
Car camping gear rentals
We've teamed up with Basecamp Outdoor Gear for your rental needs. They've created a special DetourOn Camping Package just for you! This is a car camping kit that is perfect for road trips. The 2-person package includes tent, sleeping bags, sleeping pads, and a complete camp kitchen.
Other Basecamp rental items include tents and sleeping pads by BigAgnes and Marmot. They also have cookingware by GSI Outdoors and Sea to Summit. Reserve a complete camping kit from Basecamp or pick and choose only the items needed to supplement your personal collection.
Check out our gear reviews to learn more about the Basecamp camping gear rental items.
DetourOn Camping Package
The DetourOn Camping Package includes:
1 Two-Person Tent
2 Sleeping Bags
2 Air Pads
2 Headlamps
1 Lantern
Two-Burner Stove + 1 propane canister
Sauce Pan
Frying Pan
Kettle
Cooking Utensils
Cooler
2 Table Sets (Plate, Bowl, Cup, Spoon, Fork, Knife)
Use coupon code DETOURON to receive 10% discount at the Basecamp Outdoor Gear online store.
Why rent car camping gear?
The Basecamp Outdoor Gear rental program is perfect for Las Vegas locals. You can now test the product to see if you like it prior to buying it! Upon request, we will deliver a camping kit directly to you and show you how to set up all the gear.
This rental program is also perfect for those traveling to explore the national parks of the southwestern United States but have limited luggage allowance on their flights. Remember that you'll get 10% off AVIS car rental when booked through DetourOn.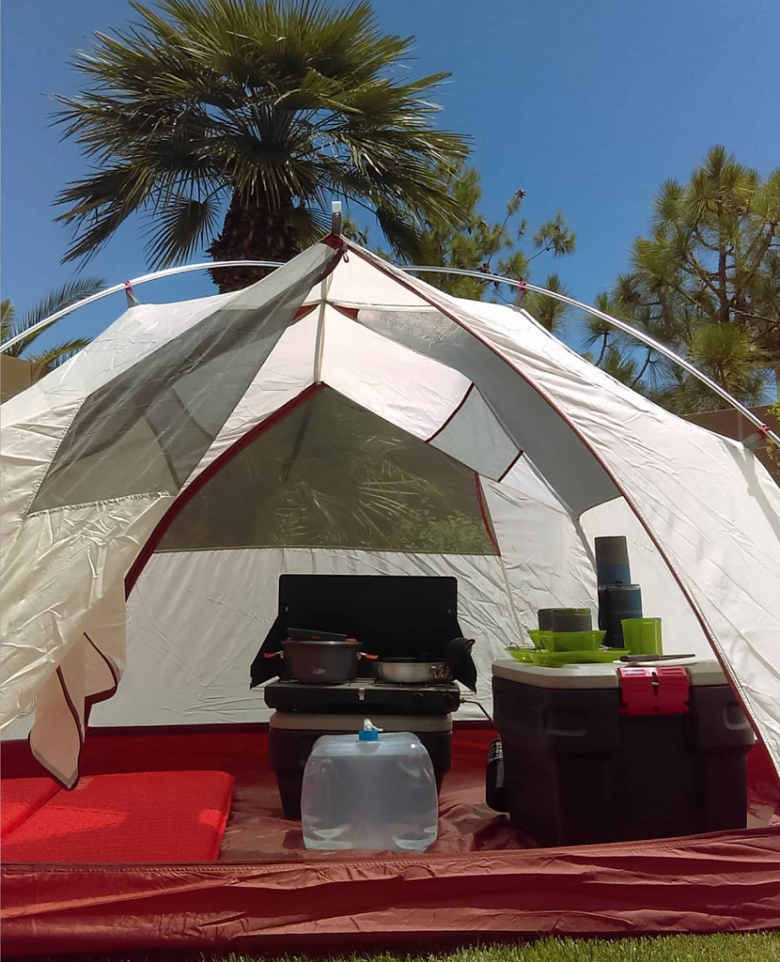 Deposit and payment – rentals
If you're reserving your rental directly on the Basecamp website, you will be asked to pay in full at the time of booking. If requesting a rental from DetourOn, we will send you an invoice with payment link through Basecamp Outdoor Gear. We request that you pay for your order in full up to 24 hours prior to your pick-up date.
You may cancel your rental request up to 24 hours prior to your pick-up date to receive a full refund. If cancelled within 24 hours of your pick-up date, we will refund you 50%.
Now you should know everything about our car camping rental program. You're ready to get on the road and discover the Southwest! Happy travels!