In the midst of the Coronavirus outbreak, we're all urged to stay indoors and limit contact with one another. This is driving us a bit stir-crazy. As a result, we put together a list of places to drive to in the Southwest where we can all get some fresh air. These are gorgeous wide open spaces in the desert. They are big enough to accept all the readers of this blog at the same time without feeling crowded! Regardless of timing, all of these locations should be on everyone's bucket list. Get a good audio book, stock up on some groceries, and drive.

We highly recommend camping in or near the below locations. The Southwest weather is usually quite nice and the night sky is amazing. Oh, and of course, did we mention the fresh air?
If this will be your first time to America, make sure to familiarize yourself with these common practices before setting out. Also check out our article about things to know before going to the Southwest. Should you need it, we have car camping gear rentals in Las Vegas.
A WORD OF CAUTION: Park visitor centers are closed and emergency services are far away and limited. If you leave the comfort and safety of your house, you do so at your own risk! Please be smart, practice good ethics, follow Leave-No-Trace principles, and be careful. Refer to this blog from Backwoods for responsible social distancing. Make sure you have the necessities with you before leaving the house! Here's a packing list for reference.
This article discusses the following locations:
You can easily reach these locations in a regular car, but it may require a few good hours of driving. If you have a high-clearance 4WD, we wrote a separate blog especially for you. Visit the locations mentioned here, and then continue driving.
As mentioned in the first paragraph, these are wide open spaces. You may see people around, but you'll still have plenty of personal space. Even if all people who read this blog decide to go to the same place at the same time, there would still be plenty of space there for everyone! Now is as good a time as any to visit these locations.
Death Valley National Park
This park is a true wonder! The lowest, driest, and hottest place in America. OK, when you read it like that, you might not feel an immediate attraction to it. But you'd be surprised to learn that Death Valley National Park offers some shocking contrasts.
"In this below-sea-level basin, steady drought and record summer heat make Death Valley a land of extremes. Yet, each extreme has a striking contrast. Towering peaks are frosted with winter snow. Rare rainstorms bring vast fields of wildflowers. Lush oases harbor tiny fish and refuge for wildlife and humans. Despite its morbid name, a great diversity of life survives in Death Valley."

The official Death Valley National Park website
Here are some wide open spaces to visit at Death Valley:
To learn more about these, log into the DetourOn planner and download the roadbook. If any information is missing, please message us and we'll update it right away.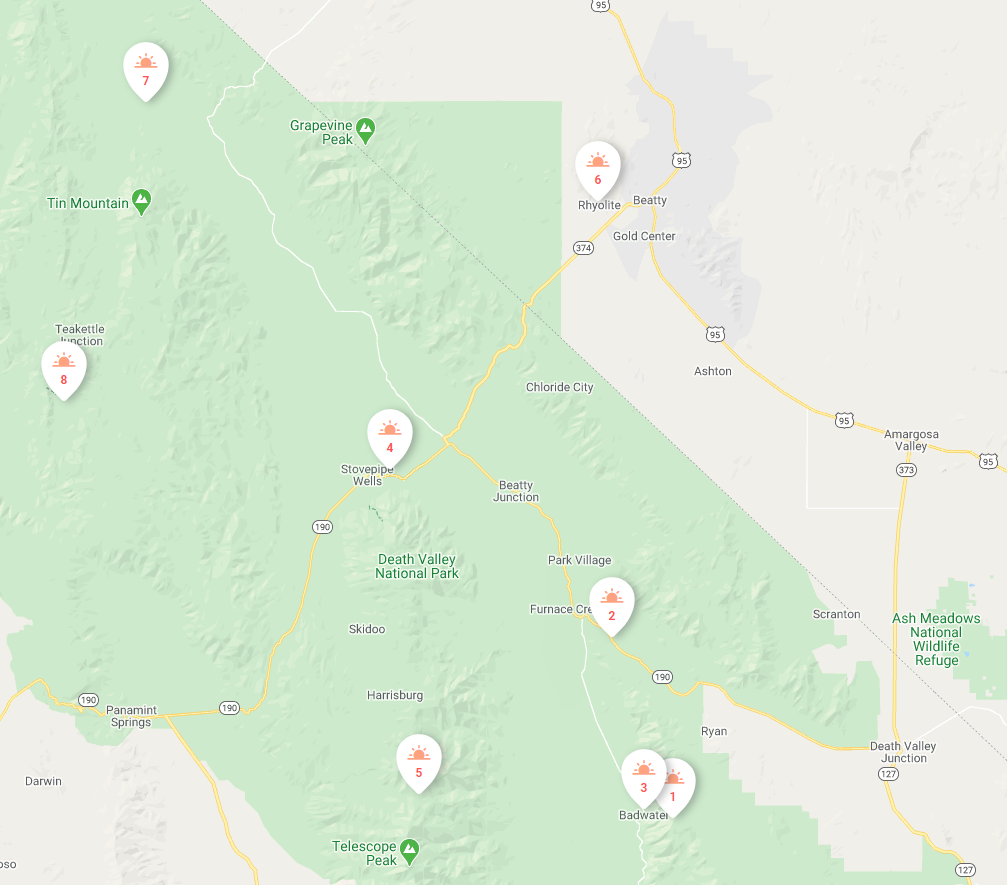 Important information about Death Valley:
Before visiting, check the official website for any alerts and road closures. Bring a lot of water, a spare tire, and be prepared for emergencies. The entire park has only one place to fill up drinking water, at the Furnace Creek Visitor Center. You may be able to buy bottled water at the Furnace Creek or Stovepipe Wells convenience stores. Make sure your gas tank is full before entering the park. There are three gas stations in the park – Furnace Creek, Stovepipe Wells, and Panamint Springs – but they are very expensive. Camping in Death Valley is allowed only in designated sites. In winter, though it may get cold, we recommend the less popular campgrounds at Wildrose (high-elevation), Emigrant (pretty much on the highway), or the Racetrack (high-clearance dirt road).
Diana's Punch Bowl
Diana's Punchbowl, aka Devil's Cauldron, is a giant boiling hot spring near the geographic center of the state of Nevada. The nearest paved road to this location is US-50, the country's loneliest highway. This area cannot get much more remote than that!
The Punchbowl is a hidden hot spring that is much too hot to soak in, but it is still a fascinating site. It is located in the middle of the remote Monitor Valley, between two mountain ranges. Easily recognizable as a steaming mound, it seems completely out of place in the otherwise flat desert. In its center is a 600-ft diameter cup-shaped depression with a bright blue pool of hot water at the bottom. Water temperatures usually range between 140-180°F, way too hot for soaking, so keep out! Also be careful when approaching the edge. If you fall in, there is no easy way to get out.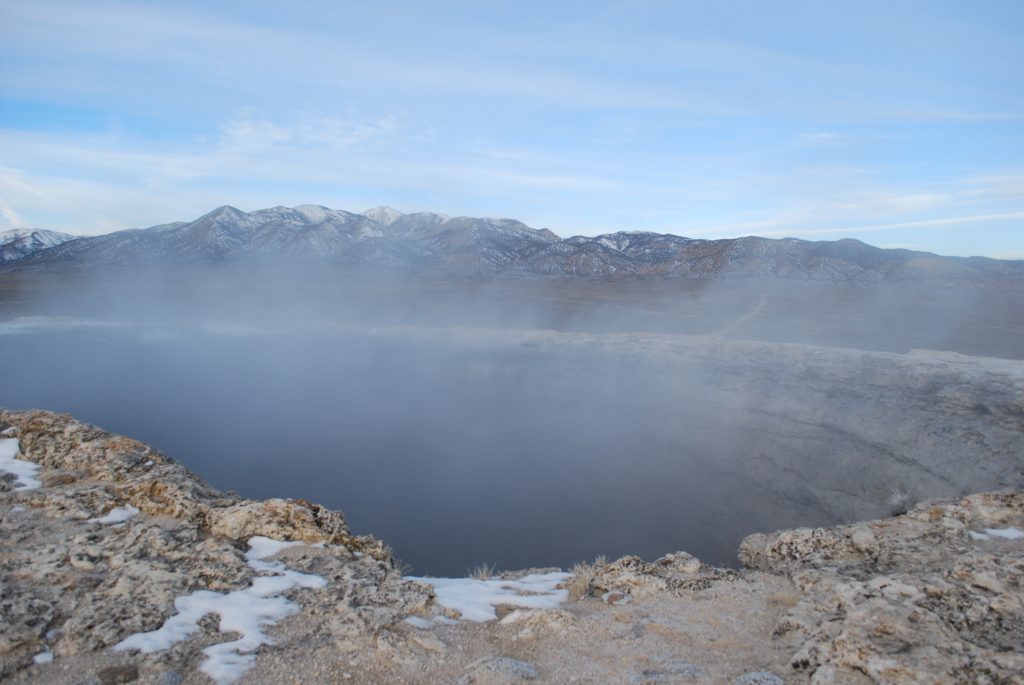 Diana's Punchbowl is located approximately 35 miles south of US-50, half-way between Austin and Eureka, on NV-82/Belmont Rd. This dirt road is suitable to most vehicles, though it may be impassable when wet. Check the weather before heading out! Despite the valley's isolation, there are a few ranches in Monitor Valley. As a result, you may see cattle roaming around, but it is rare to see humans. Be prepared for any emergencies. Make sure you have enough gas, check your spare tire, and bring extra food and water. Dispersed camping is allowed right next to the Punchbowl. Of course, there are no amenities. After your visit, continue 70 miles south to Tonopah, passing through the very interesting Belmont Ghost Town.
Panorama Point – Capitol Reef National Park
It may seem silly to drive all the way to a national park just for one viewpoint, but in all honesty, the journey is just as good as the destination. No matter which direction you take to drive to Capitol Reef National Park, you won't regret it. From the south, drive over Utah's Scenic Byway 12. Pass through Grand Staircase-Escalante National Monument and over Boulder Mountain (if driving in winter, check road conditions before heading out). From the west, it's the I-70 corridor past Fremont Indian State Park. And from the east, it's UT-24 through the San Rafael Swell.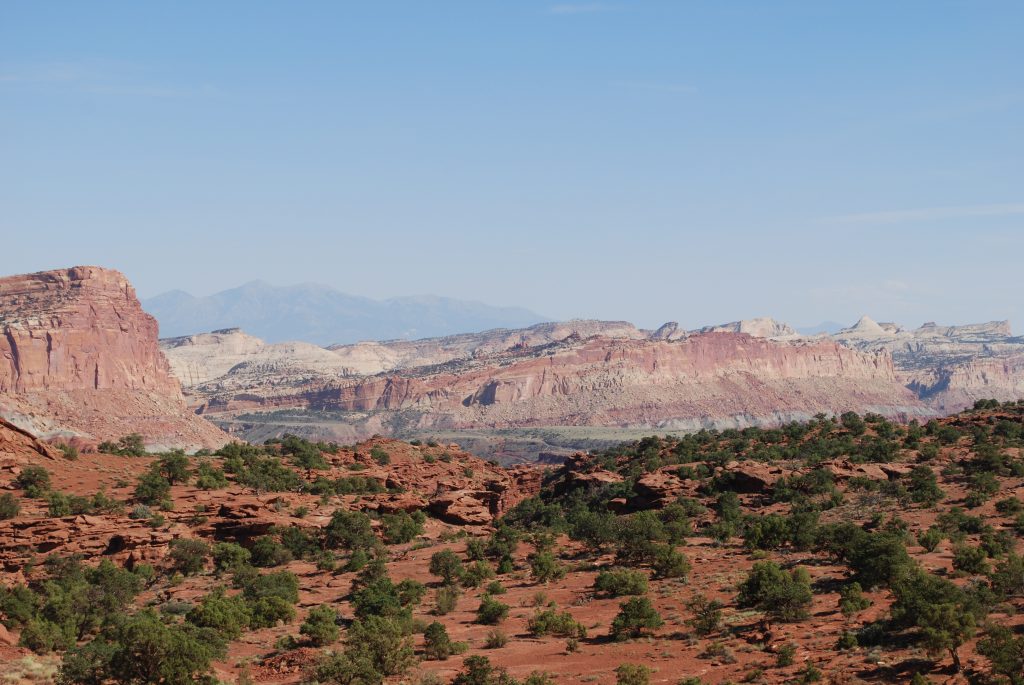 And then there's Panorama Point. A short walk to a viewpoint featuring a 360-degree panoramic vista near the west entrance of Capitol Reef National Park. To get here from Torrey, UT, drive east on Highway 24 for 7.4 miles. Turn right (south) at the junction for Panorama Point, Goosenecks, and Sunset Point. The parking for Panorama Point is on your right. Walk 100 yards uphill to the grand view. An interpretive sign provides information about the exceptionally clean air found in the park. This explains the incredible clear views all around you.
Important information about Capitol Reef
Visitors come to Capitol Reef National Park to view the area's remarkable geology. Among its features are a dramatic monocline, large number of arches and natural bridges, high-walled canyons, and large rock domes. Most visitors just drive through on UT-24. As the only paved road in the park, it traverses a relatively small section of it. There are, however, many dirt roads that lead to seldom explored areas. If you have a 4WD, you should read this blog.
For camping, there is only one developed campground in the park, at Fruita. In winter, it hardly ever fills up. Keep this in mind because all other camping alternatives in the area are in higher elevation. In summer, camping at Boulder Mountain or Fishlake National Forest (especially around Pando) is quite refreshing. Another option is the primitive Cedar Mesa Campground, about 23 miles south on the Notom-Bullfrog Road, which continues 68 miles to Bullfrog Marina at Glen Canyon National Recreation Area. This route is mostly paved, aside for about 20 miles of washboard within the Capitol Reef National Park boundaries, which is the reason high-clearance 4WD is recommended. A passenger car can make it in dry conditions. Just take it very slow. Check here for road conditions before heading out on this road.
San Rafael Swell
The San Rafael Swell is a large remote area in central Utah, split in half by Interstate 70. It offers a less crowded alternative for those who are willing to make the journey to the more remote spots on the map. The Swell extends from around Hanksville in the south, 40 miles north to Price, east to Green River, and about 75 miles west from there. It encompasses over 2000 square miles, or about the size of Grand Canyon National Park!
The entire Swell is an anticline, a dome of sandstone, shale and limestone that was pushed up 60–40 million years ago. The eastern and southern reef sections contain many great narrow slot canyons. Stay tuned for a later blog post as they are certainly worth checking out! The interior of the Swell boasts expansive flat areas, broad canyons, cliffs, and towers. In this blog post, we're focusing on the wide open spaces, namely The Wedge and Buckhorn Wash.
Important information about the San Rafael Swell
Due to its remoteness, always ensure you have extra food, water, and fuel when venturing out to the San Rafael Swell. Most areas of the swell require a significant drive from any amenities. Green River, Price, and Hanksville provide the nearest services, though there is a gas station at Castle Dale. Hanksville is quite small, with a few gas stations, a small grocery store, and a couple of restaurants and hotels. Many of these close during the winter. Green River, on I-70, has a fair number of services, while Price is a full service small town.
Many roads are well-maintained graded dirt roads suitable for all vehicle types. However, there are also many high-clearance 4WD roads that intersect them. If you have a 4WD, you should read this blog. Otherwise, you should keep to the roads mentioned here. Most of the San Rafael Swell falls under BLM jurisdiction, meaning that dispersed camping is allowed. There are already plenty of used sites along the roadways. Use these established sites to minimize impact and practice Leave-No-Trace principles! The BLM maintains a campground at the San Rafael Bridge in Buckhorn wash. Its only amenities are picnic tables and a pit toilet, so it is not much different than dispersed camping.
The Wedge
The Wedge, aka Little Grand Canyon, shows off an array of valleys, canyons, gorges, mesas and buttes. They were formed mostly by erosion from periodic flash flooding of the San Rafael River. This 1000-foot deep gorge reveals towering sandstone cliffs that overlook the canyon's bottom, lined with cottonwoods, rabbit brush, and greasewood. From the Wedge Overlook, roads head east and west along the rim. They provide more spectacular views of the 14-mile long Little Grand Canyon.
To get here from Castle Dale, drive east out of town on Main St/UT-10. Turn right onto Green River Cutoff Rd/UT-401. Proceed 12.8 miles east to Buckhorn Information Center. Turn right on Fullers Bottom Rd, then take a slight left onto Wedge Rd, about 1/2-mile later. The road ends at the Wedge Overlook, 6 miles farther.
To get here from Price, take UT-10 S for 11.2 miles and turn left onto UT-155 S. Proceed 7.6 miles to to Flat Bus Loop and turn left, then turn right onto Co Rd 208/206. Proceed 3.5 miles and turn right onto Victor Reef Rd, then left onto Buffalo Rd after 2.1 miles. Buffalo Rd becomes Buckhorn Draw Rd/Fullers Bottom Rd. Slight left after 7.1 miles to Wedge Rd, then proceed 6 miles to the Wedge Overlook.
Camping at the Wedge is in nice and spread out designated numbered sites. They offer some of the best sunrise and sunset views around! These campgrounds are free of charge and are available on a first come, first serve basis. Remember, all campgrounds at the San Rafael Swell are dry. Be sure to bring plenty of water, especially in the hot summer months. There is a pit toilet here.
Buckhorn Wash
Buckhorn Wash is known for its phenomenal Barrier Canyon style petroglyphs and pictographs. However, its towering walls and vibrant colors are also worth seeing. At the southern end of the wash is a 160-ft suspension bridge, built by the Civilian Conservation Corps in 1938. It served as the only bridge over the San Rafael River until the early 1990s. You can no longer drive on it, but it is perfectly safe to walk on.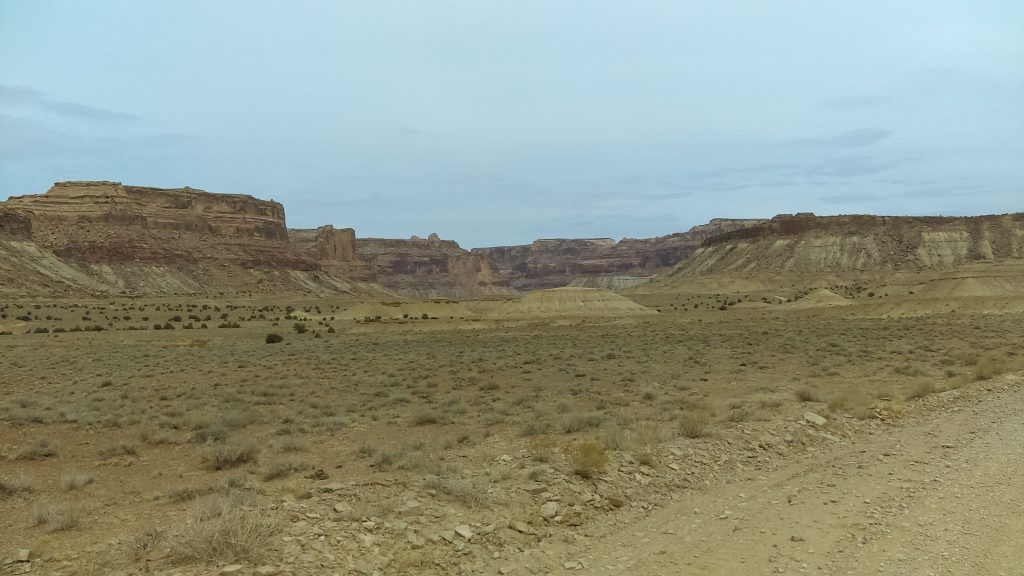 To get here from the Buckhorn Information Center on the Green River Cutoff Rd/UT-401, proceed 2.4 miles east and turn right onto Buckhorn Wash Rd.
To get here from Green River, take I-70 West to exit 131. Turn right and follow this road 19 miles to the southern end of Buckhorn Wash. This is also the location of the San Rafael campground.
There are many dispersed campsites in Buckhorn Wash, as well as the San Rafael Bridge BLM Campground. Remember, this campground has no services other than picnic tables and a pit toilet. It isn't much different than dispersed camping.
Canyonlands National Park
Canyonlands National Park preserves 337,598 acres of colorful canyons, mesas, buttes, fins, arches, and spires in the heart of southeast Utah's high desert. It's about as big as the Hawaiian Island of Kauai! Two important rivers, the Colorado and the Green Rivers, separate the park into distinct sections. To the north, between the two rivers, is the high plateau of Island in the Sky. This is the most accessible and popular region of the park. To the west is the Maze, attainable only in a reliable 4WD vehicle (aside for Horseshoe Canyon. See below.) To the east is the Needles District, a seldom-visited and often overlooked region.
Island in the Sky, the Needles, and Horseshoe District are wide open spaces that you can easily drive to in the American Southwest in a passenger car. Though they appear close on a map, there are no roads that directly link the districts. Traveling between them requires 2-6 hours of driving. All the campgrounds in Canyonlands National Park and around are quite spacious. Spaces in established campgrounds are first-come first-served, but there is also BLM land all around where you can stay.
Island in the Sky
The Island in the Sky mesa rests on sheer sandstone cliffs over 1000ft (305 m) above the surrounding terrain. It is the most accessible area of Canyonlands National Park, not far from Arches National Park and the town of Moab, UT. This section is dotted with pullouts offering spectacular views along its winding paved scenic drive. Although It is by far the most visited part of the park, it still has fairly low annual visitation (about 500,000).
To reach Island in the Sky, drive 10 miles (16 km) north of Moab or 22 miles (35 km) south of I-70 on US 191. Turn onto UT 313, and then drive southwest 22 miles (35 km). Driving time to the visitor center from Moab is about 40 minutes. Water and toilets are available at the visitor center year-round.
UT 313 leads to Island in the Sky. From its many viewpoints, look for the far-off snowy peaks of the La Sal Mountains to the east, Henry Mountains to the west, and Abajo Mountains to the south. From the viewpoints, search for the White Rim 1200ft (366m) below. The Green and Colorado Rivers are another 1000ft (305m) below the White Rim. With a reliable high-clearance 4WD vehicle, you can descend to the White Rim and drive all around the base of Island in the Sky. If you have a 4WD, you should read this blog.
Needles
The Needles District forms the southeast corner of Canyonlands National Park. It is named for the colorful spires of Cedar Mesa Sandstone that dominate the area. Hiking trails offer many opportunities for long day hikes and overnight trips. Chesler Park, for example, offers a varied day hike to a prairie surrounded by needles, arches, and narrow slots. If you feel well and want to backpack, this is the place to spend the night! The Confluence Trail is another great hiking option leading to a viewpoint of the Green and Colorado Rivers coming together.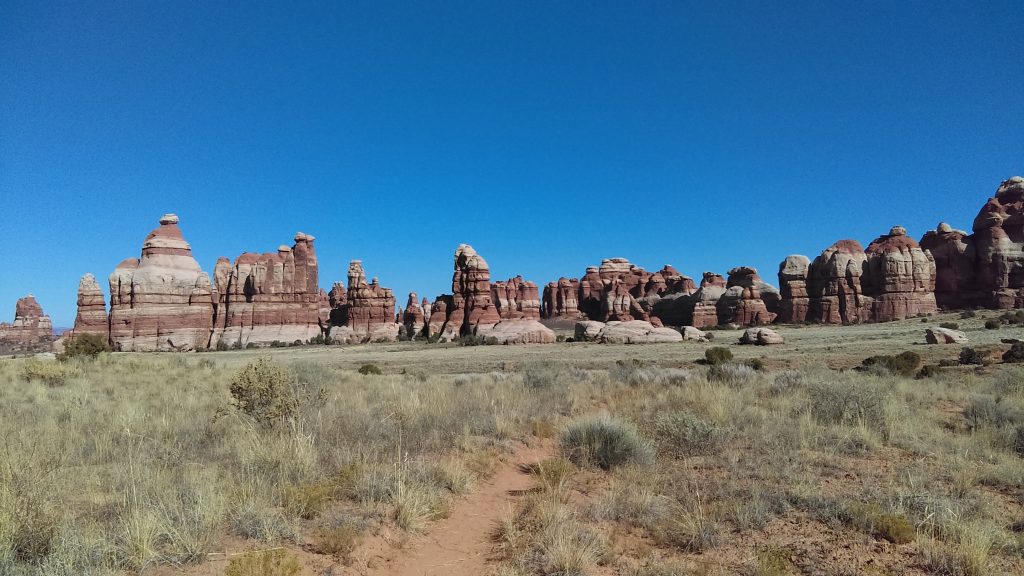 To reach the Needles District from US 191, drive 40 miles (60 km) south of Moab or 14 miles (22 km) north of Monticello. Take UT 211 roughly 35 miles (56 km) west. UT 211 ends in The Needles, and is the only paved road leading in and out of the area. Water and toilets are available at the visitor center year-round.
Horseshoe Canyon
Horseshoe Canyon contains some of the most significant rock art in North America. The only reason to go here, aside for isolation, is seeing the Great Gallery. This is a well-preserved Barrier Canyon style rock art panel of life-sized figures with intricate designs. The hike to the Great Gallery is 7 miles (11.2 km) roundtrip, in a wash. This makes for a tiring walk. It takes about 5 hours. There is a steep descent of 780ft (237m) at the beginning of the hike. This means you would have to climb back up to your car at the end of the hike. The canyon itself is fairly wide. Even if there are other people there with you, it will still feel spacious.
Getting to Horseshoe Canyon may take some driving, but it is well-worth your time! From UT 24, near Goblin Valley State Park, travel down a 30-mile dirt road to the Horseshoe Canyon trailhead. This section of UT-24 is very far from any towns and amenities. This is quite a large empty area with a nicely decorated pit toilet. You may camp at the trailhead or at any pullout along the dirt road to it. Overnight camping is not allowed inside of Horseshoe Canyon.
Regular cars can drive the dirt road to the trailhead in dry conditions, but it may be impassable when wet. Check the weather and road conditions before heading out! Bring your own food and drinking water for the duration of your stay. There are no amenities at the trailhead or anywhere else along the dirt roads in the area. In hot weather, plan for salty snacks and 1 gallon (4L) per person for the hike. Keep emergency water and food in a cooler in your car.
Chaco Culture National Historical Site
All roads lead to Chaco. Or at least they did between 850-1250 A.D., when Chaco Canyon was central to thousands of people. By 1050, Chaco had become the ceremonial, administrative, and economic center of the San Juan Basin. Dozens of great houses in Chaco Canyon were connected by roads to more than 150 great houses throughout the region. Chaco Culture National Historical Site is a UNESCO World Heritage Site.
A 9-mile loop road accesses five major Chacoan sites. Short self-guided trails are marked at each site. Four backcountry hiking trails lead visitors to remote Chacoan sites. They pass ancient roads, petroglyphs, stairways, and spectacular overlooks of the valley. The trails are open from 7am until sunset. Free permits are available at the Visitor Center and at all trailheads.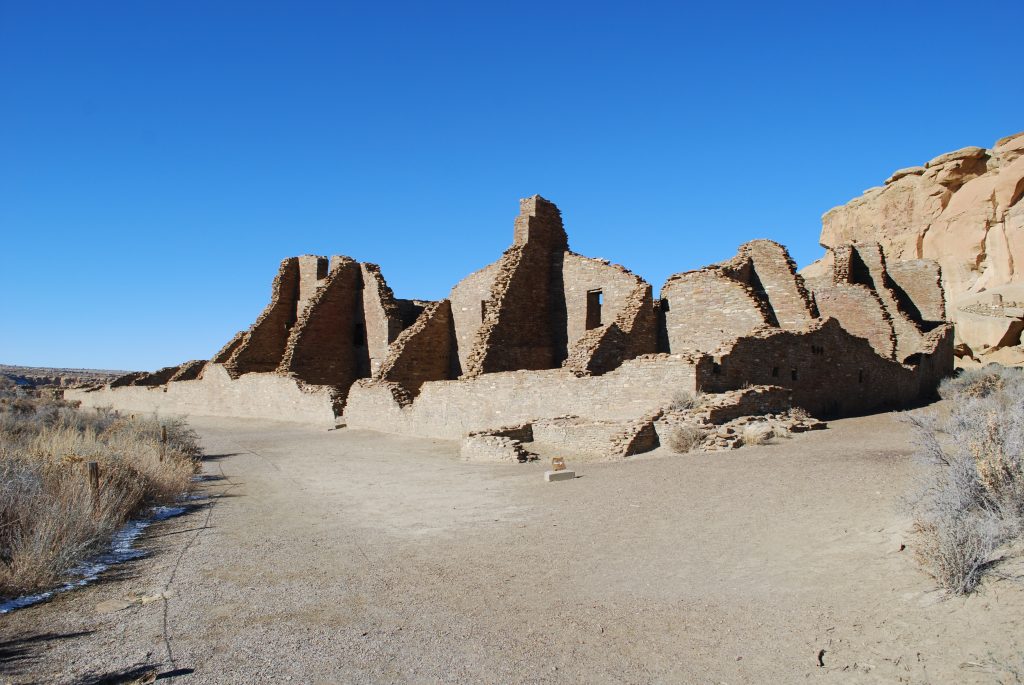 Important information about Chaco Canyon
The remote location of Chaco Canyon adds to the beauty and adventure of visiting the park. In addition, only dirt roads lead to Chaco. The main road into the park is from US Highway 550, 40 miles south of Farmington, NM, or 50 miles north of Cuba, NM. Turn onto County Road 7900 and proceed 21 miles to the visitor center. The first 8 miles of this road are paved, followed by 13 miles of dirt (CR7950). This route is suitable for all car types. Other dirt roads lead out of Chaco, but you should check road conditions at the visitor center, especially if you have a regular car.
There is no overnight backcountry camping. Camping is only allowed in Gallo Campground, though it rarely fills up. Due to its remoteness, park staff can go days without seeing a single visitor. The busiest days in the park are during events such as the equinox. At such times, over 100 people may be in attendance.
NOTE: The Sunrise Spring Equinox event, due to take place on March 20, 2020, was cancelled due to health and safety concerns. The park and the campground remain open.
Wupatki National Monument
Wupatki National Monument is a small park of 35,422 acres. That's about half the size of Honolulu! Unlike Honolulu, however, it is surrounded by a vast desert and grand views. The park represents a cultural crossroads that was home to numerous groups of people over thousands of years. Nestled between the Painted Desert and ponderosa highlands of northern Arizona, preserves dozens of ancestral Puebloan villages. Where food and water seem impossible to find, people built pueblos, raised families, farmed, traded, and thrived. Though silence reigns today, this place was once a bustling hub of trade and life.
If you happen to be here during winter, you may opt to stay in a hotel or an RV park. There is no camping in the park, and all the nearby National Forest campgrounds close for the season around mid-October. They open back up in the spring. There is a large National Forest campground, Bonito Campground, across from Sunset Cater Volcano National Monument, just south of Wupatki. The campground has drinking water and flush toilets, but it is closed in winter. If you have a 4WD, there are many opportunities for dispersed camping off the surrounding dirt roads.
Click here for exclusive deals with up to 60% off hotel rooms at reservations.com
Getting here is very easy. Wupatki and Sunset Crater Volcano National Monuments are connected by loop road FR-545. Visitors can enter the loop road near mile markers 430 (Sunset Crater Volcano) and 444 (Wupatki) on U.S. Highway 89 north of Flagstaff.
St Thomas Ghost Town – Lake Mead National Recreation Area
If you happen to be in Las Vegas, take a day trip to explore the abandoned concrete structures of St Thomas. This ghost town is located within the boundaries of Lake Mead National Recreation Area. Founded in 1865, this old Mormon settlement was inundated when Lake Mead first filled up in the 1930's. The town was once flooded higher than 60 feet above the tallest structure! Today, remnants of the town can be seen due to the receding water levels of Lake Mead.
Interestingly, St. Thomas was founded by Mormon settlers who mistakenly thought they were still in Utah/Arizona Territories. The location was a prime farming spot at the confluence of the Muddy and Virgin Rivers, which flowed to the Colorado River, 22 miles south. Though it is hard to believe, according to the National Park Service, the peak population of St. Thomas was around 500 people. The town had a school, post office, grocery store, church, soda fountain, and several garages. One of the last residents to leave the drowning town literally paddled away from his home when the rising waters finally touched his front door in 1938.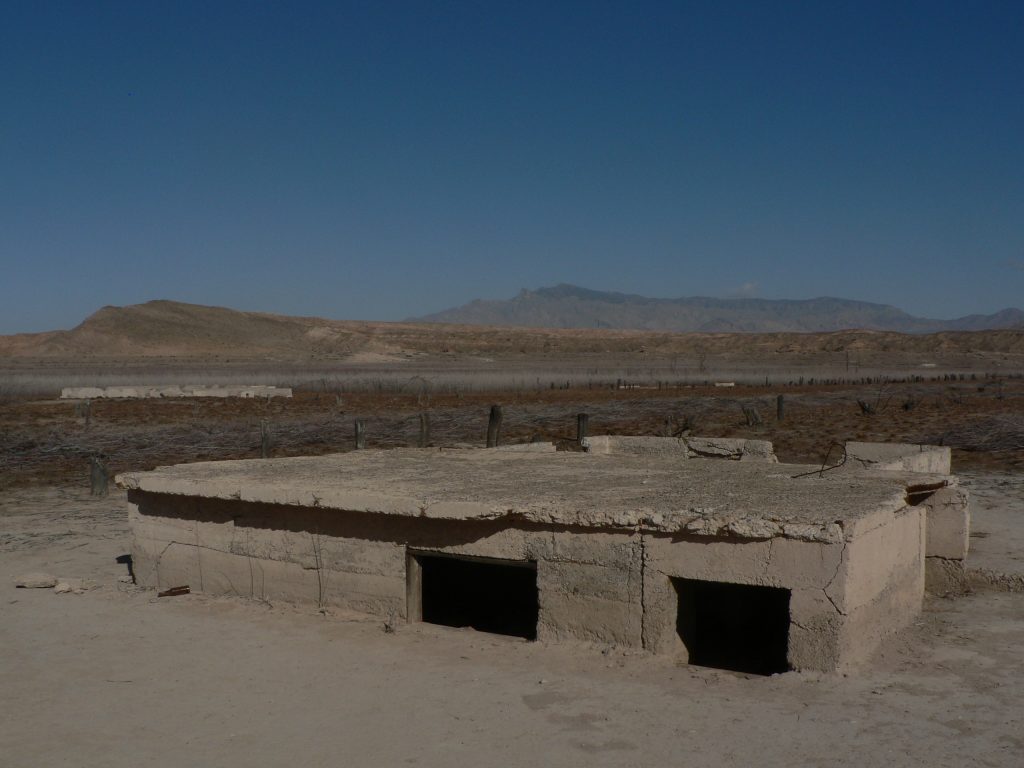 Important information about St Thomas
St Thomas is not the prettiest place in the world, but it has an interesting story to tell about the American West. And it's quite isolated, wide open, with lots of fresh air. This is a day-use site only, so return to Las Vegas to spend the night.
St Thomas is located about 1.5 hours north of Las Vegas and can be reached either from the Lake Mead Scenic Drive that is Northshore Rd or by driving through Valley of Fire State Park. If coming from the north, St Thomas is located about 20 minutes south of Overton. The 3-mile dirt road that leads to the St Thomas Trailhead is quite bumpy, but well-maintained. High-clearance vehicles are recommended, but regular cars can make the drive. Just go slow. From the parking area at the end of the road follow the trail to the town site. A 2-mile easy loop will lead you through the ruins and back to your car.
Conclusion
The above is only a small selection of the many wide open spaces to drive to in the American Southwest in a regular vehicle. Here's a map from the DetourOn planner: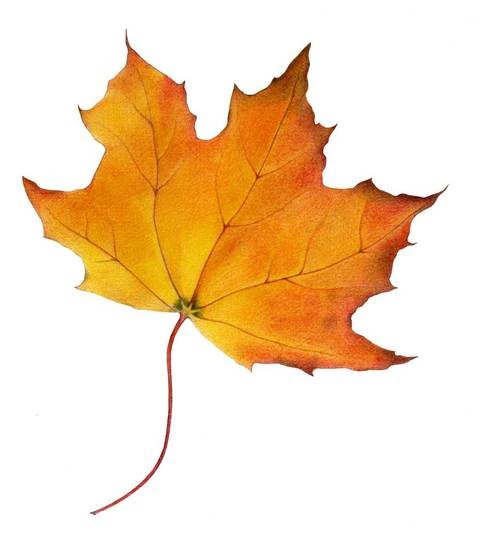 DetourOn Tip: Check out our how-to page to make your own map and use our planner. What's a roadbook?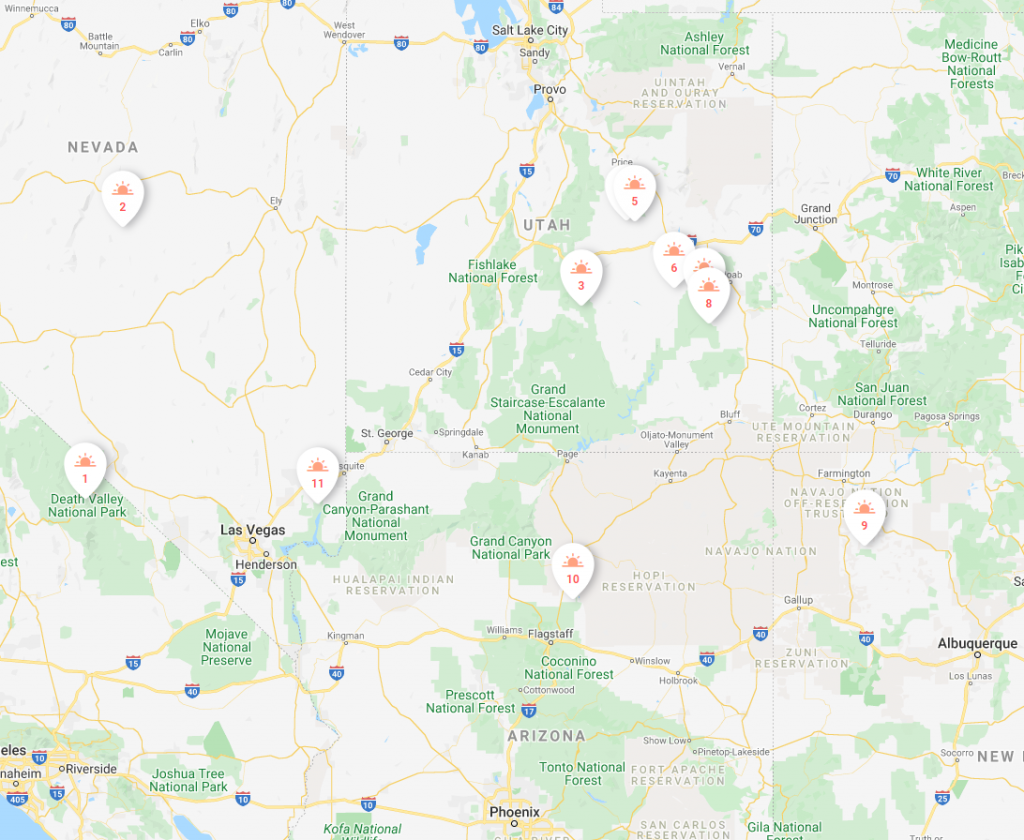 We also made a list of places you can explore in your high-clearance 4WD vehicle. If you think any other place should be included in this list, please let us know about it in the comments below. If you'd like more suggestions, feel free to email us. Let us know where you're located and we'll send you suggestions of places you can visit to get some fresh air. If you like our ideas, please share them with your friends.