IMPORTANT NOTE: The best jeep trails in the American Southwest can only be driven in a reliable high-clearance 4-Wheel-Drive vehicle, when roads are dry. Do not attempt during or right after rain or with an inappropriate vehicle. If these roads are not for you, check out our suggestions for the best places to visit in a regular passenger vehicle.
In the midst of the Coronavirus outbreak, citizens must stay indoors and limit contact with one another. We're getting a bit stir-crazy. We've decided to put together a list of places in the Southwest you can drive to in order to get some fresh air without fear of bumping into too many people. Don't worry – even if all people who read this decide to go to the same place, there is still plenty of space there for everyone! You may see people around, but you'll still have plenty of personal space (I'll take this statement back if this turns into a Burning Man turnout, but that's highly unlikely.) Those with high-clearance 4WD vehicles can go even farther to explore these gorgeous wide open desert locations. That's what this blog is about. If you're towing an ATV, check out this resource for trail ideas all over the USA.
Disclaimer: During these times of extreme uncertainty, you should take all safety precautions possible before heading out to remote areas. Refer to this blog from Backwoods for responsible social distancing. Please be smart, practice good ethics, follow Leave-No-Trace principles, and BE CAREFUL.
Here is our list of the best jeep trails in the American Southwest
A few precautions
Since public transportation is almost non-existent, we recommend the below destinations for those who are currently within driving distance of them. Keep in mind that they may require a few good hours of driving. If you're not already in the Southwest, save this blog for later reference.
As with any remote jeep trail in the Southwest, make sure you take the appropriate precautions before heading out. Flat tires frequently occur on smooth, graded sections of roadway that hide unseen sharp rocks. Travel slowly, 30mph or less. Bring tire plugs and a portable air compressor, or bicycle pump, to repair flat tires. Ensure you have enough fuel, full size spare tire (2 spare tires is even better), jack/lift, and owner's manual. Tow service costs $1,000–2,000, and assistance is not guaranteed. Carry extra water, food, and warm clothing. Make sure you have a good map of the area. Due to rapidly changing conditions, be equipped to spend the night. To make sure you have the necessities with you, check that you have everything on this packing list before leaving the house.
There are absolutely no amenities on the below jeep trails. No water, no gas, no cell phone coverage. Be prepared.
Please familiarize yourself and follow Leave-No-Trace principles.
If possible, plan to camp alongside these dirt roads rather than driving back out to pavement. There's plenty of dispersed camping in the Southwest. If you need camping gear, we've got you covered! Check out our car camping gear rentals.

FINAL WORD OF CAUTION

: Park visitor centers are closed and emergency services are far away and limited. If you leave the comfort and safety of your house, you do so at your own risk! Please be smart, practice good ethics, follow Leave-No-Trace principles, and BE CAREFUL.
The Racetrack – Death Valley National Park
The Racetrack is a dry lakebed best known for its strange moving rocks. The road to the Racetrack has many loose sharp rocks, making it a requirement to have a high-clearance vehicle and good tires, though 4WD is unnecessary. To get here from Beatty or from Furnace Creek, take Scotty's Castle Rd north to the Grapevine Ranger Station, then turn left toward Ubehebe Crater (check out the crater on your way in or out). Proceed 25 miles on the dirt road to the Racetrack.
Bonus: On the Racetrack Rd, you'll pass Teakettle Junction, an intersection marked by a road sign covered in teakettles of all shapes and sizes. You're welcome to bring your own kettle to leave behind.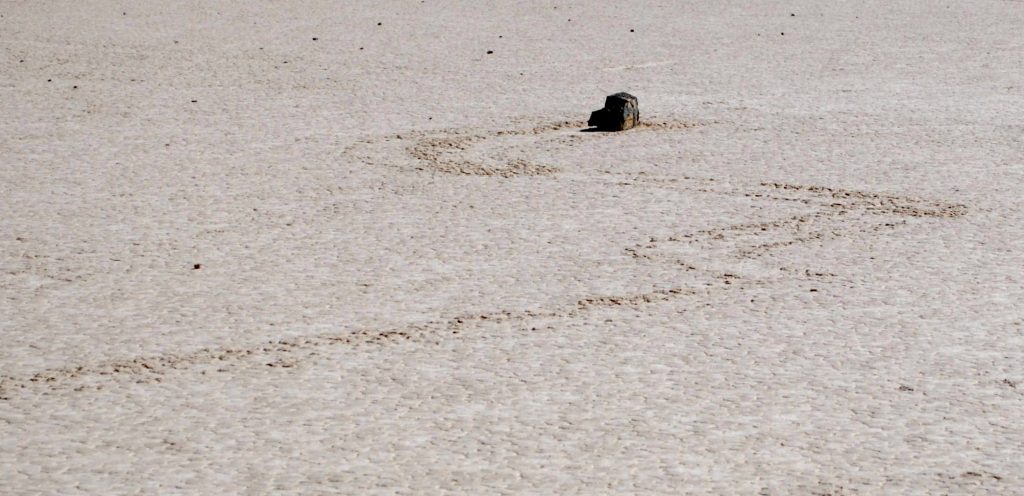 Remember that this park is the lowest, driest, and hottest place in America. OK, when you read it like that, you might not feel an immediate attraction to it. However, Death Valley National Park offers some shocking contrasts. As described on the website, "despite its morbid name, a great diversity of life survives in Death Valley." Rainstorms, though rare, can "bring vast fields of wildflowers" and also flash floods. Visiting in summer can mean unbearable heat, but the Racetrack, surprisingly, can get "frosted with winter snow."
Important things to know before visiting Death Valley National Park
Before visiting, check the official park website for any alerts and road closures. The entire park has only one place to fill up drinking water (Furnace Creek Visitor Center), though you may be able to buy bottled water at the Furnace Creek or Stovepipe Wells convenience stores. Make sure your gas tank is full before entering the park. There are three gas stations in the park – Furnace Creek, Stovepipe Wells, and Panamint Springs – but they are very expensive.
Camp only in designated sites in Death Valley. In winter, though it may get cold, we recommend the less popular campgrounds at Wildrose (high-elevation), Emigrant (pretty much on the highway), or at the Racetrack (high-clearance dirt road). There are pit toilets at these sites but no other amenities.
Gold Butte National Monument
Gold Butte National Monument covers nearly 300,000 acres of remote and rugged desert landscape in southeastern Nevada, where dramatically chiseled red sandstone, twisting canyons, and tree-clad mountains punctuate desolate stretches of the Mojave Desert. Visitors to the monument can hike to rock art sites, drive the Gold Butte Backcountry Byway to the area's namesake mining ghost town, hunt desert bighorn sheep, or tour the area's peaks and canyons on horseback. The Gold Butte National Monument offers over 500 miles of motorized recreation trails. The area is sacred to the Moapa Band of Paiute Indians and the Las Vegas Paiute Tribe and includes thousands of petroglyphs and traces of human habitation dating back over 12,000 years.
To get here from Las Vegas, take I-15 N to exit 112 toward Riverside/Bunkerville. Drive south for three miles. Once you cross the bridge over the Virgin River, turn immediately right onto Gold Butte road. Keep following this paved, but potholed road. Inside park boundaries the jeep trails are unpaved and unmaintained. There are no amenities in the park aside for a couple pit toilets. Make sure you have a full tank of gas and plenty of food and water. The town of Mesquite, NV offers the nearest amenities.
Toroweap – Grand Canyon National Park
A visit to Toroweap Overlook, in the Tuweep Ranger District, provides an opportunity for uncrowded, rustic, and remote experiences. Tuweep sits at an elevation of 4500ft (1400m) on a landform known as the Esplanade which forms a flat shelf situated about halfway between the coniferous forests of the North Rim and the canyon bottom. At 3,000 vertical feet (915 m) above the Colorado River, the sheer drop from Toroweap Overlook offers a dramatic view of this part of the Grand Canyon. It is less than one mile across the canyon to the Hualapai Indian Reservation on the South Rim, making this one of the narrowest and deepest segments of the inner canyon.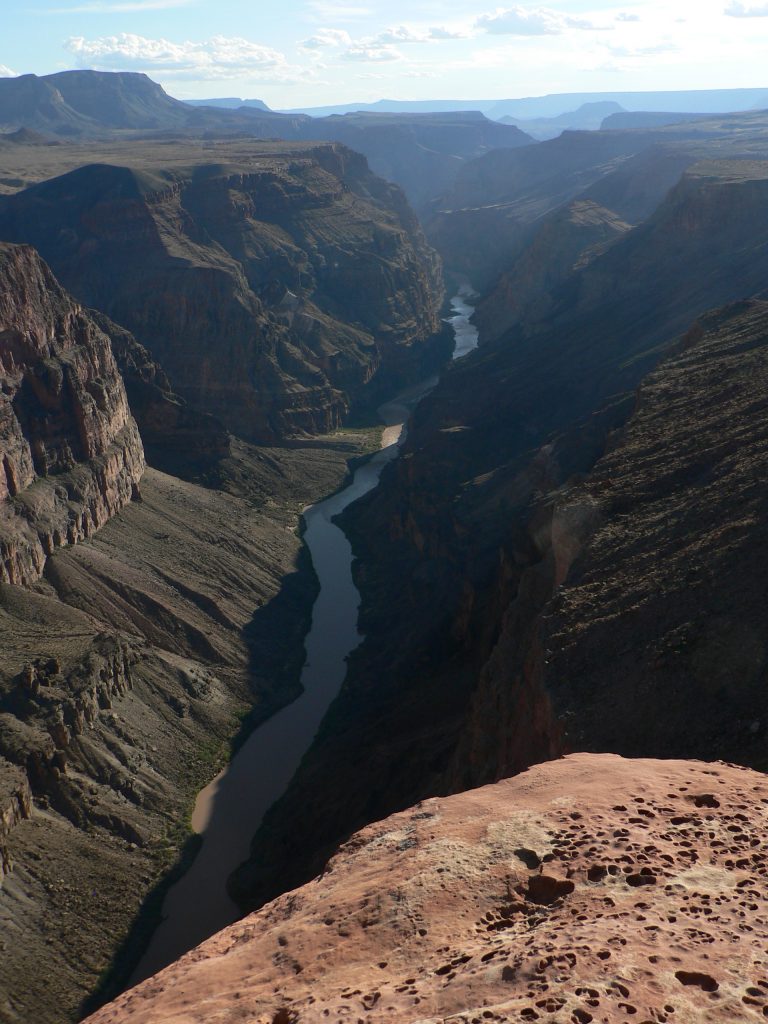 Access this viewpoint using one of three different routes through the Parashant National Monument. High clearance vehicles are required, and 4WD is highly recommended.
Sunshine Route: This is shortest and most reliable jeep trail, and therefore the recommended access route to Toroweap Overlook. Follow County Road #109, which leaves AZ 389 eight miles west of Fredonia or six miles east of Pipe Spring National Monument. This 61-mile (98 km) road features sharp rocks, washboarding, and and lots of dust. Please do not stop on tribal land when traveling this route.
Clayhole Route: County Road #5 leaves AZ 389 at Colorado City, Arizona, and passes near Trumbull Ghost Town and Mt Trumbull. It is 56 miles long.
Main Street Route: BLM Road #1069 and County Road #5 from St. George is 90 miles long. This scenic route is impassable in winter due to snow and mud.
Important things to know before visiting Tuweep
The Parashant National Monument is a high desert environment. Winters are mild, with rain, snow and freezing temperatures. During muddy winter conditions, the park recommends traveling when routes are frozen and overnight temperatures fall below 20°F (-7°C). Complete travel prior to thaw at 8:30am. Summers are very hot and offer little shade. During the summer monsoon season, usually July-August, muddy conditions may exist. At these times, visit in the morning before the afternoon storms. Note that it is prohibited to drive on muddy jeep trails in the American Southwest. In addition, flooding may occur when the chance of precipitation is as low as 10 percent. Plan accordingly.
Before getting to Toroweap you will pass next to the Tuweep Ranger Station. It may or may not be staffed. There is a pit toilet here and an emergency phone, but no water. There is no water, gas, food, lodging, or phone service within a radius of over 70 miles!
Staying at Toroweap Campground requires a permit, issued well in advance from Grand Canyon National Park. Permits cannot be issued at Tuweep. There are no amenities at the campground aside for a pit toilet and picnic tables. Vehicles and vehicle combinations longer than 22ft are prohibited from the road to the campground.
Dispersed BLM camping is available in the Parashant National Monument, especially around Mt Trumbull and Nampaweap. It is possible to drive to Toroweep Overlook only for the day, then spend the night outside of Grand Canyon park boundaries. The day-use area is open from sunrise to 30 minutes past sunset. It is illegal to camp on the land adjacent to the park and at the airstrip.
Grand Staircase-Escalante National Monument
Grand Staircase-Escalante National Monument spans approximately one million acres of America's public lands. It boasts spectacular cliffs and terraces across the rugged Kaiparowits Plateau and the Escalante River Canyons. Monoliths, slot canyons, natural bridges, and arches speckle the Monument along with picturesque washes, and even some abandoned old Western movie sets. There is even Anasazi and Fremont cultures rock art panels, occupation sites, campsites and granaries.
In 2017 the US government divided the park into three sections: The Escalante Canyons, the Grand Staircase, and the Kaiparowits Plateau. The Escalante Canyons is the most popular section. It features waterfalls, arches, riparian oases, sculpted slickrock and narrow slot canyons. The Grand Staircase is a series of plateaus that descend from Bryce Canyon south toward the Grand Canyon. It has vertical "staircase" drops of Pink Cliffs, Grey Cliffs, White Cliffs, Vermillion Cliffs and Chocolate Cliffs. Together, these features give the park its name. This area is more remote and less visited, and contains the most extensive network of slot canyons in Utah. The 1,600-square-mile Kaiparowits Plateau separates these two areas. It features unique sedimentary rock formations containing an unbroken record of fossils spanning 30 million years.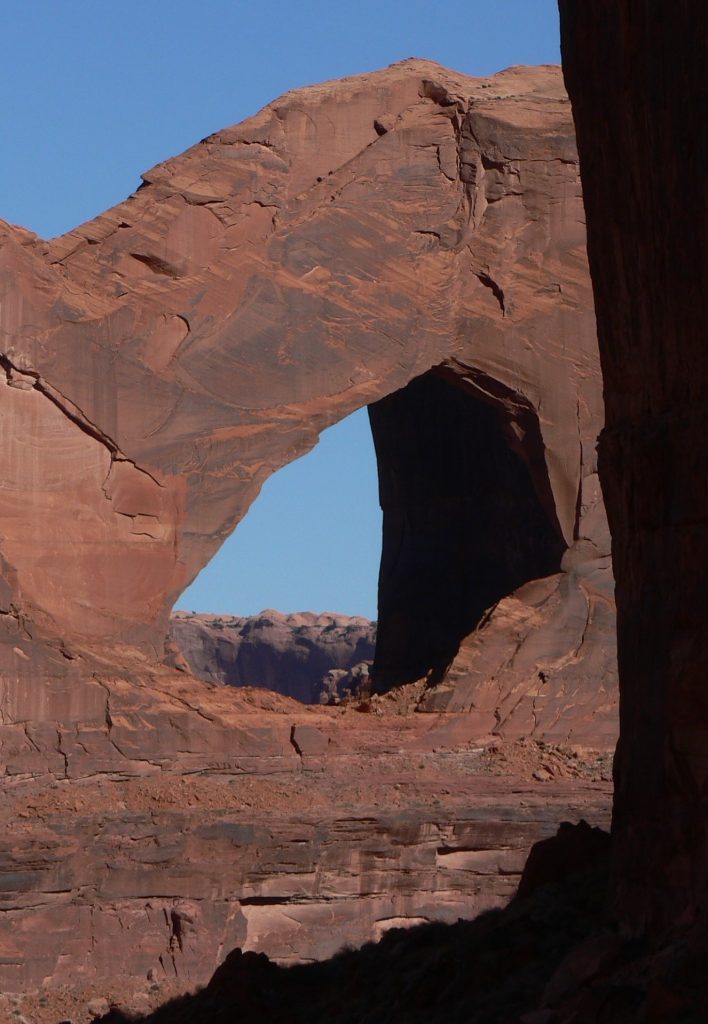 Things to know before visiting the Grand Staircase-Escalante National Monument
Due to its remote location and rugged landscape, the monument was one of the last places in the continental United States to be mapped. Today, it is still a vast and pristine backcountry that affords excellent opportunities for solitude and unconfined wilderness recreation. Not to mention great scenic driving opportunities and endless camping options, both developed and primitive. In fact, paved roads reach very few trailheads. Remember to carry plenty of water, stock up on food, fill the gas tank, and prepared yourself for any situation. Summer temperatures can range over 100° F (38°C) and winters can drop well below freezing at night. Sudden heavy rains, especially common during summer monsoons, may make jeep trails impassable.
Hole-in-the-Rock Road
This 62-mile (100km) drive traverses the Escalante Canyons region from the town of Escalante, UT, to the western shore of Lake Powell. The route generally follows the original Hole-in-the-Rock Expedition, an 1879 Mormon pioneer undertaking to create a new colony downriver. A precipitous 2000-ft (610 m) drop to the river below, dubbed Hole-in-the-Rock, delayed the expedition. Today, Lake Powell fills up most of the "hole", but the road, the views, and the story of perseverance prevails.
Most of the Hole-in-the-Rock Road is in the Grand Staircase-Escalante National Monument, and the road can be driven with a high-clearance vehicle. The last 5 miles, including the Hole-in-the-Rock site, are within the boundaries of Glen Canyon National Recreation Area. This last section requires a 4WD vehicle. If a heavy rain storm catches you near the end of the road, you may have to wait longer than you think in order to get out, even with a four-wheel drive. Check here for road conditions or call the Escalante Interagency Visitor Center at 435-826-5499.
Egypt Road
Another scenic jeep trail, Egypt Road, leaves the Hole-in-the-Rock Road about 17 miles into it. Early pioneers named the Egypt Plateau due to its possible resemblance to the land of the pharaohs. This 10-mile long road leads to the starting points of many canyoneering expeditions. However, it also offers amazing views over the cliffs of Egypt as well as great hikes into the canyons. One such hike is Golden Cathedral in Lower Neon Canyon.
The first 5 miles of Egypt Road are well-graded and maintained. Crossing Twentyfive Mile Wash, on the other hand, changes the road dramatically. The wash may literally be washed out after a rain. The road then passes over 2 more smaller washes and the slickrock tops of two canyons. Therefore, only make the drive out there in good conditions.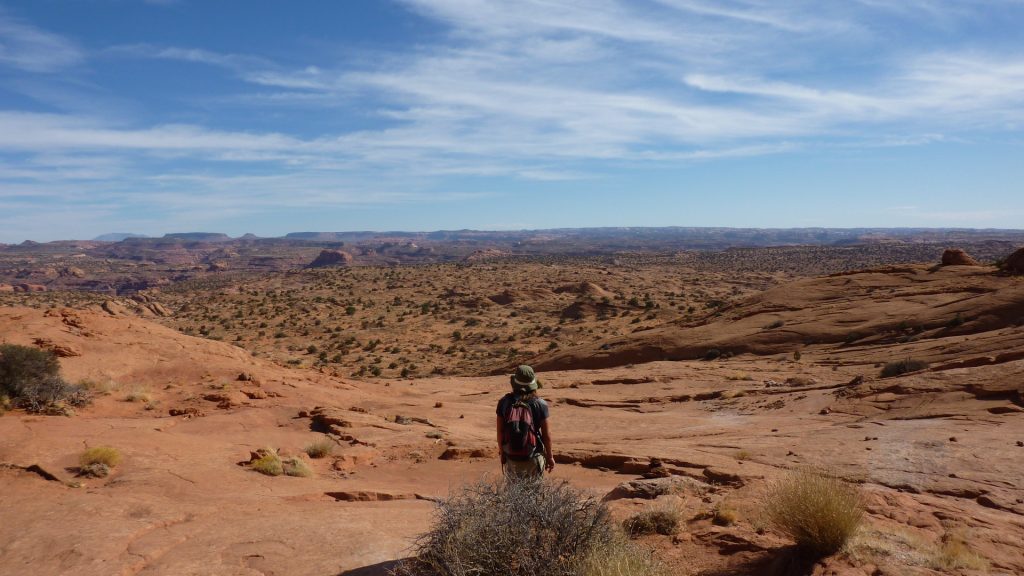 Capitol Reef National Park
Visitors come to Capitol Reef National Park to view the area's remarkable geology. This includes a dramatic monocline, large number of arches and natural bridges, high-walled canyons, and large rock domes. An interpretive sign at Panorama Point even provides information about the exceptionally clean air found in the park. Most of the 500,000 visitors per year just drive through on UT-24 which traverses a small section of the park. UT-24 is the only paved road in the park. This means that visitors seldom explore the other areas as they require a high-clearance vehicle.
No matter which direction you take to drive to Capitol Reef National Park, you won't regret it. From the south, drive over Utah's Scenic Byway 12 past Grand Staircase-Escalante National Monument and over Boulder Mountain (if driving in winter, check road conditions before heading out). From the west, it's the I-70 corridor past Fremont Indian State Park. And from the east, it's UT-24 through the San Rafael Swell.
Important thing to know before visiting Capitol Reef National Park
The nearest town to the park visitor center is Torrey, UT. It has a gas station and trading post, but no grocery store. Make sure you stock up on all necessities before arriving here. Due to the park's remoteness, always ensure you have extra food, water, and fuel when venturing out on its jeep trails.
A couple of established yet primitive first-come first-served campgrounds exist along the Burr Trail and at Cathedral Valley. Though designated for camping, but they offer no amenities aside for pit toilets. The only developed campground in the park is at Fruita, not far from the visitor center. This campground is fairly quiet in winter. Thus you have more space to yourself. All other established campgrounds in the area are in higher elevation, and therefore snowed in. In summer, camping at Boulder Mountain or Fishlake National Forest (especially around Pando) is quite refreshing but may get crowded.
Burr Trail to Notom-Bullfrog Rd
Most people take two days to drive the 68 miles from the western end of the Burr Trail in Boulder to the northern end of the Notom-Bullfrog Rd (UT-24), staying at the Cedar Mesa Campground overnight. The campground has no amenities aside for a pit toilet, picnic table, and a fire ring.
The Burr Trail
The Burr Trail, originally a cattle trail blazed by stockman John Atlantic Burr, is a 68-mile scenic backway connecting the town of Boulder, UT with Bullfrog Marina at Glen Canyon National Recreation Area. Only 8.7 miles of it are within the Capitol Reef National Park boundaries. The Burr Trail is paved from Boulder to the west boundary of Capitol Reef (about 28 miles). Inside the park it remains a graded dirt road and is subject to change due to weather conditions.
The Burr Trail section between Boulder and Capitol Reef begins by traversing the Circle Cliffs, Long Canyon, and The Gulch. It then descends 800ft down a breathtaking set of switchbacks in only one-half mile. These switchbacks are not suitable for RVs or vehicles towing trailers.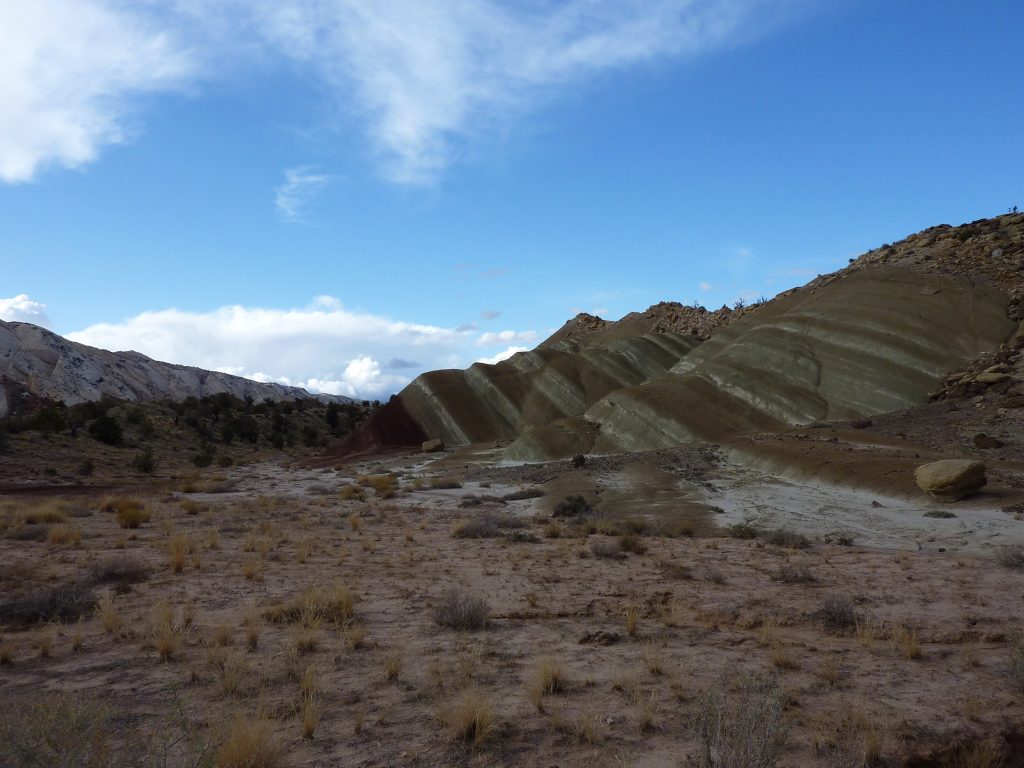 The Notom-Bullfrog Road
The Notom-Bullfrog Road is a 32-mile road along the eastern side of the Waterpocket Fold. It runs between the junction with the Burr Trail and UT-24, 9 miles east of the Visitor Center. Only 16 miles of this road are within Capitol Reef National Park boundaries. 22 miles of this road are a well maintained dirt road. In actuality, it's mostly washboard, which is the reason we recommend a high-clearance 4WD vehicle. The 10-mile section south of UT-24 is paved.
Alternate route: From the intersection of the Burr Trail with the Notom-Bullfrog Rd inside of Capitol Reef National Park, you could turn south on the road to Bullfrog Marina. Though this road is mostly paved, a high-clearance vehicle may be necessary for some sections of it. Check here for road conditions before heading out.
Hartnet Road to Cathedral Valley
The 57.6-mile Cathedral Valley Loop offers many side trips and hiking opportunities along the way. In Lower Cathedral Valley, the Temples of the Sun and Moon are massive monoliths that rise from the desert floor. The gypsum mound, Glass Mountain, is certainly worth a stop. Further north in Upper Cathedral Valley, columns of spire-like formations dominate the landscape, along with the utterly misplaced gypsum sinkhole. The northern end of the loop nears Thousand Lake Mountain, and the geology and topography change greatly with the subsequent gain in elevation.
Most people take two days to drive the loop, staying at the Cathedral Valley Campground overnight. The campground has no amenities aside for a pit toilet, picnic table, and a fire ring.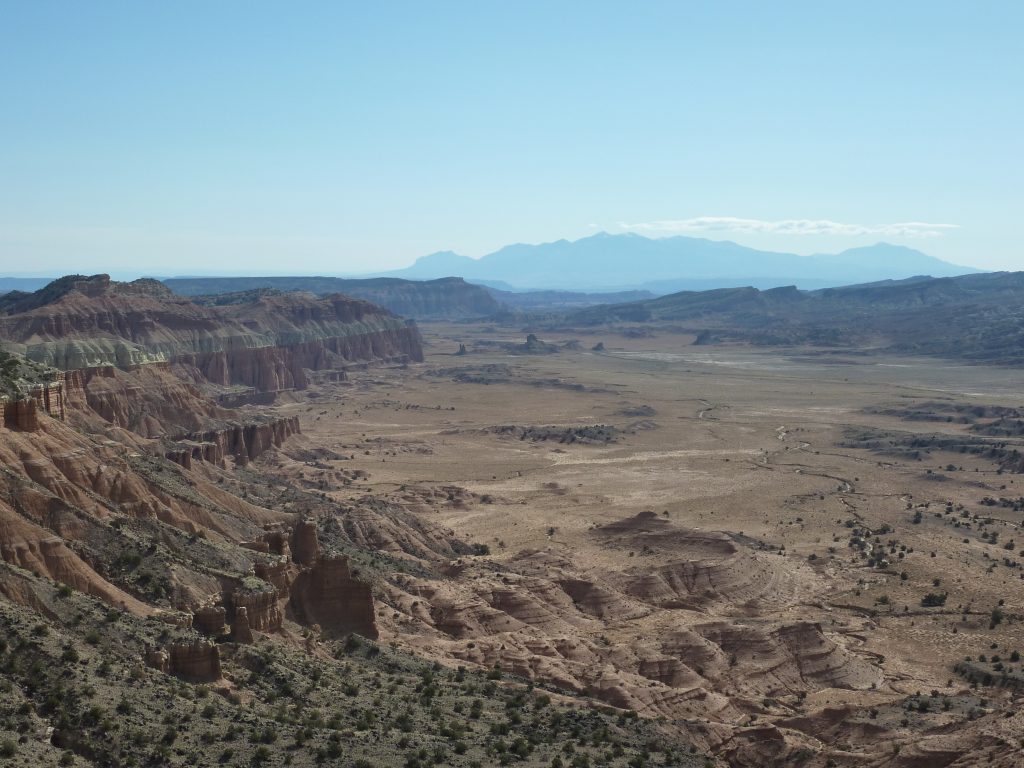 Loop driving options
We recommend starting the loop at Hartnet Road. Going this way requires fording the Fremont River in the beginning of your journey rather than at the end. There is no bridge over the river. Therefore, this will make certain that your vehicle is capable of making the crossing. The ford has a hard packed, rocky bottom and water levels are normally no more than a foot deep. Do not attempt to cross the river during floods or other periods of high water. The access road to the River Ford crosses private land. Please honor the posted no trespassing signs along the road near the ford by not parking off-road or camping in the vicinity.
To get to Hartnet Road from the Visitor Center, take UT-24 East for 11.7 miles and turn left onto the dirt road. Follow Hartnet Road for 27.8 miles to the junction with Cathedral Road. Turn right (north) onto Cathedral Road and continue 29.9 miles (48.0 km) back to UT-24. This will drop you 18.5 miles east of the Visitor Center, or 6.8 miles east of your starting point. Check road conditions by calling 435-425-3791 option #4.
In summer, if you don't want to ford the river, you can drive up UT-72 from Loa (stock up on gas and groceries here) toward Thousand Lake Mountain, and take Polk Creek Rd for 12 miles (National Forest Rd 206 to Rd 22) to the Cathedral Valley Campground. This road is closed in winter!
San Rafael Swell
The San Rafael Swell is a large remote area in central Utah. Interstate 70 splits it in half. This region offers a less crowded alternative for those willing to make the journey inland. The Swell extends from around Hanksville in the south, 40 miles north to Price, east to Green River, and about 75 miles west from there. It encompasses over 2000 square miles. That's about the size of Grand Canyon National Park! The entire Swell is an anticline, a dome of sandstone, shale and limestone that was pushed up 60–40 million years ago. The eastern and southern reef sections contain many great narrow slot canyons. Stay tunes for a subsequent blog post about these. They are certainly worth checking out! The interior of the Swell boasts expansive flat areas, broad canyons, cliffs, and towers.

Important things to know before visiting the San Rafael Swell
Due to its remoteness, always ensure you have extra food, water, and fuel when venturing out to the San Rafael Swell. Most areas of the swell require a significant drive from any amenities. Green River, Price, and Hanksville provide the nearest services, though there is a gas station at Castle Dale. Hanksville is quite small, with a few gas stations, a small grocery store, and a couple of restaurants and hotels. Many of these close during the winter. Green River, on I-70, has a fair number of services, while Price is a full service small town.
Many roads are well-maintained graded dirt roads suitable for all vehicle types. There are, however, many less maintained jeep trails that intersect them. When in good condition, these trails may be fit for passenger cars, but this is never a guarantee. It is therefore a requirement to use a high-clearance 4WD vehicle. Most of the San Rafael Swell falls under BLM jurisdiction. This means that you can practice dispersed camping. There are already plenty of used sites along the roadways. Use these established sites to minimize impact and practice Leave-No-Trace principles! The BLM maintains a campground at the San Rafael Bridge in Buckhorn wash. However, it has no services other than picnic tables and a pit toilet, so it is not much different than dispersed camping. One last word of caution: watch out for grazing cattle.
Points of interest around I-70
To get to points of interest around I-70, there are many deep sandy roads to maneuver, requiring high-clearance 4WD vehicles. Among them are Head of Sinbad, Dutchman Arch, Locomotive Point, Ascending Sheep, Lone Warrior, Black Dragon, Crystal Geyser, and the list goes on and on. For directions and background information, refer to Road Trip Ryan website.
Temple Mountain Road to Hondu Arch
To get to Hondu Arch from I-70, take exit 131 and follow Temple Mountain Road south. There will be several junctions with smaller jeep trails along the way, but remain on the main road for about 10 miles. At the junction with Heart of Sinbad Road, continue west about 3.5 miles until reaching McKay Flat Road. From here, it is 18 miles to the Hondu Arch. Continue south until McKay Flat Road intersects with Hondu Arch Road, which you will take to a view of the arch at the end of the road.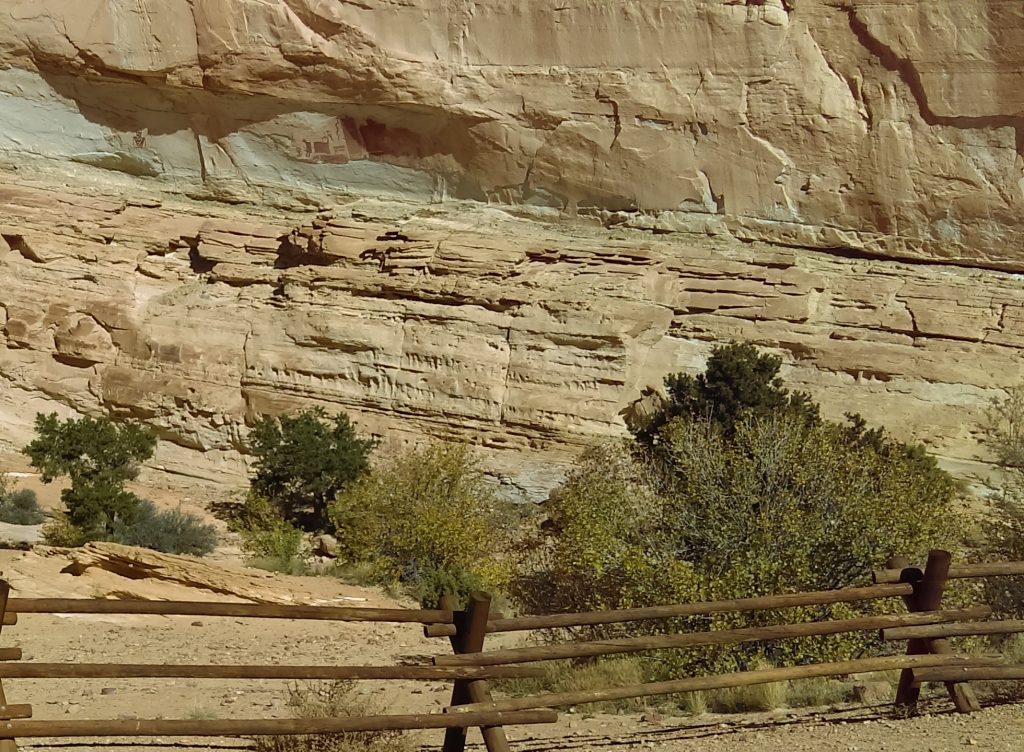 Return to Temple Road and continue south past fierce, beautiful landscapes with rock towers, mesas, and arches that expose the colorful rock layers of the San Rafael Swell, from the limestone and sandstone of the Permian, to the shale and mudstone of the Cretaceous. You will also pass many old mining roads and remnants. At the southern end of the road, not far from Goblin Valley State Park, make sure to visit the Temple Mountain Wash Pictograph Site, a great example of Barrier Canyon style pictographs. If you're traveling in a small jeep, you can navigate the Behind-the-Reef trail to access the upper end of many San Rafael Swell slot canyons such as Crack Canyon, Little Wild Horse, Ding and Dong Canyons, and more.
Bears Ears (Shash Jaa) National Monument
Bears Ears National Monument, represented by a pair of towering buttes that give this area its name, is home to outstanding cultural, recreational and natural resources. It features red rock, juniper forests, high plateaus, and an abundance of early human and Native American historical artifacts. As you can guess, this land is very important to Native American tribes of the area, such as the Navajo Nation, Ute Mountain Ute Tribe, and Hopi Nation. The area is famous for its rock art sites, pueblo homes, rock climbing, San Juan river running, camping, and outstanding views for photography.
Designated in 2016, the Bears Ears National Monument originally encompassed 1.3 million acres. In 2017, the US government reduced an estimated 90% of its boundaries and divided the monument into two units: The Indian Creek Unit and Shash Jáa Unit. The Indian Creek Unit is located around the paved UT-211, on the way to Canyonlands National Park Needles District. Although it is a beautiful road, we decided to exclude it from out list of best jeep trails in the American Southwest. Instead, we recommend driving through to explore the jeep trails of Canyonlands.
Important things to know before visiting Bears Ears National Monument
Because the park is so new, don't expect the same level of infrastructure of other national parks and monuments. Much of the land in the area is rugged, wild and remote, requiring greater preparation, fitness and respect on the part of the visitor. Aside for pit toilets, there are no amenities within the monument. No water, gas, or food. There is no visitor center for the National Monument. The nearest communities are Monument Valley, Mexican Hat, Bluff, Blanding, and Monticello. Utah Highways 191, 211, 95, 261, and 163 all provide access to portions of the park.
Depending where you go in the park, you may need to obtain a day-use permit. Not to worry, you can get it at the trailhead. There is plenty of dispersed camping along Comb Wash and Butler Wash Roads. Please stay on previously used sites and do not camp inside ruins.
Shash Jaa Unit
The Shash Jaa Unit has two jeep trails that parallel each other: Comb Wash Rd and Butler Wash Rd. They make their way between Hwy 95 and Hwy 163. They are separated by the Comb Ridge, which has A LOT of history to offer. Here's a great resource to follow for driving Butler Wash from south to north. This 20-mile road requires driving over slickrock and deep sand.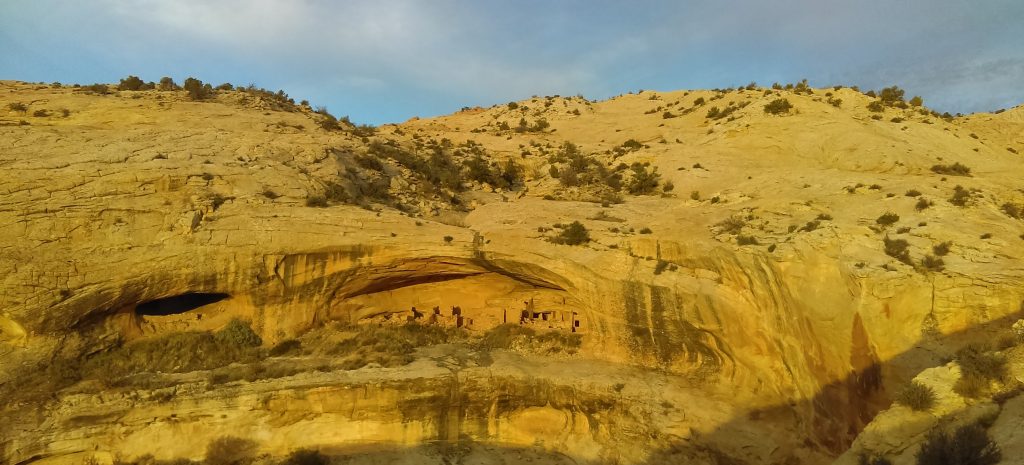 To get here from Bluff, drive southwest on US-191 S for 4.2 miles. Continue straight onto US 163 for 0.9 miles and turn right on County Road 262 / Lower Butler Wash Road. The road is located between mile posts 41 and 40 and is across from the Bluff Airport Road (County Road 269A). Almost immediately reach a gate across the road, secured by an unlocked chain. Open the gate, pass through, and close the gate behind you.
For some reason Comb Wash Road is a little less traveled. Its northern end, on Hwy 95 just west of Butler Wash Ruins, is the very popular access point to Mule Canyon. As it so happens, Mule Canyon really distracted us. We thus ended up spending more of our time there instead of continuing to explore Comb Wash. Maybe that happens to everyone? We'll go back there soon and will update this section of the blog afterwards. If you have information about it, please share with us!
Canyonlands National Park
Similar to Capitol Reef National Park, there are very few paved roads in Canyonlands National Park. This makes most areas of the park quite remote. Two important rivers, the Colorado and the Green Rivers, separate the park into distinct sections. To the north, between the two rivers, is the high plateau of Island in the Sky. The southeast is the Needles District, a less-visited yet often overlooked region. Finally, to the southwest is the Maze, a seldom-visited and difficult to reach location.
Horseshoe Canyon, a detached portion north of the Maze, is discussed in our article about places to visit in a passenger car in the American Southwest.
Though they appear close on a map, there are no roads that directly link the districts of Canyonlands National Park. As a result, traveling between them requires 2-6 hours of driving. Established campgrounds in and around the park are first-come first-served. However, you could practiced dispersed camping on BLM land. As with all desert jeep trails, check road conditions before heading out.
White Rim Trail – Island in the Sky
The Island in the Sky mesa rests on sheer sandstone cliffs above the surrounding terrain. The White Rim sits 1200ft (366m) below that. And the Green and Colorado Rivers are another 1000ft (305m) below the White Rim. With a reliable high-clearance 4WD vehicle, you can descend to the White Rim and drive all around the base of Island in the Sky. This 100-mile loop takes 2-3 days to complete. The White Rim Road has long rocky stretches, deep sand, and little shade. As with all jeep trails, be prepared! There is no potable water along the road.
You must obtain a use permit whether you plan to overnight or just visit for the day. This road is becoming more and more popular each year. We therefore recommend requesting the permit online. For overnight trips, you have to specify the campgrounds you plan to use. The park gives a maximum of 50 permits per day, only 25 of which can be purchased in advance.
There are a number of ways to reach the White Rim. For day trips, we recommend entering through Potash Rd near Moab and exiting through the windy and steep Shafer Trail.
Bonus: You do not need a permit if you plan to drive only on the Shafer Trail and Potash Road.
Elephant Hill – The Needles
Elephant Hill is one of the most technical four-wheel-drive roads in Utah. It has steep grades, loose rock, stair-step drops, tight turns, and tricky backing. Once over the hill, equally challenging roads lead to various features as well as BLM lands south of the park. This road is absolutely amazing (!!!), but only experienced drivers should attempt it.
You must have a permit to drive on this road. There is a maximum of 24 permits per day. Due to the difficulty of the road, it's very rare that the permits sell out.
To reach the Needles District from US 191, drive 40 miles (60 km) south of Moab or 14 miles (22 km) north of Monticello. Take UT 211 roughly 35 miles (56 km) west. UT 211 ends in The Needles, and is the only paved road leading in and out of the area. Hiking trails offer many opportunities for long day hikes and overnight trips.
Conclusion
The above is only a small selection of the best jeep trails in the Southwest region of the United States. Here's an overview map: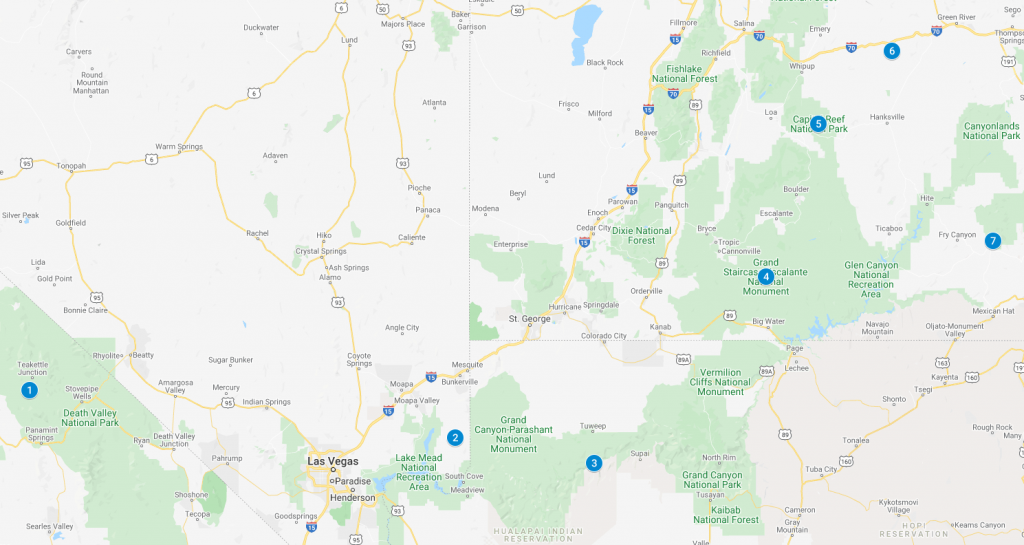 We highly recommend camping in or near the above locations. The Southwest weather is usually quite nice and the night sky is amazing. Oh, and of course, did we mention the fresh air?
If this will be your first time to America, make sure to familiarize yourself with these common practices before setting out. Also check out our article about things to know before going to the Southwest. Should you need it, we have car camping gear rentals in Las Vegas.
We also made a list of places you can explore in a standard sedan that you should check out. You should go there even if all you have is a 4WD. If you think of any other jeep road to include in this list, please let us know about it in the comments below. If you'd like more suggestions or more information about any of the above, feel free to email us. Let us know where you're located and we'll send you suggestions of places you can visit to get some fresh air. If you like our ideas, please share them with your friends.