As we've mentioned in a prior article, the exact boundaries of the American Southwest are vague. You'll know you're there when you notice the dry air, see wide open spaces, and experience little pollution. One way to experience these wide open spaces is by camping out under the stars. In this article, we'll focus on the campground types of the American Southwest that you can drive to.
If this will be your first time to America, make sure to familiarize yourself with these common practices before setting out. Should you need it, we have car camping gear rentals in Las Vegas.
The American Southwest roughly refers to the arid area between the Sierra Nevada mountain range in California and the Rocky Mountains of Colorado. The region stretches all the way south to the border with Mexico, and north into Wyoming and Idaho. As soon as the population grows, the air becomes more humid, and forests and smog block your view, you know you've left the Southwest.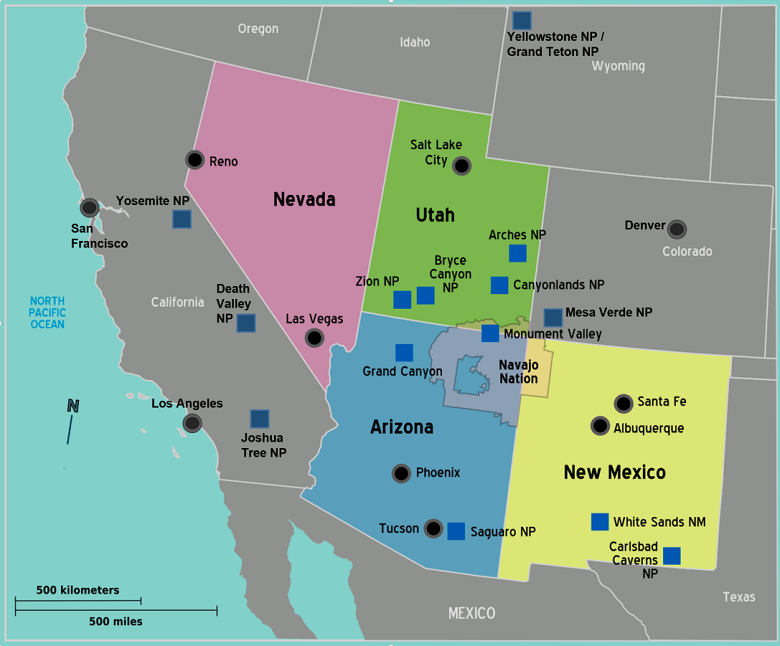 There are a few types of campgrounds in the Southwest. They vary tremendously between one another in their comfort, size, and amenities. That being said, once you try a few different ones, you'll start to see some similarities. Before embarking on your adventure, we recommend looking into the options on your route. This will help you better prepare and manage your expectations.
Established campgrounds on public land
Also known as NPS (National Park Service) campgrounds, these are administered by the federal government. Established Bureau of Land Management (BLM) and National Forest (NF) campgrounds also fall under this category. Caretakers of these campgrounds may be the park rangers themselves or volunteers who choose to live for a season in the park. In a few rare instances, such as Morefield Campground in Mesa Verde National Park, the campground operations is contracted to an authorized concessioner.
All national parks and monuments in the American Southwest offer overnight camping facilities. They are very well-designed to fit the topography of the park in which they are located. Individual campsites have at least two parking spots for regular passenger cars or one long spot for recreation vehicles (RV's). Many campsites have a cleared flat tent area that can fit two or more tents, depending on their size. Each campsite is usually spacious enough to make you feel like you have privacy from your neighbors.
These campgrounds are usually the cheapest options (aside for the free dispersed camping discussed below). They are also the closest locations to the most popular Southwest attractions.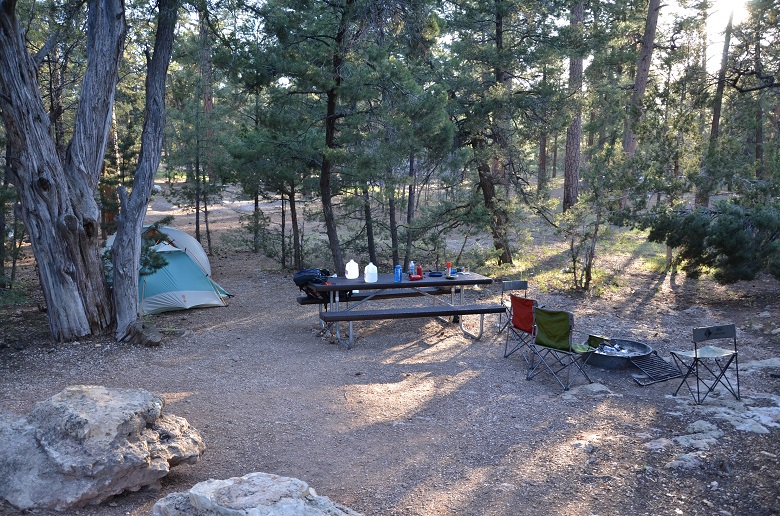 Common amenities in established campgrounds on public lands
Toilet facilities (pit toilets or flush toilets) and toilet paper
Drinking water filling station (may be available somewhere in the park, but outside of the campground)
Trash and recycling receptacles
Picnic table
Fire ring and/or grill
Food storage lockers (in active bear areas such as Yellowstone and Yosemite)
Reservations may be required, available, and/or first-come first-served
Amenities at drive-up NPS campgrounds always include picnic tables and toilet facilities. Most campgrounds also have fire rings and/or grills. Note, however, that use of fire rings and/or grills may not be allowed in periods of high fire danger.
Some campgrounds, like Island in the Sky in Canyonlands National Park, only offer pit toilets. Drinking water in this park is only available at the visitor center. You should therefore bring a large water container with you to fill up when you go camping anywhere in the Southwest.
Other campgrounds, like Devils Garden in Arches National Park, have flush toilets and drinking water on site. It's important to mention that 99% of the time, parks are well-stocked with toilet paper. We recommend that you pack an emergency roll of your own, just in case.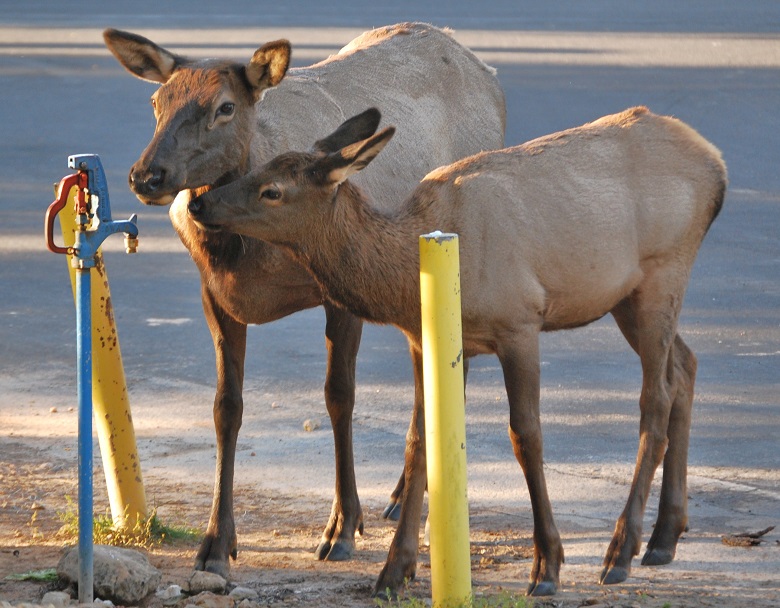 Shower facilities in established campgrounds on public lands
Most campgrounds on public lands do not have shower facilities at all. An example of this is Fruita Campground at Capitol Reef National Park. If available, showers are contracted out to authorized concessioners. For example, Mather Campground at the South Rim of the Grand Canyon offers coin-operated 5-minute showers. Canyon Campground in Yellowstone National Park offers two free showers with each campsite per night. You can pay for each additional shower beyond that.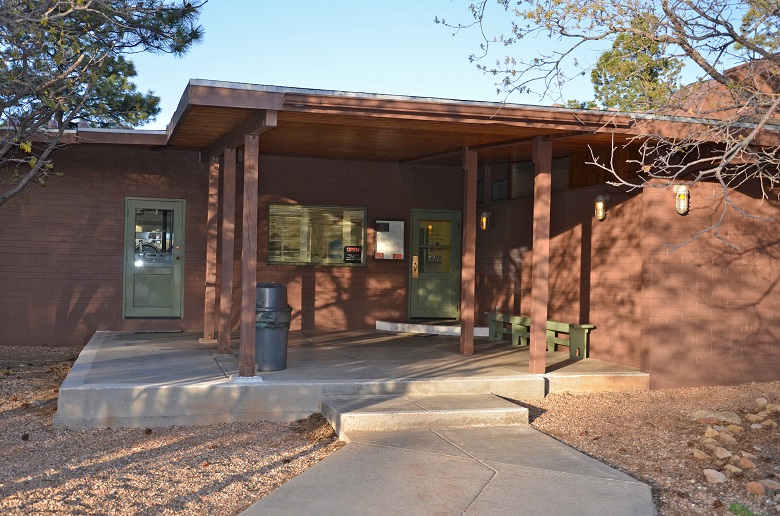 Reserving sites at established campgrounds on public lands
Car camping is becoming more and more prevalent among visitors to the American Southwest. As a result, the National Park Service and other federal entities joined in a centralized campground reservations platform, recreation.gov. Some sites, like Upper Pines Campground in Yosemite National Park, are released for reservations five months in advance, and sell out within minutes! Other campgrounds in Yosemite are considered first-come first-served. You must get there early to grab a spot.
Most BLM and NF campsites are first-come first-served, but there are some exceptions that must be reserved on recreation.gov. Examples are the very popular Big Pine Creek Campground in Inyo National Forest and group sites at Sand Flats Recreation Area under the Moab BLM jurisdiction.
A few exceptions exist for the centralized system. All the campgrounds at Yellowstone National Park, for instance, are managed by an an outside contractor. All bookings are done through this authorized concessioner.
Campgrounds administered by state governments
State parks may or may not offer camping facilities. Those that do, however, boast beautiful well-maintained sites for a very reasonable price. Nightly rates fluctuate by state, with California being by far the most expensive. State campgrounds generally offer the same amenities as those run by the federal government, with the added bonus of unlimited of hot showers.
Some states, like California, have their own reservations system for their campgrounds. Others use Reserve America, an online booking platform for private and regional entities. Keep in mind that many state campgrounds are first-come first-served and therefore do not take reservations.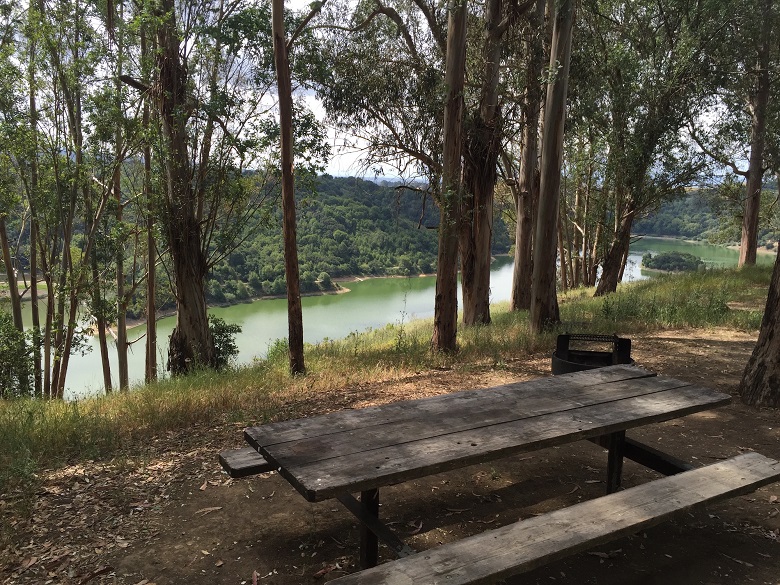 If you venture farther north or east from the Southwest, look into city campgrounds. We don't go into detail about this here because they do not exist in the Southwest, but they are a great resource in the more crowded regions of the United States.
Privately-owned campgrounds
Privately-owned campgrounds are usually synonymous with RV parks. These cater mostly to recreational vehicles (RVs), otherwise known as mobile homes, trailers, fifth wheels, or campervans. Such campgrounds offer all of the amenities you can think of. A good example is the KOA franchise, which is prevalent all over North America. Think of them as little cities. As a result, they are usually the most expensive types of campgrounds. Some may offer discounted rates on multiple day or week stays. In fact, it is not unusual for campers to stay up to an entire season in an RV park.
At check-in, some private campgrounds will request to take a copy of your credit card for incidentals. It's rare, but they may put a hold of a certain amount on your card for the duration of your stay.
Amenities at RV parks
RV hook-ups for water and electricity
RV dump stations to get rid of bodily fluids and solids
Club house, often providing books and board games
Swimming pool
Laundry machines (coin-operated or free use)
Showers (coin-operated or free use, hot or cold water)
WiFi (paid or free)
Flush toilets and toilet paper
Drinking water filling station
Dish washing sink
Trash and recycling receptacles
Picnic table
Fire rings and grills
Food storage lockers (in active bear areas such as around Yellowstone and Yosemite)
Reservations recommended for popular areas; walk-ins welcome
If you're in a tent, avoid these campgrounds!
Most RV parks keep a small back area on their grounds for tent camping. When full, they will offer you to pitch a tent in an RV spot, among all the other vehicles. As you may expect, this is the opposite of wide open spaces and very much takes away from the tent camping experience.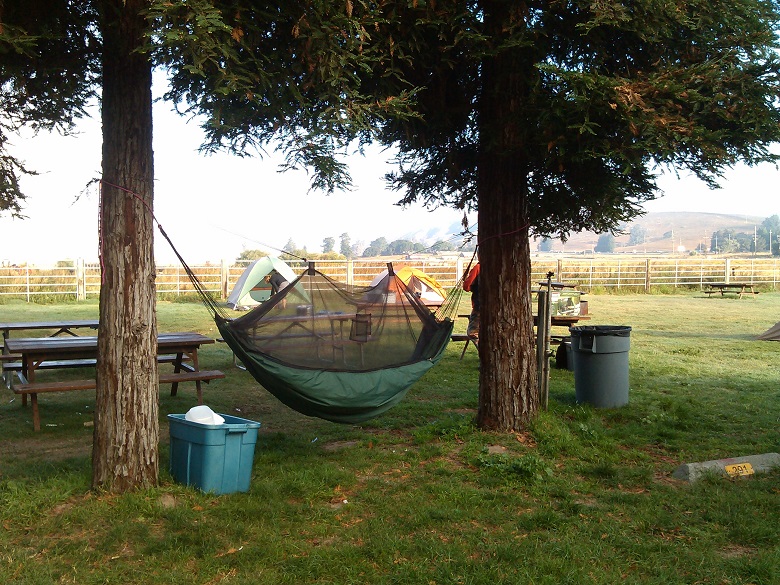 Reserving sites at privately-owned campgrounds
Much like the hotel industry using multiple online booking platforms (examples: booking.com, reservations.com), so do RV parks and other privately-owned campgrounds. We've already mentioned Reserve America. Aside for state parks, it also has a good selection of private RV parks.
Another option is Hipcamp, which takes tent camping on private lands to a whole new level. Yes, regular RV parks are listed on this platform, but so are private residences. Through Hipcamp, for a nominal fee, you can find safe places to pitch a tent where you'll be the only camper for miles. Aside for dispersed camping (discussed below), this is the ultimate way to get in touch with nature.
Dispersed camping on public lands
The Southwest is full of empty non-privatized land, mostly under BLM and NF jurisdictions. Many road trippers follow a practice called "dispersed camping," defined by the BLM as "camping on public lands away from developed recreation facilities… located along most secondary roads." A good example of this is the dirt roads on the San Rafael Swell in Utah. If you see a dirt road that does not have a private sign on it, turn onto it and look for a flat disturbed area on the side of the road. This is a dispersed campsite. These are unofficial campsites, but they are perfectly legal and free locations in which to pitch a tent.
You can refer to such apps as Campendium to find free campsites near you.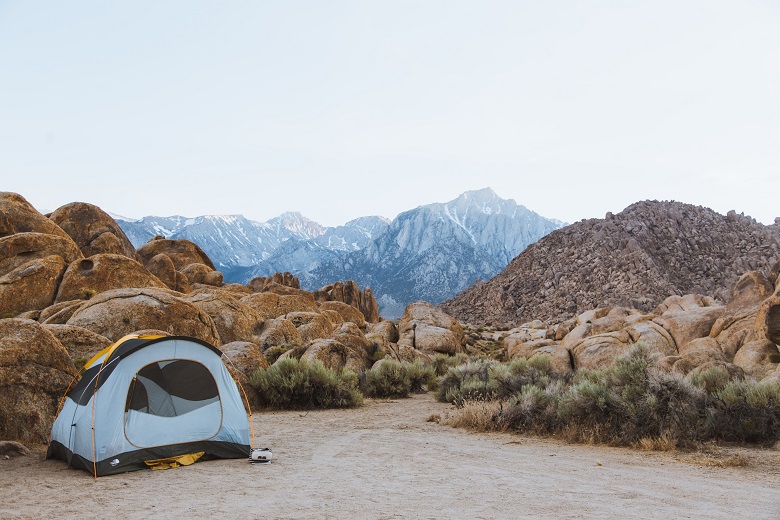 Important things to know about dispersed camping
Most dispersed camping is found around rarely-maintained dirt roads. Some sections may require high clearance or 4WD transmission. If in doubt, turn around and look for another road.
Do not camp at picnic areas or trailheads. Use existing sites to avoid creating new disturbances.
Dispersed camping is also known as dry camping. There are absolutely no amenities. No picnic tables, no pit toilets, no running water, no trash receptacles. Pack it in, pack it out.
Always practice Leave-No-Trace principles!
Walmart parking lots
No blog about camping in the southwest is complete without mention of the Walmart parking lots. It's true. Most Walmarts allow campervans to park overnight in their lots completely free of charge. Walmart stores are open 24/7, meaning that you can use their facilities in the middle of the night. The downside to these lots is that they can get very loud. They are usually located next to busy streets, and other vehicles may arrive to park next to you when you least expect it. Not to mention that the parking lamps stay on all night, so make sure you have blackout curtains for your windows. Needless to say, these should be your last-resort overnight options.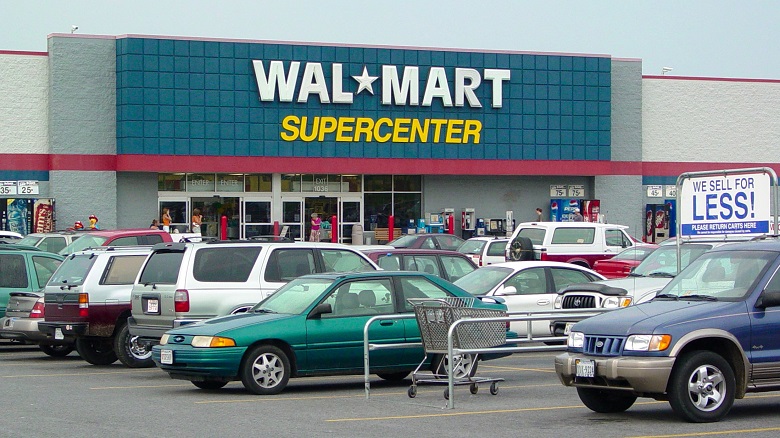 Conclusion
There are some gorgeous wide open spaces in the American Southwest that should be on everyone's bucket list. Getting to them, however, requires a lot of driving. For this reason many visitors to the Southwest choose to embark on car camping adventures in which they can get as close as possible to these natural wonders. Check out our list of top places to drive to in the Southwest.
Get a good audio book, pack your car with camping gear, stock up on some groceries, and drive. Remember, we have car camping gear rentals in Las Vegas should you be missing anything for your road trip.