According to Wikipedia, "a slot canyon is a long, narrow, deep and tortuous channel … with sheer rock walls." The Free Dictionary adds that the depth of a slot canyon is "considerably greater" than its width. Southern Utah has the greatest concentrations of slot canyons in the Southwest. Our favorites are discussed here.
Page navigation: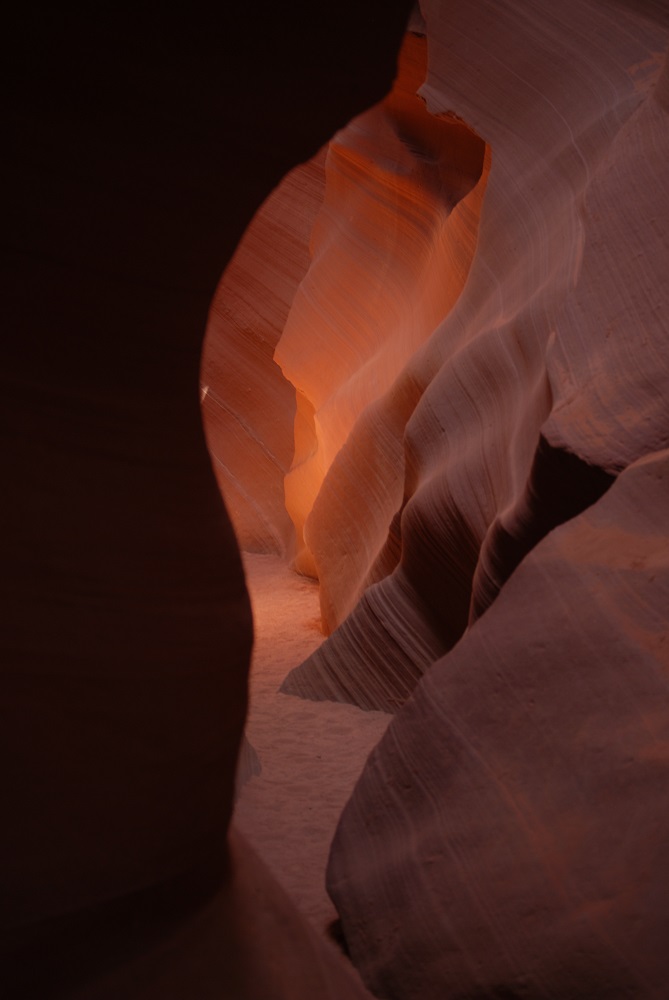 Criteria for being featured in this post as a slot canyon
All the destinations in this post have the following criteria in common:
They feature a path between two sheer walls
Both walls are over 10 feet tall (or at least about twice as tall as a normal-sized human)
An average-sized person can touch both walls at the same time with outstretched arms
The path is at least 50 feet in length
Visiting requires a non-technical hike. It may be a short, long, easy, or difficult hike, but it is not canyoneering and does not require any special equipment.
Visiting slot canyons
Slot canyons are incredibly special and beautiful places. Better yet, in the Southwest, they are under ideal weather conditions most of the year. They could become, however, inherently dangerous if there is any precipitation in the forecast.
Flash floods
Slot canyons are prone to flash floods. We won't go into too much detail about it here, but you should check out the Southern Utah Tourism Summit for more info. Don't let it scare you too much. As long as the weather is fine and it hasn't rained in a few days prior to your visit, there's nothing to worry about.
Weather conditions
Check the forecast before setting out on your trip and again on the morning on your slot canyon visit. If there is any chance of rain in your area, reschedule your trip or reorder your itinerary.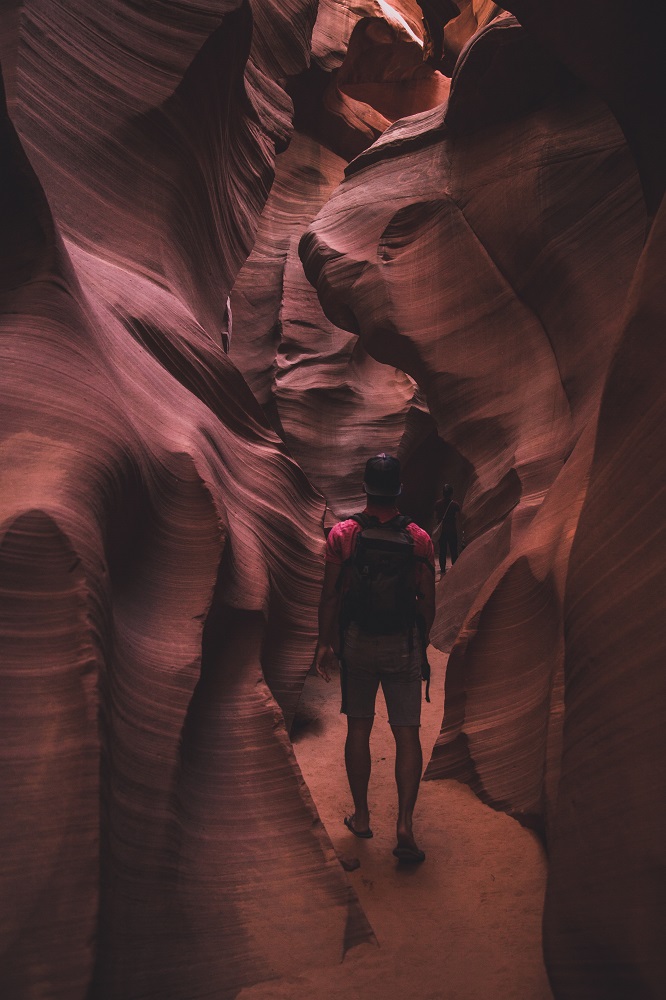 Our favorite slot canyons of southern Utah
Antelope Canyon – Navajoland
CLOSED UNTIL FURTHER NOTICE DUE TO COVID REGULATIONS. Check updates here.
Slot length: 500 feet
Approach to slot: minimal walk from car to slot
Location: Hwy 98, 3 miles from Page, AZ
Fee: Expensive. See different tour companies for current rates
Access: Requires guide and reservations
This is possibly the best-known and most photographed slot canyon in the world. It's not technically in Utah. But it is so close across the border that we're including it here.
Antelope Canyon is actually made up of two slots, Upper and Lower. They are separated by a few miles of wash. The entire canyon is part of the Navajo Reservation, right outside of Page, AZ. Private Navajo businesses manage access to the two canyons. You can only visit the canyons with a guide and you must make reservations for your tour. It is expensive but most people say it is worth it.
On a personal note, if you're going to any of the other slot canyons on this list, I don't think you need to stop at Antelope Canyon. Though you're guaranteed to get amazing pictures out of it, it is a bit too expensive for the experience you receive.
Upper Antelope Canyon
Have you seen the postcard picture of a sunlight beam shining into a reddish sinuous slot? That's Upper Antelope Canyon. This phenomenon occurs right about noon on a daily basis, when it isn't too cloudy out. This makes Upper Antelope Canyon the most popular and coveted canyon to visit in the Southwest. It is truly a spectacular sight, but only a few dozen people per day (weather-permitting) get to experience it.
To visit Upper Antelope Canyon, make a reservation here. This is the only company that has access to the canyon at noon (book the 11 AM tour). You'll meet your guide at the turnoff to Antelope Canyon, right off Hwy 98, and board an open-back truck that will take you to the canyon entrance. The ten-minute ride is very sandy. Try to keep your mouth closed to avoid spitting out grains for the rest of the day.
The slot itself is about 500 feet in length. It is an easy walk on flat and sandy ground the entire way. Your guide will take you through the slot, stopping every two minutes for photographs. When the canyon opens up, your guide will turn you back the way you came. Overall you'll get about 50 minutes in the canyon.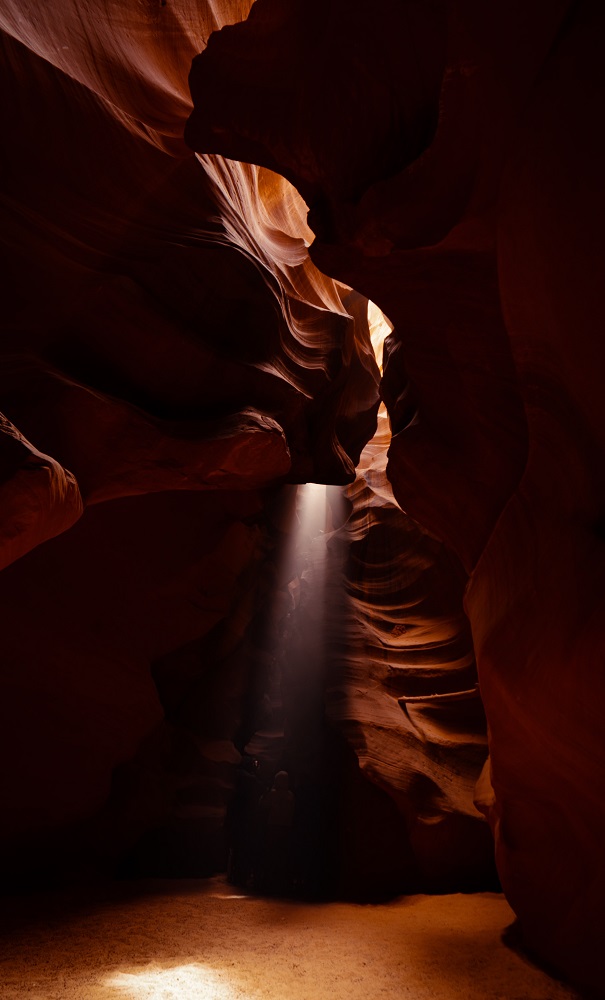 Lower Antelope Canyon
If you're not absolutely sure that you'll be at Upper Antelope Canyon at the right time, then go to Lower Antelope Canyon instead. Since there is no light beam to wait for, it is beautiful no matter the time of day. Not to mention it is a bit more adventurous, requiring the use of step ladders to get around.
To visit Lower Antelope Canyon, make a reservation here. You'll meet your guide outside the check-in office and walk a few feet downhill to the canyon entrance. Metal steps lead you down about 30 feet to the bottom of the canyon.
Similar to Upper Antelope Canyon, the slot itself is about 500 feet in length. Your guide will take you through the slot, stopping every two minutes for photographs. It is an easy walk, but some obstacles (such as ladders) require the use of your hands for support. At the end of the canyon is a set of stairs to take you back up to the open desert. A 10-minute uphill walk will lead you back to the parking lot. Overall you'll get about 45 minutes in the canyon.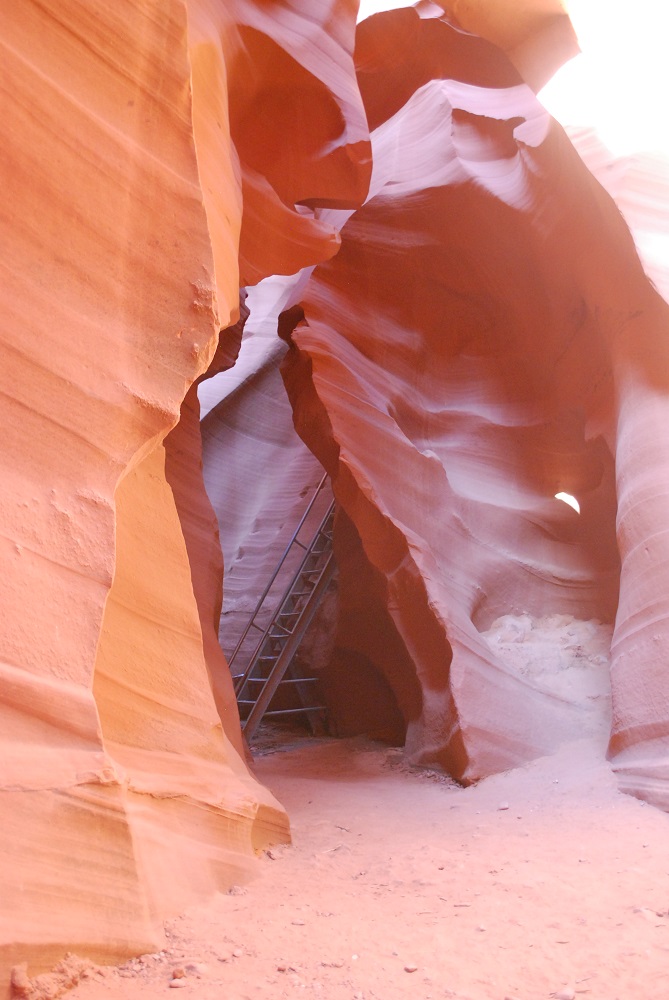 Buckskin Gulch via Wire Pass – Grand Staircase-Escalante and Vermillion Cliffs National Monuments
Slot length: 13+ miles
Approach to slot: 1-mile easy hike in wash to Wire Pass, then 1-mile in slot canyon to Buckskin Gulch
Location: House Rock Valley Rd, 30 miles east of Kanab, UT.
Fee: If you have the NPS Annual Pass, display it on the dashboard of your parked vehicle. Otherwise, bring cash for the self-pay station
Access: If backpacking, apply for an overnight permit. If you're just day hiking, you're fine. You need a high-clearance vehicle to drive the 8 miles down the dirt road to the Wire Pass Trailhead.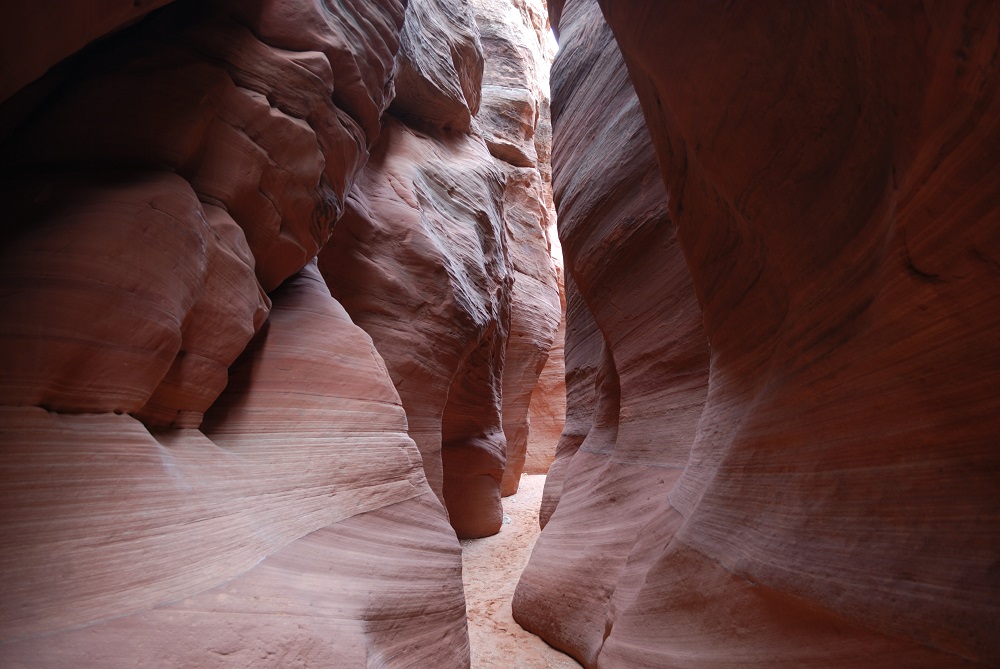 At over 13 miles, Buckskin Gulch is easily the longest slot canyon in the United States. In my opinion, it is also the most spectacular! The quickest way to access it is via Wire Pass, which is another unbelievable slot canyon. On the other end of it, Buckskin Gulch spills into the majestic Paria Canyon. Walking the entire length of Buckskin Gulch, including Wire Pass and Paria Canyon, requires overnight preparations, permits, and shuttle arrangements. Read more about it in this very detailed guide.
Visiting the much shorter Wire Pass is a treat in and of itself. If you don't have time on your trip to backpack Buckskin Gulch, a half-day hike to Wire Pass will suffice. From the trailhead, it takes about 15 minutes to hike in a wash before arriving at the entrance to Wire Pass. This slot is nearly a mile long before it joins with Buckskin Gulch. When you're ready, turn around and retrace your steps to your car. Note that two sections in Wire Pass require rock scrambling. Depending on seasonal conditions, it may have a few standing puddles to wade through as well.
Little Wild Horse – San Rafael Swell
Slot length: 1 mile
Approach to slot: 0.7-mile hike in wash; easy terrain with minimal scrambling
Location: 5 miles west of Goblin Valley State Park (nearest town is Hanksville, UT)
Fee: Free
Access: It's a dirt road to the trailhead, but usually very well-maintained and suitable for all vehicle types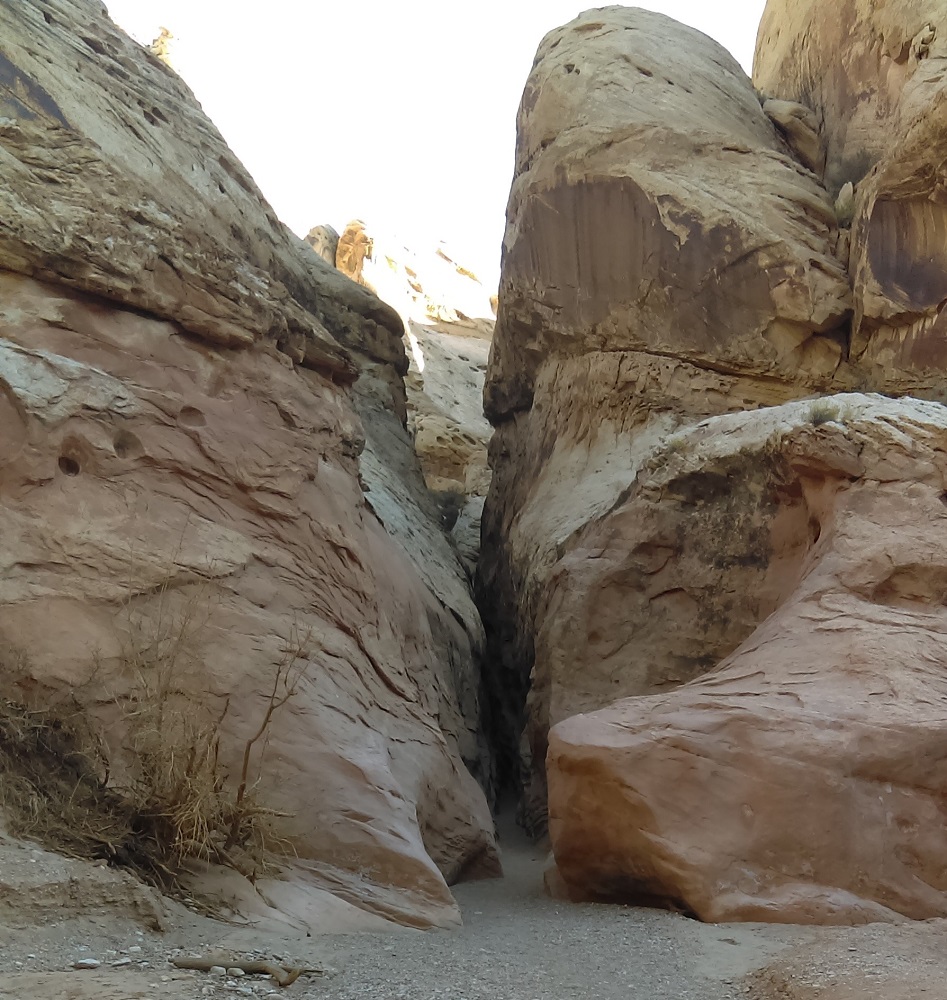 Little Wild Horse is technically in the San Rafael Swell, a vast desert system administered by the Bureau of Land Management (BLM). It is a very fun family hike close to Goblin Valley State Park. It's easy to reach and requires little effort to find. There are lots of other slot canyons nearby, but they require basic canyoneering gear and a high clearance vehicle to get to them.
Most documentation you'll find about hiking Little Wild Horse is supplemented with Bell Canyon info. If you're an avid and fast hiker, you can combine the two canyons into one big loop. In my opinion, though, Bell Canyon isn't very interesting, especially after hiking through the 1-mile slot of Little Wild Horse. I suggest turning around after this first long slot and retracing your steps. Even though there are a few more short slot sections in the loop, they are nowhere near as spectacular as the first section.
To get to the slot section of Little Wild Horse, you first hike for 15 minutes up a wash. It gets more and more interesting as you go. Depending on seasonal conditions, there may be a few puddles of standing water in the wash and throughout the entire slot. Note that if it has been an exceptionally wet year, you may have to walk directly in the water to get through.
The Joint – Canyonlands National Park
Slot length: 50 feet
Approach to slot: Drive 4WD road or hike 6 miles one-way
Location: Canyonlands National Park, Needles District
Fee: Canyonlands National Park entrance fee or NPS Annual Parks Pass
Access: If backpacking, apply for an overnight permit. If you're just day hiking, you're fine.
The Joint is not technically a canyon, but fits the DetourOn criteria for being featured in this blog post. The Joint itself and any hike that leads to it is one of my favorite areas to explore in the Southwest.
The quickest way to get to the Joint is to drive down Devil's Lane. It is aptly named. You must have a 4WD high-clearance vehicle and skills to drive it! If you don't, you'll have to hike. Numerous hiking trail combinations will get you there, each with unique features. Consult the Needles District hiking map for trail options.
At 6 miles one-way, Elephant Hill Trail to Chesler Park is the shortest route. My favorite for views and variety, however, is Big Spring. Though doable to hike to the Joint and back in one day, I recommend getting an overnight backpacking permit to truly experience the trails of Chesler Park.
Ironically, the San Rafael Swell and Canyonlands are also great destinations for wide open spaces.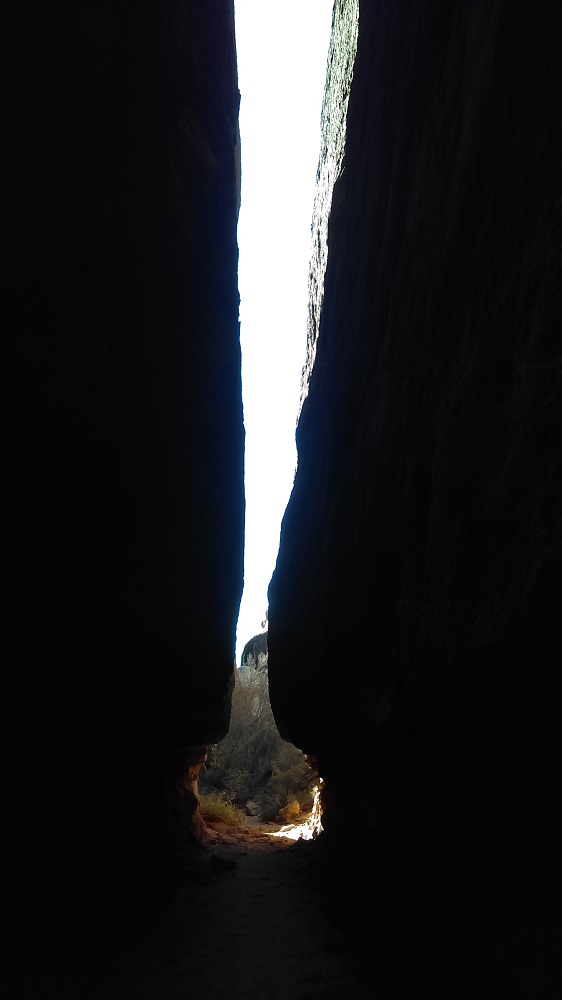 The Narrows – Zion National Park
Slot length: 16 miles
Approach to slot: 4 miles upstream from Riverside Walk or 12 miles downstream from the Narrows Trailhead
Location: End of Scenic Drive of Zion National Park
Fee: Zion National Park entrance fee or NPS Annual Parks Pass
Access: Must make a reservation for the park shuttle or apply for an overnight permit
The Narrows is hands-down the most talked-about experience in Zion National Park. In fact, it is part of Zion Canyon, formed by the fast-flowing Virgin River. Hiking the entire length of the Narrows is even more intimidating than Angels Landing, and requires a lot of preparation. Aside for luck in obtaining an overnight permit that coincides with good weather, you must also prepare to walk in the cold river for over 60% of the hike. Read more about it here.
The narrowest part of the Narrows is about 20 feet in width with canyon walls over 1500 feet tall! Again, I'm stretching it just a little bit by including the Narrows in this post. A person can't quite touch both sides of the canyon at the same time. I'm justifying it because this part, called Wall Street, is so striking.
If you don't want to deal with backpacking or obtaining a permit, the quickest and easiest way to get to Wall Street is to hike upstream from Riverside Walk. Factor about 1 mile per hour on the way up because you'll be walking against the current most of the way. You'll be twice as fast on the way back.
No matter how you choose to get there, I definitely recommend renting canyoneering boots and a walking stick from the Zion Adventure Company to make your journey easier.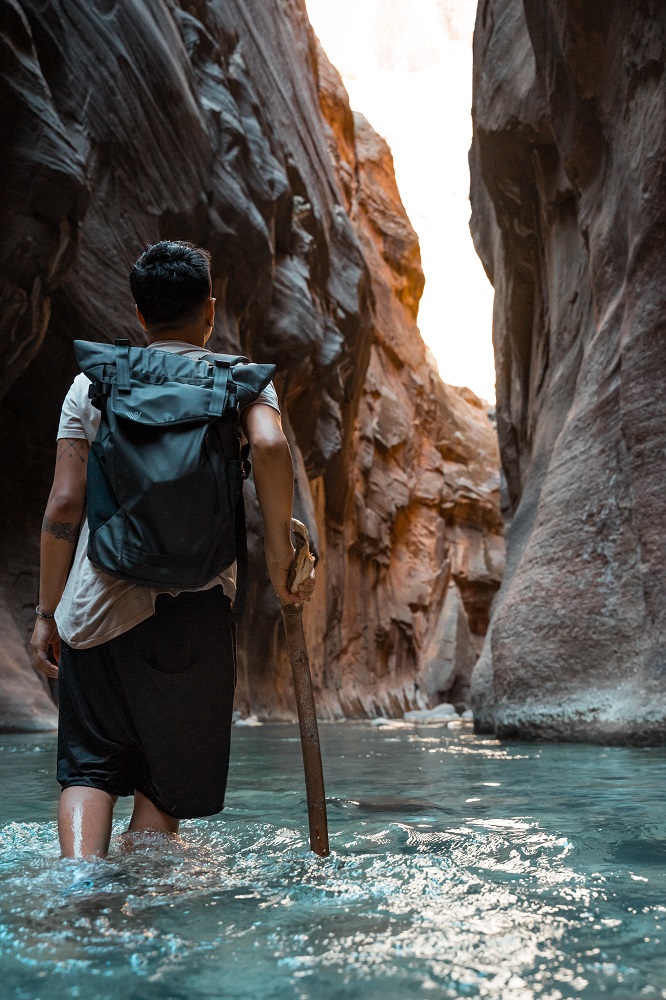 Map of our 5 top slot canyons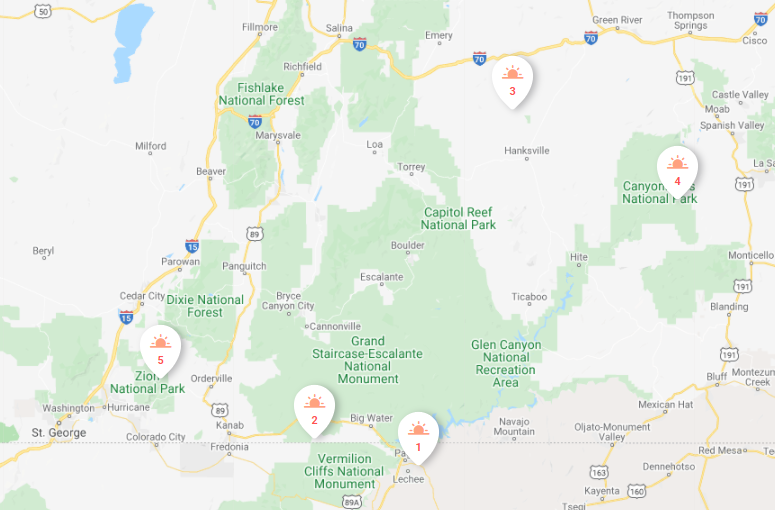 Want to make a slot canyon road trip? Visit DetourOn, choose your destinations, and download a roadbook for your travels. Happy trails!