New Zealand comprises two main landmasses, the North Island and the South Island, and around 600 smaller islands. In this article, we'll discuss things to do on the South Island of New Zealand. If you're headed to the North Island, check out our article about things to do in the North Island of New Zealand. Before heading out to New Zealand for the first time, read our article about all the things you need to know.
There are a few vast differences between the North and South Islands. We list them in our article about things you should know before visiting New Zealand for the first time. Of course, you can visit both islands in one trip. Ideally you'd take a month to do all of this. Just beware that your trip will feel rushed if you only have limited time!
Introduction to the South Island of New Zealand
The South Island is a narrow stretch of land divided lengthwise by the Southern Alps. In fact, two-thirds of the island is covered by mountains. Only three roads traverse this mountain range, connecting the east and west coasts. These roads may close at any time due to adverse weather conditions. This means that commuting between the coasts may prove to be a challenge, depending on the time of year you visit.
You will most likely start your trip with a rental vehicle either in Christchurch or Picton. Christchurch has the biggest international airport on the South Island, so flights will probably be cheaper and faster to get to than Queenstown or Dunedin. Picton is the port of arrival for the Cook Strait ferry from the North Island.
New Zealand lacks public transportation to many attractions. We therefore recommend that you rent a car upon arrival on the Island. If you plan on camping, you should consider renting a campervan. There are many sites in New Zealand where you can stop to sleep and cook for free. This activity is officially called Freedom Camping. You can find places to camp on these useful apps.
Fun facts about the South Island of New Zealand
What is the size of New Zealand's South Island?
At 58,380 sq mi, the South Island is a bit bigger than its northern counterpart. That's a bit bigger than the US state of Louisiana.
What is the population of New Zealand's South Island?
1.1 million people reside on the South Island. That's less than the entire population of Auckland!
What is the biggest city on the South Island of New Zealand?
Christchurch is considered to be the gateway to the South Island. It is the biggest city on the Island, with a population of 380,000 inhabitants.
What is the highest elevation on New Zealand's South Island?
Aoraki/Mt Cook is the highest point on the South Island, at 12,218 ft (3724 m). In fact, that's the highest point in all of New Zealand!
How long should I take to visit the South Island of New Zealand?
11 days, at a minimum
How long does it take to drive around the South Island of New Zealand?
Without stopping, it takes about 12 hours to drive from Picton, in the northern tip of the South Island, to Invercargill, in the southern tip. This is the quickest way, via State Highway 1, along the South Island's east coast. To return north via the west coast (State Highway 6) would take around 15 hours.
Though this island is bigger than its northern counterpart, it is home to only a third of its population. This makes the South Island quite sparse and very naturally diverse. Among the many features that draw tourism to New Zealand's South Island are its spectacular glaciers, picturesque fiords (yup, that's the Kiwi spelling of fjord), rugged mountains, and a big variety of native wildlife. With so many things to see and do, how do you decide where to go?
New Zealand's must-see destinations on the South Island
We've put together a list of our favorite destinations within New Zealand's South Island. Of those, we took a very long time to narrow down the list to our top must-see locations. It was incredibly difficult to choose. We present them to you here in clockwise order around the island, starting in Christchurch. Numbers on the map correspond to the destinations in this article. For more information about each, create your own trip and download the premium roadbook.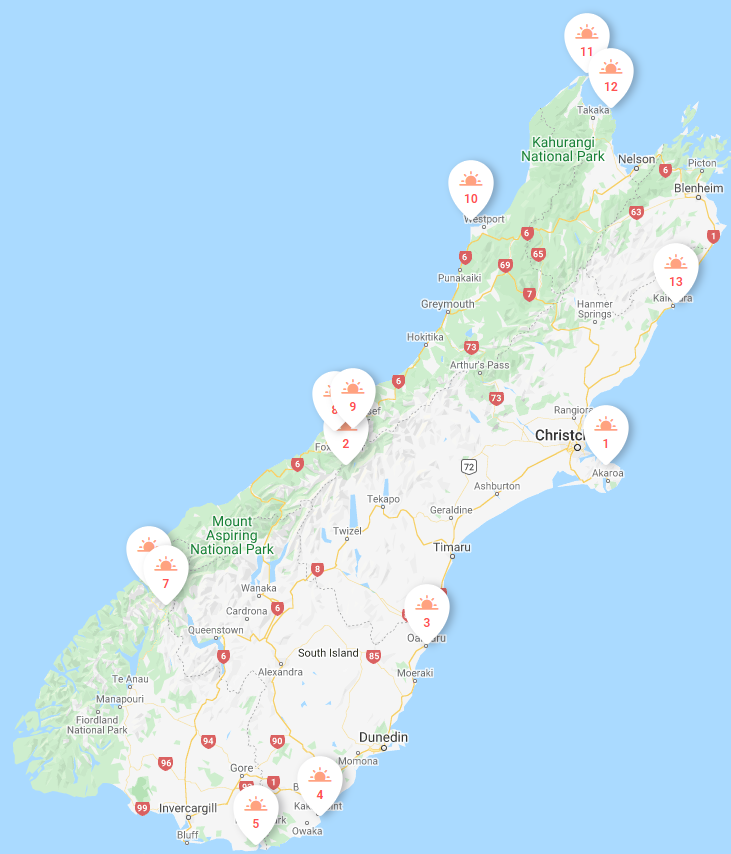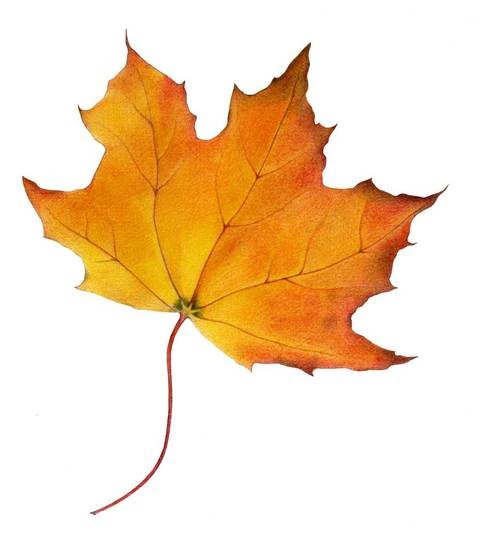 DetourOn Tip: To access our list of things to do in the South Island of New Zealand, visit the DetourOn planning page. Type "Christchurch" in the search box and select from our pre-loaded templates to see our suggestions.
To build your own itinerary and print out a personalized roadbook, start with these templates and modify them as you see fit.
Hint: You can add more days to the planner and move destinations around.
1. Banks Peninsula Drive
Dedicate a full day to drive around the gorgeous Banks Peninsula to the historic town of Akaroa. On the way, explore the little bays that dot the peninsula's perimeter.
The waters around Banks Peninsula are home to the smallest and one of the rarest dolphin species, the Hector's dolphin. They are found only in New Zealand waters. A range of tours depart from Akaroa to spot these and other marine life, including white-flippered penguins, orcas and seals.
From Christchurch, drive first to Lyttelton and follow the coastline through Governors Bay, Diamond Harbor, and Pigeon Bay. From there, continue on Summit Rd to Akaroa. Without stops, this drive takes about 3 hours. To return to Christchurch in the evening, take Highway 75 from Akaroa. This return drive will take about 1.5 hours.
2. Hooker Valley Track – Mount Cook National Park
This is the ultimate awe-inspiring landscape of the Southern Alps. If you had time for only one hike in Mount Cook National Park, this is hands-down the one to choose. An easy 10 km round-trip hike winds up a magnificent valley past alpine streams and glaciers in the shadow of Mount Cook. Although it's one of the most popular walks in New Zealand, the Hooker Valley Track is also one of the best! The hike ends at an amazing view over a beautiful iceberg-speckled lake.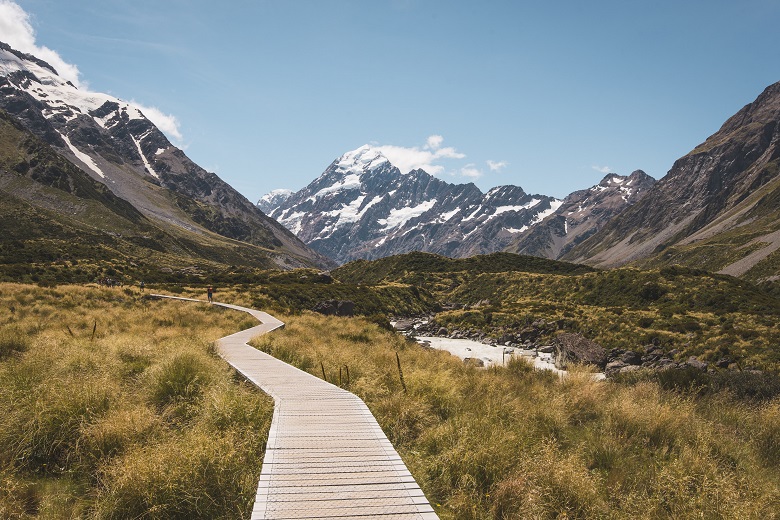 3. Bushy Beach Scenic Reserve
Bushy Beach Scenic Reserve is a great place to see yellow-eyed penguins and fur seals. Yellow-eyed penguins breed here. Unlike Oamaru's Blue Penguin colony, you can see yellow-eyed penguins return to feed their young at any time of the day. Occasionally you'll also spot New Zealand sea lions, elephant seals, and blue penguins here.
NOTE: For best chances to see the penguins, be on the viewing platform around sunset. To avoid disturbing the yellow-eyed penguins, keep off the beach between 3 pm and 9 am and at all times between Nov-March.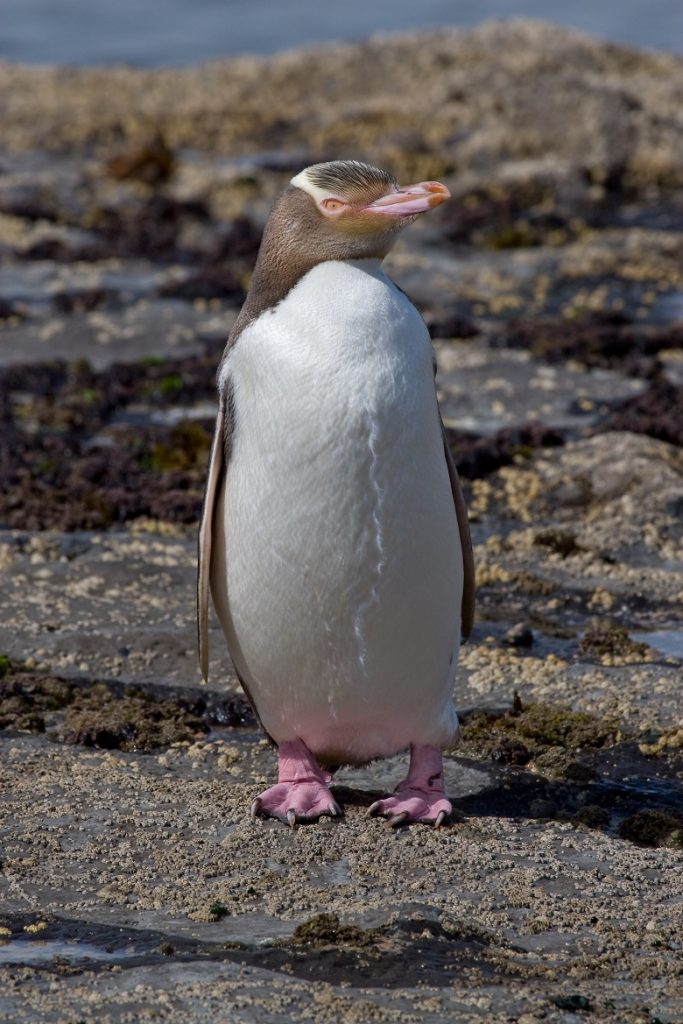 4 and 5. The Catlins
The Catlins is the southeastern region of the South Island of New Zealand. It is known for its spectacular rugged coast and rare native marine wildlife.
Near Invercargill, Curio Bay and Porpoise Bay are home to Hector's dolphins, yellow-eyed penguins, fur seals, sea lions, and other marine wildlife. The beautiful sandy beach of Porpoise Bay especially is the only place in New Zealand where dolphins come so close to shore without being enticed by people feeding them.
NOTE: Please DO NOT feed any wildlife! When swimming or kayaking do not approach the dolphins – they will come to you if they want to, but please don't touch them as they have sensitive skin.
Another wonderful place in the Catlins is Nugget Point. From the Tokata Lighthouse you can spot seals, penguins and other seabirds. In summer the ocean can be covered in large flocks of sooty shearwater. During the months of December-February elephant seals make The Nuggets their stopover point.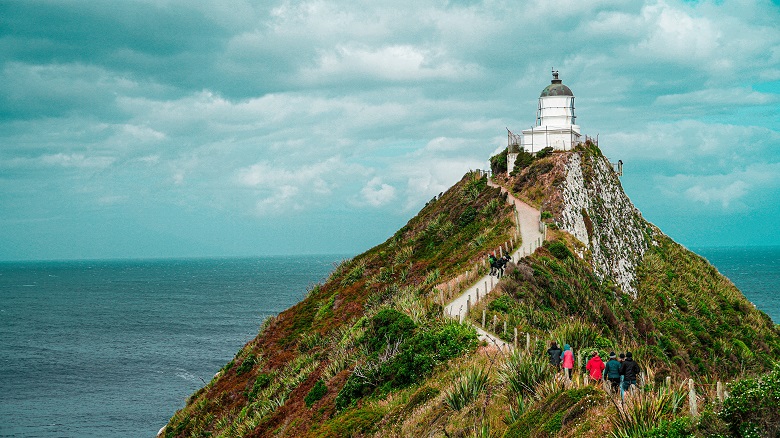 6 and 7. Fiordland National Park
Fiordland National Park is the largest national park in New Zealand, over 1.2 million hectares. That's three times the size of the US state of Rhode Island! As such, most of the areas in the park are extremely remote and impossible to get to by land. As a result, the park's only paved road, between Te Anau and Milford Sound, is very popular. It is also a spectacular road that should not be missed on a trip to the South Island.
Milford Sound is by far the best known of all of the fiords. It is also the only one that can be accessed by road. Most visitors on the Milford Sound Road only stop at viewpoints to take pictures. They then quickly continue on their way to Milford Sound, trying to make it in time for 1pm boat cruise departures at the end of the road. This causes congestion at popular scenic stops during peak times. To avoid this congestion, especially between October and April, you should plan to leave Te Anau either before 8 am or after 11 am. A non-stop direct drive from Te Anau to Milford will take at least 2 hours.
Among the many scenic viewpoints and hiking opportunities on the Milford Sound Road is the beautiful Key Summit Track. This is a 6.8 km roundtrip moderate hike for more panoramic views of the mountains and lakes. Its great allure is the solitude it offers, away from the hustle and bustle of the popular road. If you only have time for one walk on your drive to Milford Sound, and the weather is fine, this track is well worth the effort.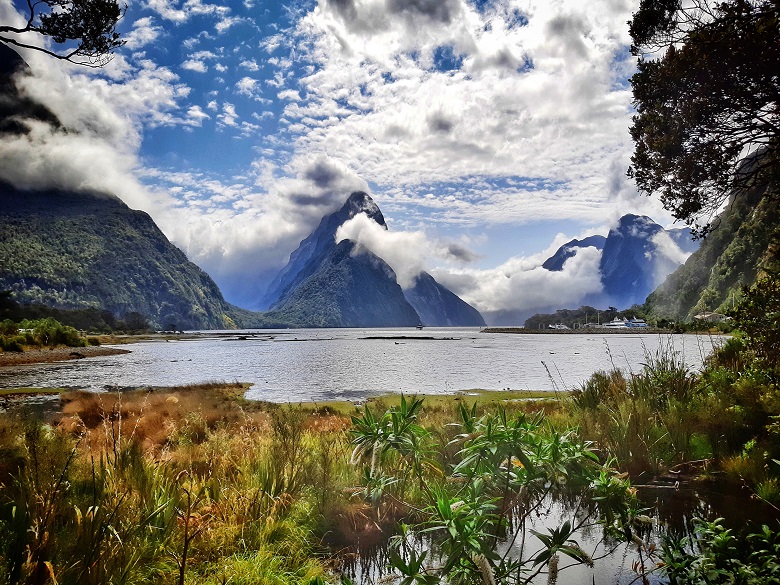 8 and 9. Westland National Park
Westland Tai Poutini National Park is home to the famous glaciers Fox and Franz Josef. The best way to see these glaciers up close is via helicopter. You can land on the ice and embark on a guided glacier walk. Otherwise, for an unguided activity, you can hike to a good view of the Franz Josef Glacier on several trails. Our favorite (and most popular) is Franz Josef Glacier Walk. The 5.4 km round-trip journey takes you through the glacier's meltwater riverbed to a good viewing area of the glacier.
The downside: Tourist helicopters fly constantly between 8 am-6 pm. For best silent viewing opportunities, hike to the viewing area early in the morning or late in the evening.
Another wonderful easy hike in this park is around Lake Matheson. This is one of New Zealand's most photographed lakes. It is famous for its mirror-like reflections of Mount Cook and its neighboring snow-capped peaks. During the 2.5 km loop hike, look for long-finned eel in the water. These served as an important source of food for the local Maori tribes.
Dawn and dusk are the best times to enjoy the reflections in the lake.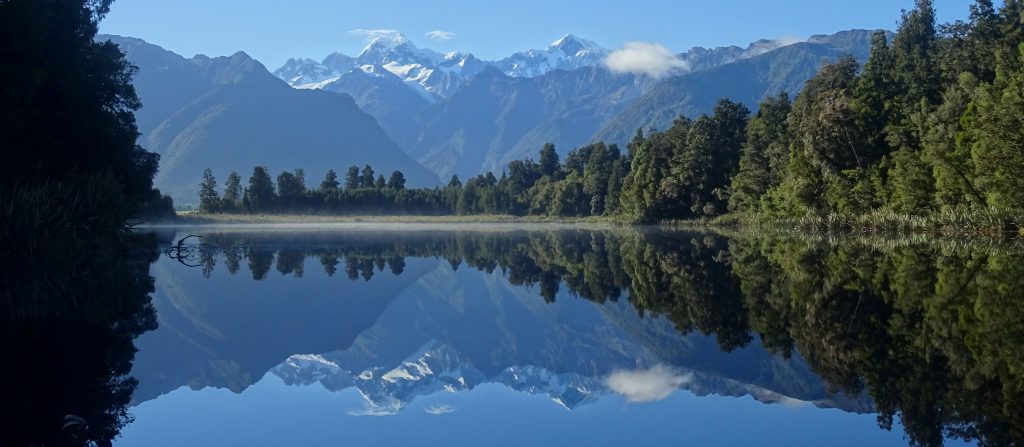 10. Cape Foulwind and Tauranga Bay
A pleasant 3.5 km coastal walk connects the Cape Foulwind lighthouse with Tauranga Bay. Along the way you'll encounter a breeding colony of fur seals and shearwater, and you'll try to avoid tripping over the flightless weka.
Best time to visit is between November and January, during the seal breeding season.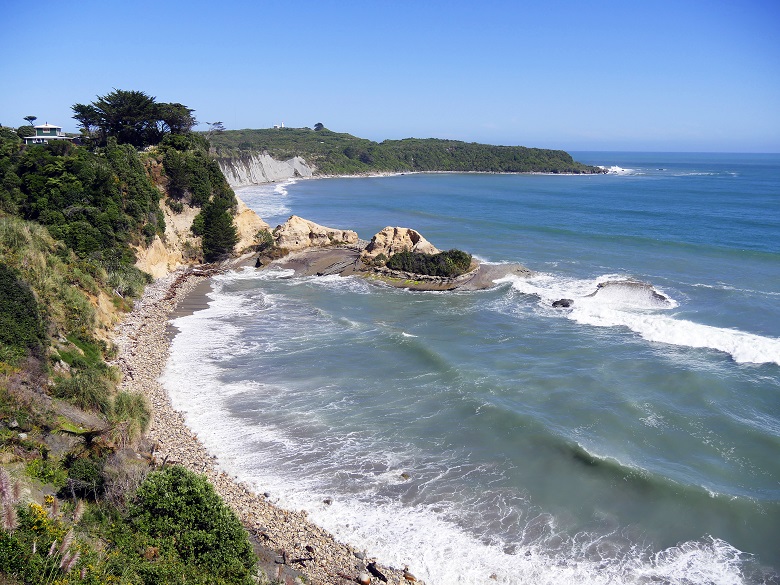 11. Farewell Spit and Puponga Farm Park
Farewell Spit, at the northern tip of the South Island, is New Zealand's longest sand spit (25 km) and a nature reserve. It is an internationally-renowned bird sanctuary with over 90 bird species recorded in the area. The area's attractions include a historic lighthouse, seals, and Wharakiki Beach. You can take a guided tour of Fairwell Spit or explore Puponga Farm Park on your own.
Best time to visit is in spring. This is the season that thousands of wading birds arrive here from the northern hemisphere.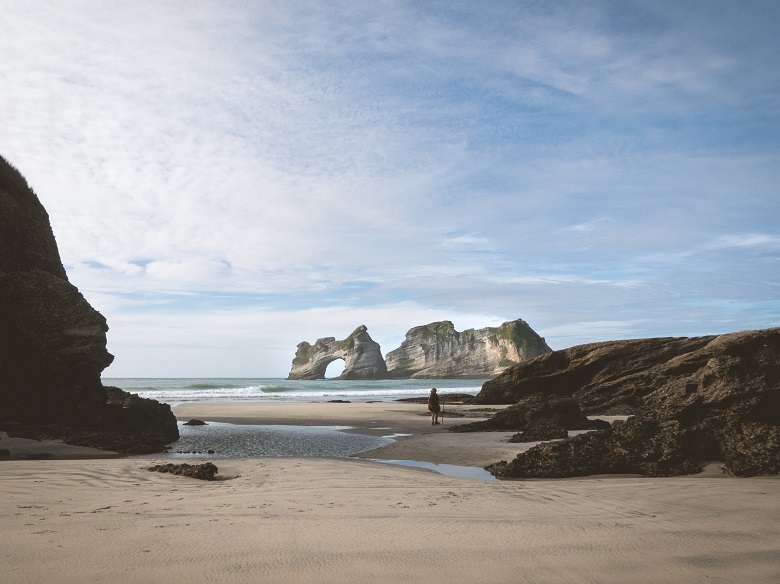 12. Anapai Bay Track – Abel Tasman National Park
An easy hike to paradise. Anapai Bay is one of Abel Tasman National Park's loveliest golden-sand beaches. This trail is actually the beginning of the Coast Track, one of New Zealand's best multi-day walks. It follows boardwalk and narrow forest paths to arrive at the remote beach. The 7.2 km round-trip walk should take no longer than 2.5 hours.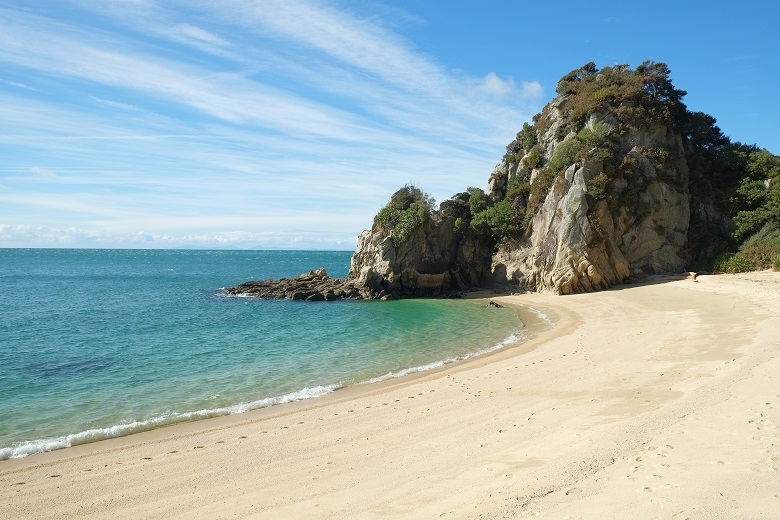 13. Kaikoura Peninsula Walk
Kaikoura is a picturesque coastal town on the South Island of New Zealand, about an hour north of Christchurch. It's known for its abundant wildlife and its sperm whale population. The Kaikoura Peninsula Walkway winds along 11.7 km of coastline from town, passing many lookout points along the way. Keep your eyes open for whales, seals, and shearwater, as well as other shorebirds. The entire walking loop takes around three hours.
If you don't feel like driving, another great way of getting here in summer is on the Coastal Pacific Train.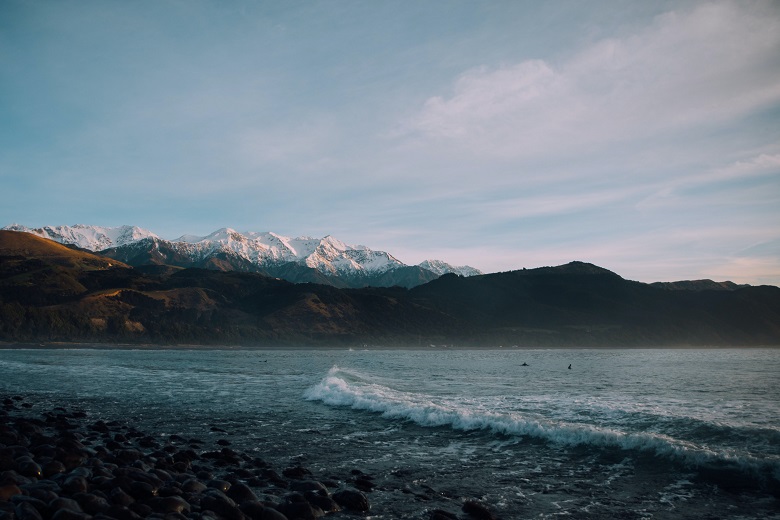 Conclusion
For more information about any of these destinations, add them to the DetourOn Planner and print out the Premium Roadbook. You'll have everything you need: Directions to your chosen locations, short history and fun facts about each, and practical information to know before you go. Check out our template of the South Island of New Zealand to get started.
Get in touch with us if anything is missing or if you have any questions. Or just to say hi.