New Zealand comprises two main landmasses, the North Island and the South Island, and around 600 smaller islands. In this article, we'll discuss things to do on the North Island of New Zealand. If you're headed to the South Island, check out our article about things to do in the South Island of New Zealand. Before heading out to New Zealand for the first time, read our article about all the things you need to know.
There are a few vast differences between the North and South Islands. We list them in our article about things you should know before visiting New Zealand for the first time. Of course, you can visit both islands in one trip. Ideally you'd take a month to do all of this. Just beware that your trip will feel rushed if you only have limited time!
Introduction to the North Island of New Zealand
The North Island is smaller than the South Island, but much more populated. It therefore has many more amenities and feels less remote. Among the many features that draw tourism to New Zealand's Nortth Island are its spectacular volcanic features, picturesque beaches, and preserved Maori heritage (most notably, the Polynesian Spa in Rotorua). With so many things to see and do, how do you decide where to go?
You will most likely start your trip with a rental vehicle either in Auckland or Wellington. Auckland has the biggest international airport in New Zealand, so flights will probably be cheaper and faster to get to than anywhere else in the country. Wellington is the port of arrival for the Cook Strait ferry from the South Island.
New Zealand lacks public transportation to many attractions. We therefore recommend that you rent a car upon arrival on the Island. If you plan on camping, you should consider renting a campervan. There are many sites in New Zealand where you can stop to sleep and cook for free. This activity is officially called Freedom Camping. You can find places to camp on these useful apps.
Fun facts about the North Island of New Zealand
What is the size of New Zealand's North Island?
At 43,900 sq mi, the North Island is a bit smaller than its southern counterpart. To put this area in perspective, this island is just a bit bigger than all of Iceland.
What is the population of New Zealand's North Island?
3.6 million people reside on the North Island. That's 3/4 of the total population of New Zealand. In fact, 1/3 of New Zealand's entire population resides in the Auckland metro area alone.
What are the biggest cities on the North Island of New Zealand?
Though Wellington is New Zealand's capital, Auckland is its biggest city. Auckland has 1.6 million residents. This is more than the entire population of New Zealand's South Island!
What is the highest elevation on New Zealand's North Island?
Mt Ruapehu is the highest point on the North Island, at 9177 ft (2797 m)
How long should I take to visit the North Island of New Zealand?
9 days, at a minimum
How long does it take to drive around the North Island of New Zealand?
Without stopping, it takes about 9 hours to drive from Auckland to Wellington. This is the quickest way, via State Highway 1, directly down the center of the island. Naturally, hugging either coast would take much longer!
New Zealand's must-see destinations on the North Island
We've put together a list of our favorite destinations within New Zealand's North Island. Of those, we took a very long time to narrow down the list to our top must-see locations. It was incredibly difficult to choose. We present them to you here in clockwise order around the island, starting in Auckland. Numbers on the map correspond to the destinations in this article. For more information about each, create your own trip and download the premium roadbook.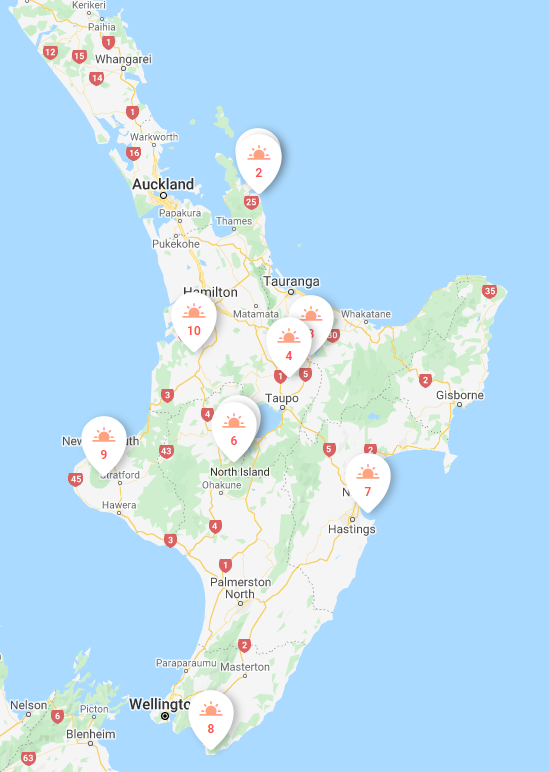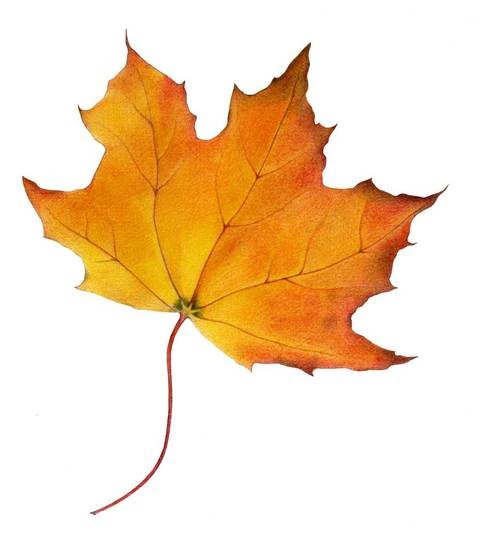 DetourOn Tip: To access our list of things to do in the South Island of New Zealand, visit the DetourOn planning page. Type "Christchurch" in the search box and select from our pre-loaded templates to see our suggestions.
To build your own itinerary and print out a personalized roadbook, start with these templates and modify them as you see fit.
Hint: You can add more days to the planner and move destinations around.
1 and 2. Coromandel Peninsula
The Coromandel Peninsula, just 2 hours east of Auckland, is mostly known for its amazing beaches. Its most popular tourist attractions are Cathedral Cove and Hot Water Beach. Although both destinations can get extremely crowded, we still think they are worth visiting on a day trip from Auckland.
Cathedral Cove is part of Te Whanganui-A-Hei Marine Reserve. It is accessible only by foot or boat. Bring your togs and snorkel gear. A popular easy walking track hugs the coast from Hahei. It takes 45 minutes to walk the 2.5 km to the Cove. On the way, you'll have many opportunities to capture photographs of the spectacular coastal scenery. The track ends at the beach beneath an impressive rock archway.
Just south of Cathedral Cove is an underground river of hot water. It flows to the surface at Hot Water Beach. During peak times you'll see visitors digging individual pools in the golden sand, making their own natural springs. These pools get washed away with each tide, clearing the beach for the next wave of visitors.
If you don't usually travel with a shovel, you can hire a spade at a few locations in town. The beach is only accessible from 2 hours before to 2 hours after low tide. Check this tide schedule before heading out.
NOTE: To avoid the crowds, best time to visit Cathedral Cove is at sunrise. Time your visit to correspond with the morning low tide at Hot Water Beach.
3. Waimangu Volcanic Valley
The Waimangu Volcanic Valley is the world's youngest geothermal valley. It formed as a result of a volcanic eruption on June 10, 1886. The valley boasts spectacular volcanic craters, enormous hot water springs, and unusual plant life. A 4.5 km one-way hiking path leads through the geothermal features. The walk ends at Lake Rotomahana. There, you can take a 45-minute cruise of the lake. The walk alone takes about 1.5 hours. Combined with the cruise, plan for spending a total of 3 hours in the park. To return, you can either walk back or take the park shuttle bus (this ride is included in your entrance fee).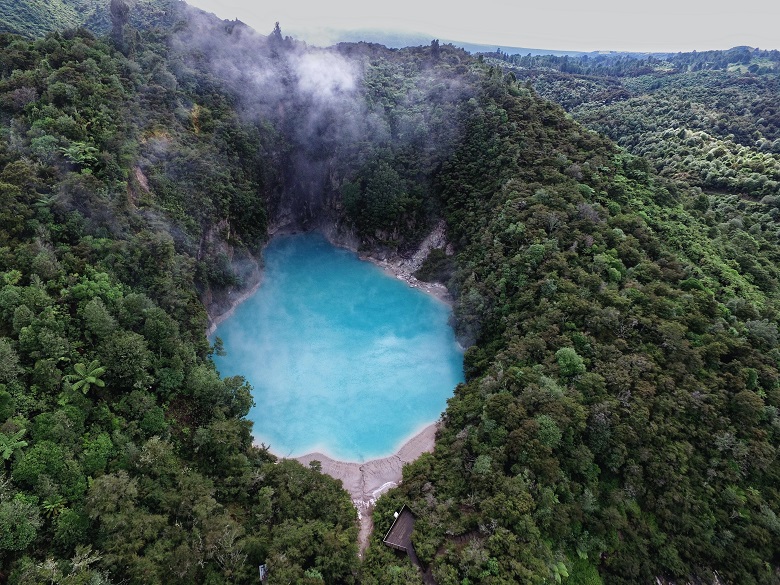 4. Orakei Korako Geyser Field
Orakei Korako, or Hidden Valley, boasts the most active geysers of any geothermal park in New Zealand. It is a volcanic world of geysers, hot springs, mud pools, and silica terraces. As the name suggests, the park is located somewhat off-the-beaten-track. In fact, you have to take a short ferry ride to get there. This only heightens its allure.
NOTE: Ferries depart from the visitor center on request. The ferry fare is included in the park admission fee.
An easy self-guided walk leads you around the geothermal area. The path is mostly over boardwalk and should take no more than 2 hours to complete.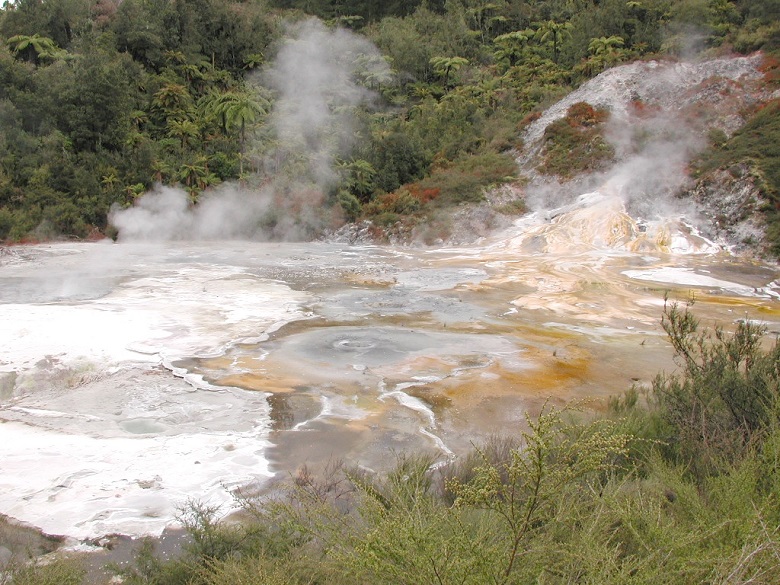 5 and 6. Tongariro National Park
Tongariro Alpine Crossing is a difficult yet unforgettable pedestrian journey across a remarkable volcanic landscape. This is a challenging hike with magnificent views, often described as New Zealand's greatest day walk. The 19.4 km hiking track passes by old lava flows, an active crater, steam vents, and emerald-colored lakes. It has an elevation change of 1200 m. Leave as early as possible and plan for 8 hours to complete the entire hike.
Despite its difficulty, this is one of New Zealand's most popular hiking tracks. And because of its difficulty, this is one hike where seeing other people may be a relief to you.
NOTE: This is a one-way hike! Park your car at the end of the hike and set up a shuttle to drop you off at the beginning.
For an easier day in Tongariro National Park, head to Taranaki Falls. This impressive and easy hiking loop is only 6 km. It takes about 2 hours to complete. The track crosses alpine grasslands, beech forests, and other landscapes shaped by the nearby volcanoes. In addition to the 20 m waterfall, there are views of Mount Ruapehu and Mount Ngauruhoe on this picturesque circuit.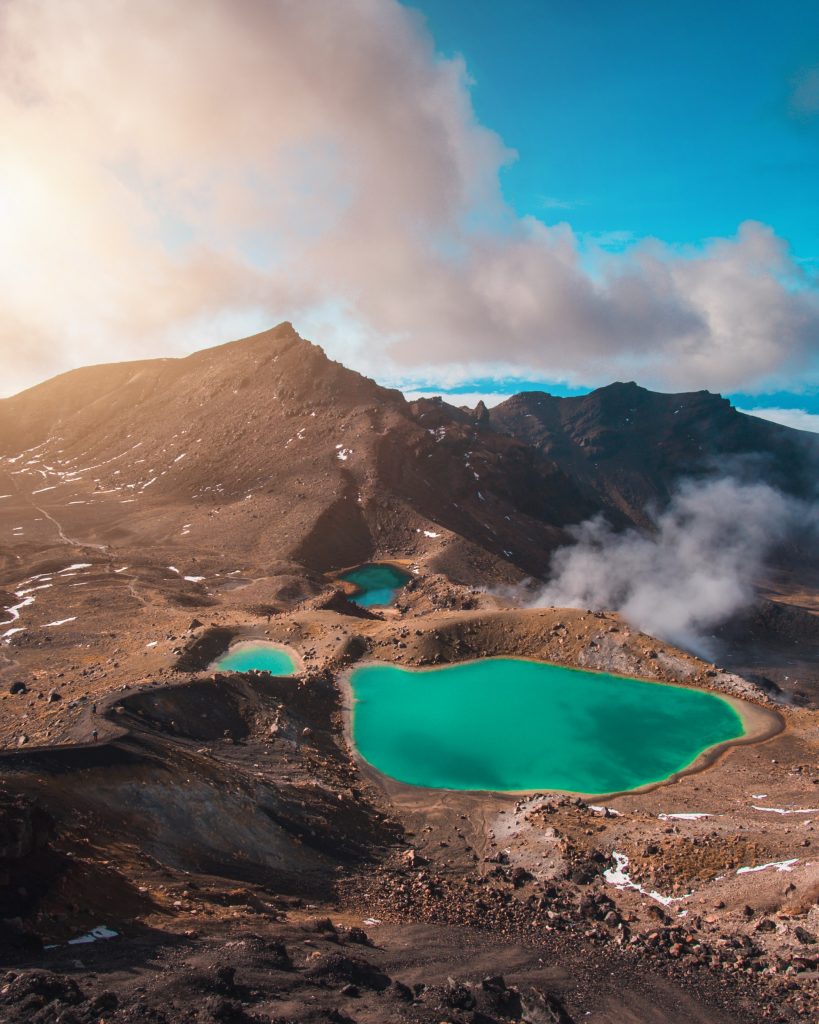 7. Cape Kidnappers
Aside for dramatic coastal views, Cape Kidnappers is an outstanding bird-watching destination. The cape is home to the largest gannet colonies in the world, the Saddle and the Black Reef gannet colonies. Between November and February, the colonies can have up to 25,000 birds!
As of now, the only way to get close to the colonies is by guided 4WD tour or guided beach tour.
NOTE: Until recently it was possible to walk 8 km along a spectacular beach from Clifton to the Cape. Unfortunately the track is now CLOSED indefinitely due to major rock falls on the beach. From Clifton Beach, with binoculars, it should be possible to view the Black Reef colony between September and April.
If you're really into gannets, you should also check out the Muriwai colony, about 1 hour west of Auckland. This colony has about 1200 birds. The viewing platform is easily reached via a short walk from the parking lot.
8. Cape Palliser Lighthouse
Just getting to Cape Palliser is dramatically scenic. The coastal road provides fabulous bay views and passes near the North Island's largest fur seal colony. From the car park at Cape Palliser, climb the 258 steps to the lighthouse. Though you cannot enter the lighthouse, there are more amazing views from the base.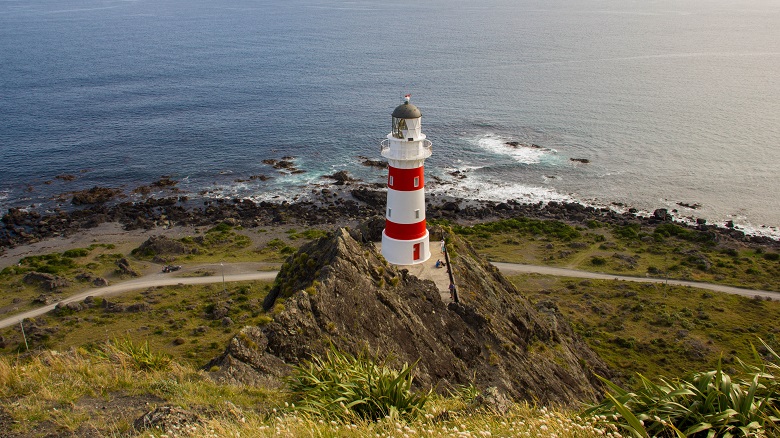 9. Stratform Plateau Loop – Egmont National Park
This is the quintessential Egmont National Park hiking loop. The 8.2 km moderate hike passes through a goblin forest before exiting above treeline for great views of iconic Mount Taranaki. Bring your togs to enjoy a refreshing dip in the middle of the hike at Wilkies Pools.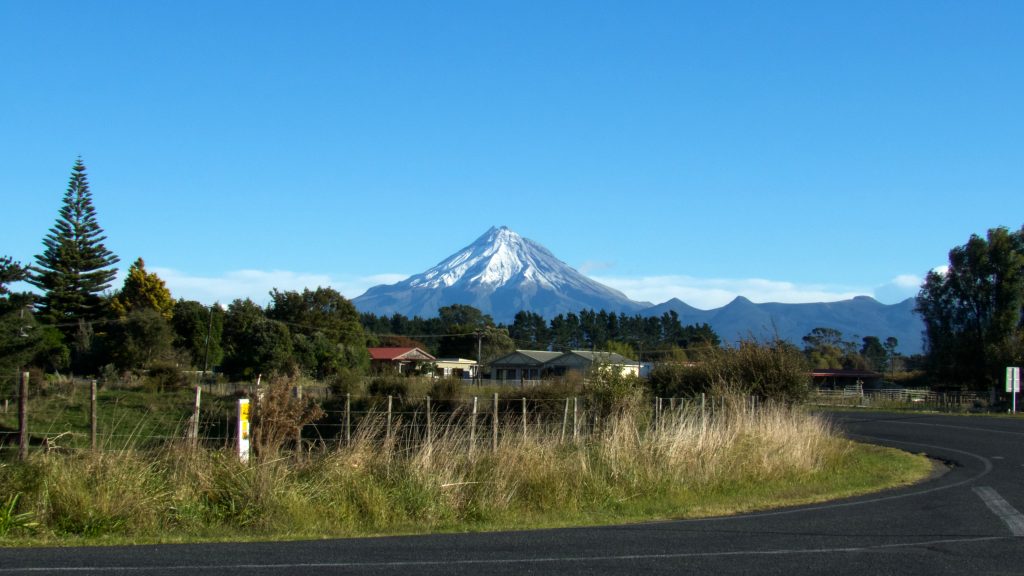 10. Waitomo Glowworms Cave
It's hard to believe, but New Zealand has a few caves that naturally glow in the dark! The glowworm (Arachnocampa Luminosa) is unique to New Zealand. Thousands of these tiny creatures radiate their luminescent light in the dark subterranean world.
The Waitoma cave system is by far the most popular. This is because it has the biggest concentration of glowworms in the country and it is the easiest to access.
NOTE: This cave is part of the Waitomo Caves system that includes the Ruakuri Cave and the Aranui Cave. You can only enter the caves with a guided tour. The most popular tour is the 45-minute Waitomo Glowworm Caves tour, which includes a boat ride under the glowworms. This tour departs every 30 minutes. It is recommended to book the tour of your choice in advance.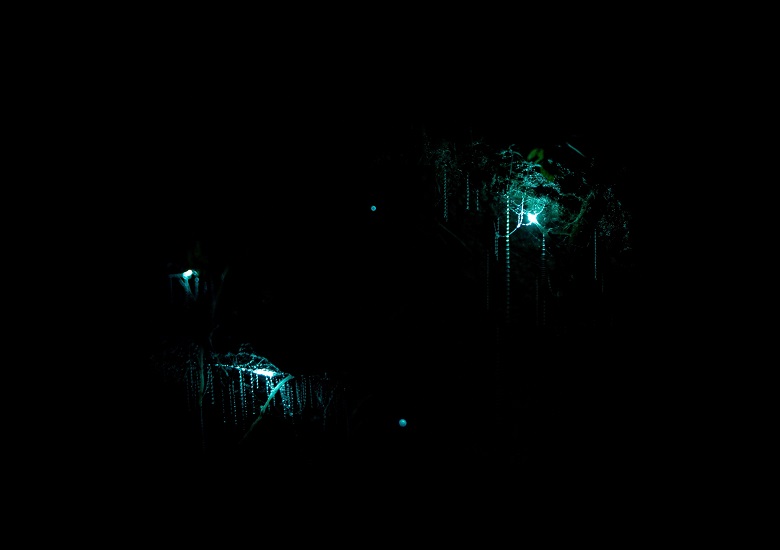 Conclusion
For more information about any of these destinations, add them to the DetourOn Planner and print out the Premium Roadbook. You'll have everything you need: Directions to your chosen locations, short history and fun facts about each, and practical information to know before you go. Check out our template of the North Island of New Zealand to get started.
Get in touch with us if anything is missing or if you have any questions. Or just to say hi.